Introduction
Before we turn the page to 2019-20, I wanted to take an opportunity to re-live with each of you some of the memorable moments from the 2018-19 year. From the classroom to the field, our community and throughout the world, the accomplishments of our student-athletes, coaches, fans and former Razorbacks were truly extraordinary in our quest to meet our mission of Building Champions and Razorback for Life.=
Beginning July 16, our "19 Things to Celebrate from 19" series will kick off here on ArkansasRazorbacks.com and across our social media platforms. I hope you will take an opportunity to check in and celebrate a new topic each day.

As we conclude our "19 Things to Celebrate From 19" series, take an opportunity to relive the 2018-19 year through the lens of our photographers. From NCAA and SEC Championships to championship reunions, from honor rolls to graduations, Razorback student-athletes accomplished some truly remarkable things in 2018-19.
The adage goes that pictures are worth a thousand words. While that may be true – these 19 iconic photos bring only three words to mind – Wooo Pig Sooie!!!

Coming Soon to Razorback Athletics
As we near the conclusion of our 19 From 19 series, it is time to take a quick glimpse ahead to just a few of the exciting projects on the horizon for Razorback Athletics. Soon things will be transforming on the University of Arkansas campus for the further enhancement of the intercollegiate athletics experience for our more than 465 student-athletes.
While Baum-Walker Stadium, the Randal Tyson Track Center and John McDonnell Field still rank among some of the best competition venues in the nation, many of the spaces used each day by our baseball and track and field student-athletes are no longer sufficient to support the needs of these highly successful programs.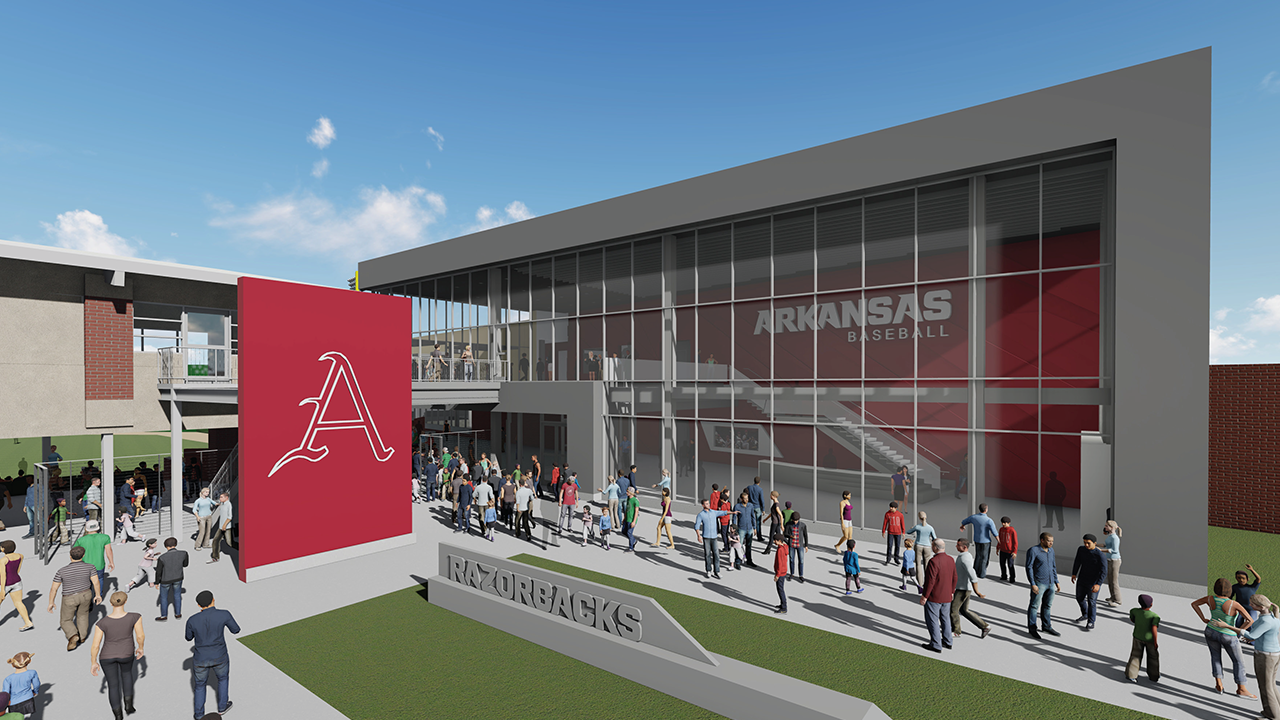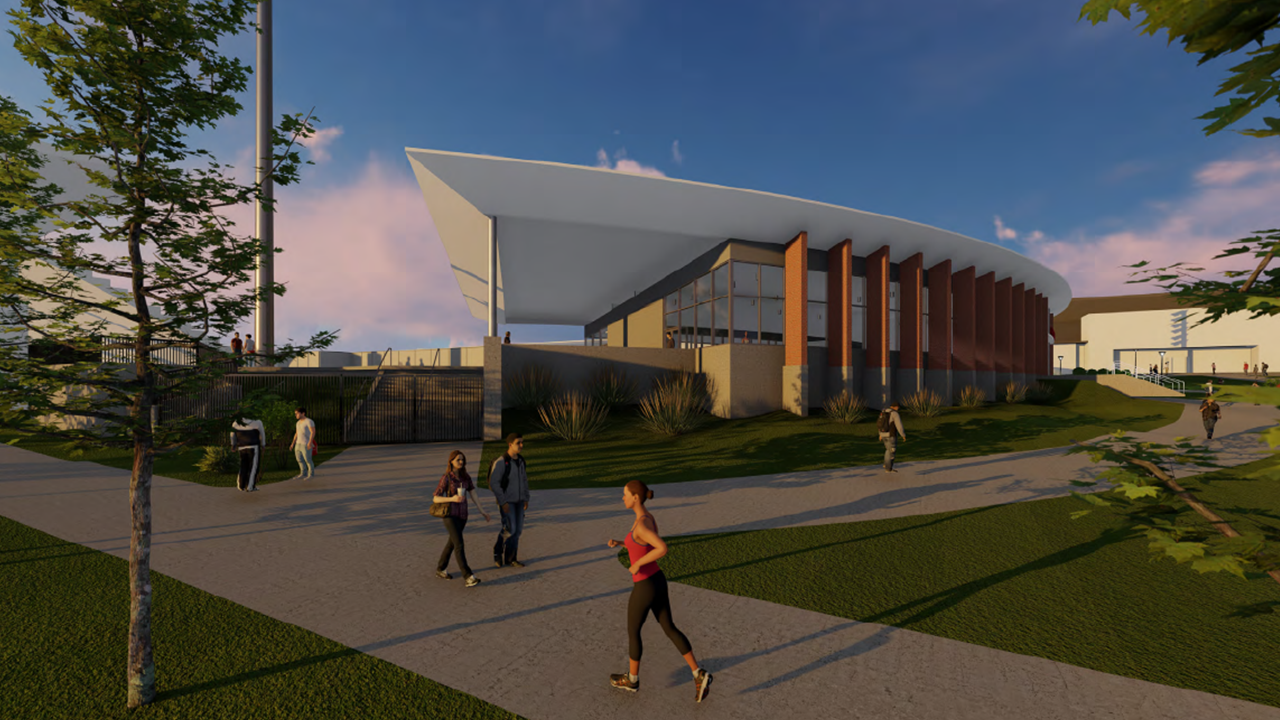 Maximizing Financial Resources
As a growing number of Division I institutions, face mounting financial challenges of maintaining competitive all-sports programs, Razorback Athletics continues to serve as a model of how academics and athletics success can be achieved while operating a financially self-supporting program.
By practicing fiscal responsibility with the program's financial resources, including the generous support of Razorback Foundation members and season ticket holders that is received on an annual basis, we are able to provide unprecedented support for the competitive and academic pursuits of 465 Razorback student-athletes.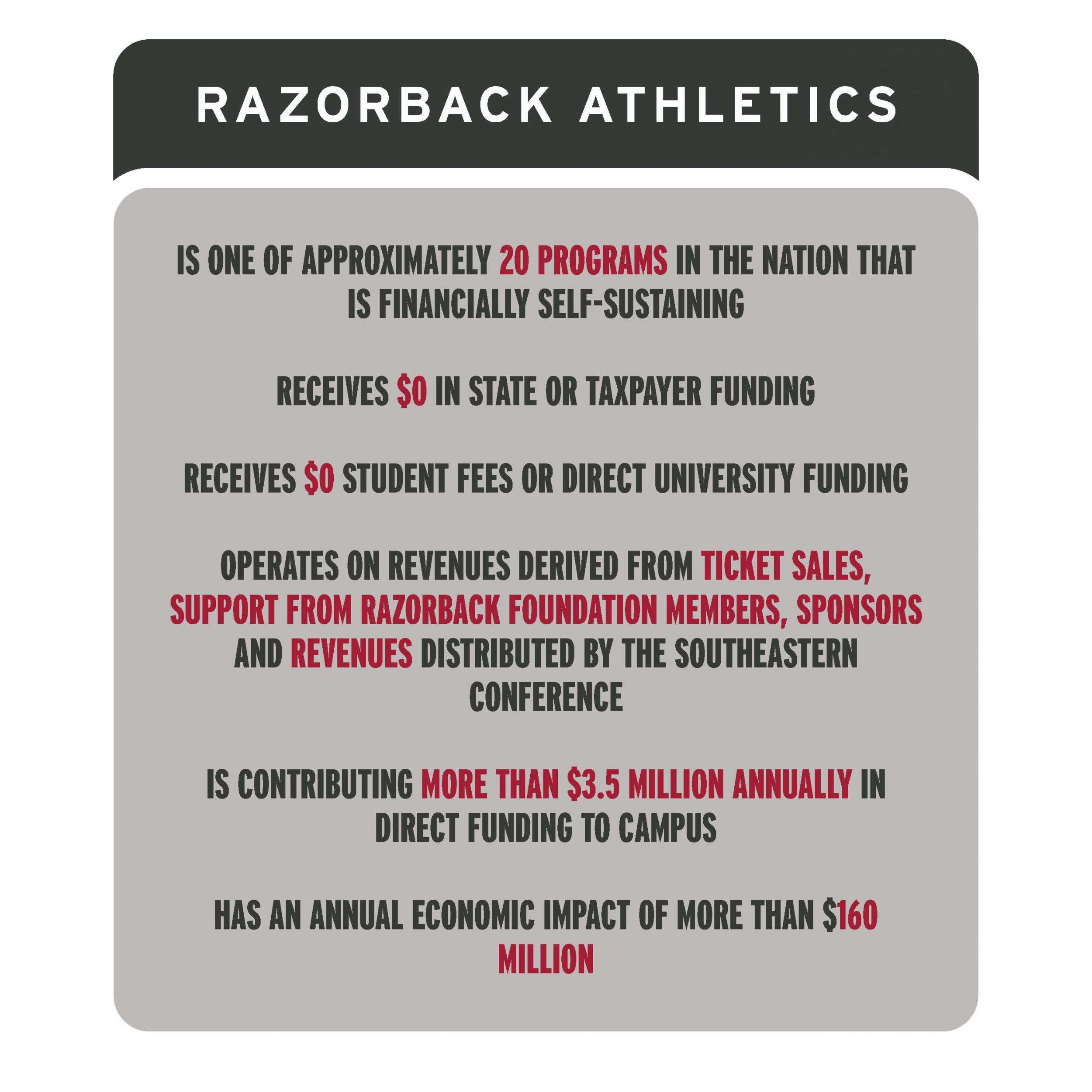 Team Athletics Success
Our Vision in Razorback Athletics is – To Be the Best! Being ranked in the nation's top 25 and competing for SEC and NCAA championships will always be the standard on which we evaluate our progress toward that vision.
Since 1994, the Learfield IMG Sports Directors' Cup has been ranking the most successful athletics programs in the nation. Since that time, the University of Arkansas has been a mainstay among the nation's best. The 2018-19 competitive year proved no differently.
Thanks to the success of our student-athletes and coaches, we once again led the nation in national rankings among programs with 19 or fewer sports and secured a top-25 overall ranking for the 10th time in the past 12 years. It all speaks to the outstanding program we have here at the University of Arkansas and the loyal support of the Razorback Nation for all 19 of our sports.
Arkansas in the Directors' Cup
1 Rank in Directors' Cup among programs with 19 or fewer sports
5 Fifth-consecutive year Arkansas has finished in the Top 25
13 Sport programs scored in the 2018-19 Directors' Cup
23 Directors Cup Finish
803 Points scored in the 2018-19 Directors' Cup

Every Experience Matters
Our fans are the very heart of our program. The loyal support of the Razorback Nation is what distinguishes our program from others around the nation. Razorback Foundation members, season ticket holders and fans from all over the state make their way to Fayetteville and Little Rock to cheer on our student-athletes.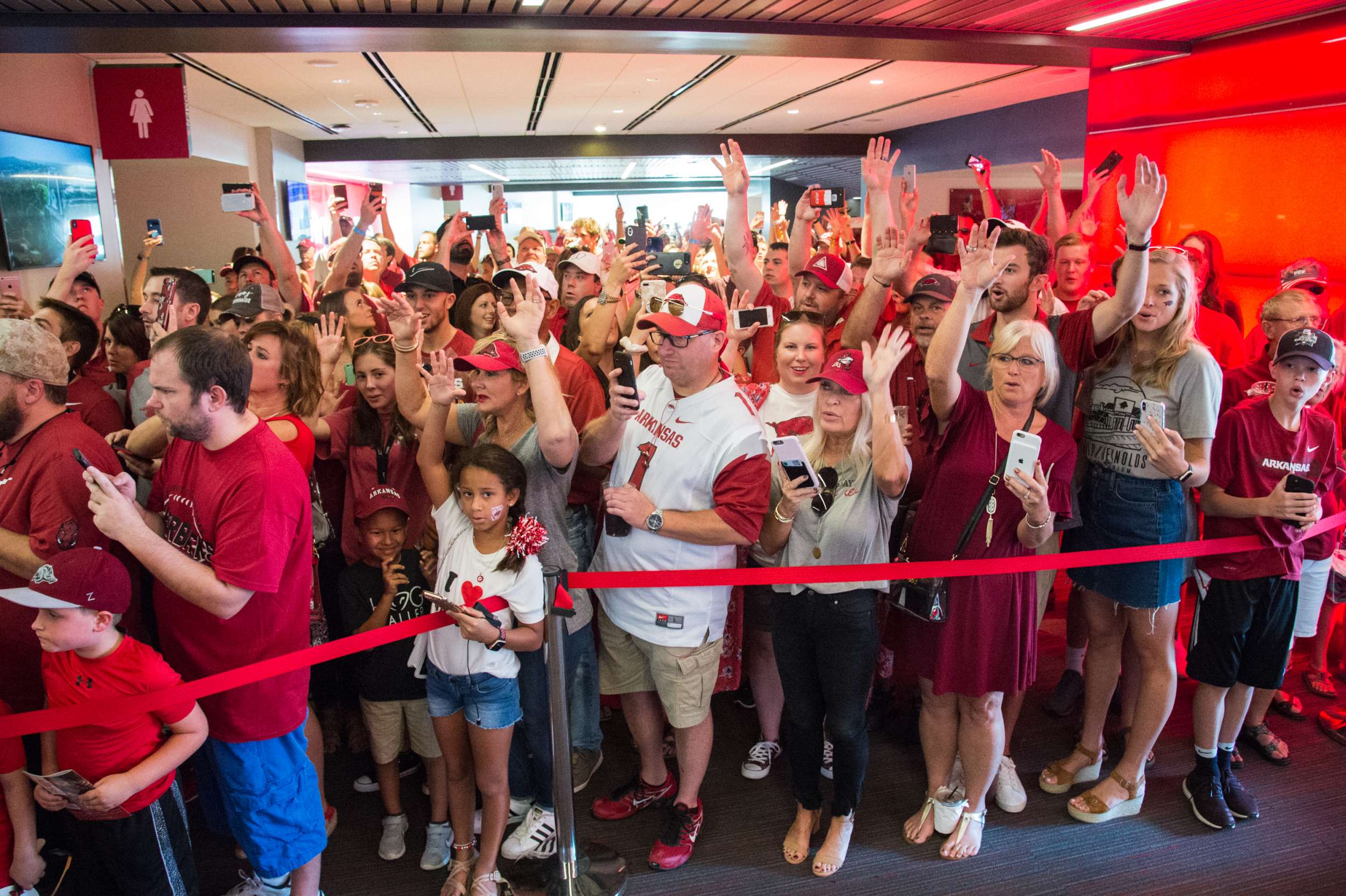 Just as we constantly are reviewing and evaluating the experience of our more than 465 student-athletes to better serve them, we also are focused on understanding more about the gameday experience of our fans so we can enhance their game day experiences. Whether it is feedback gathered through staff review, gameday fan surveys or personal interactions with our guests, that information helps shape our direction.
In 2018-19, Razorback Athletics took that commitment to a new level with the adoption of the "Every Experience Matters" program. The comprehensive guest service approach became a part of every aspect of Razorback Athletics from full-time employees to gameday staff. Last August, BC Johnson from the Disney Institute conducted multiple training sessions to help all of those who come in contact with our guests learn how we can better listen and respond to the needs of those attending our games.

Hosting Championships
When it comes to post-season play, the University of Arkansas campus has become one of the nation's prime destinations. Since the Razorbacks entered the Southeastern Conference in 1992, Arkansas has hosted 101 conference and NCAA regional and national competitions, furthering its national reputation for both its outstanding facilities and its role as a championships host.
Even with its rich tradition for hosting the penultimate rounds of NCAA competition, the University of Arkansas made history in 2018-19 by hosting the longest and most comprehensive NCAA event in its history. The 2019 NCAA Men's and Women's Golf Championships coming to Northwest Arkansas was the result of a shared vision by John Tyson, Owner of Blessings Golf Club and the University of Arkansas.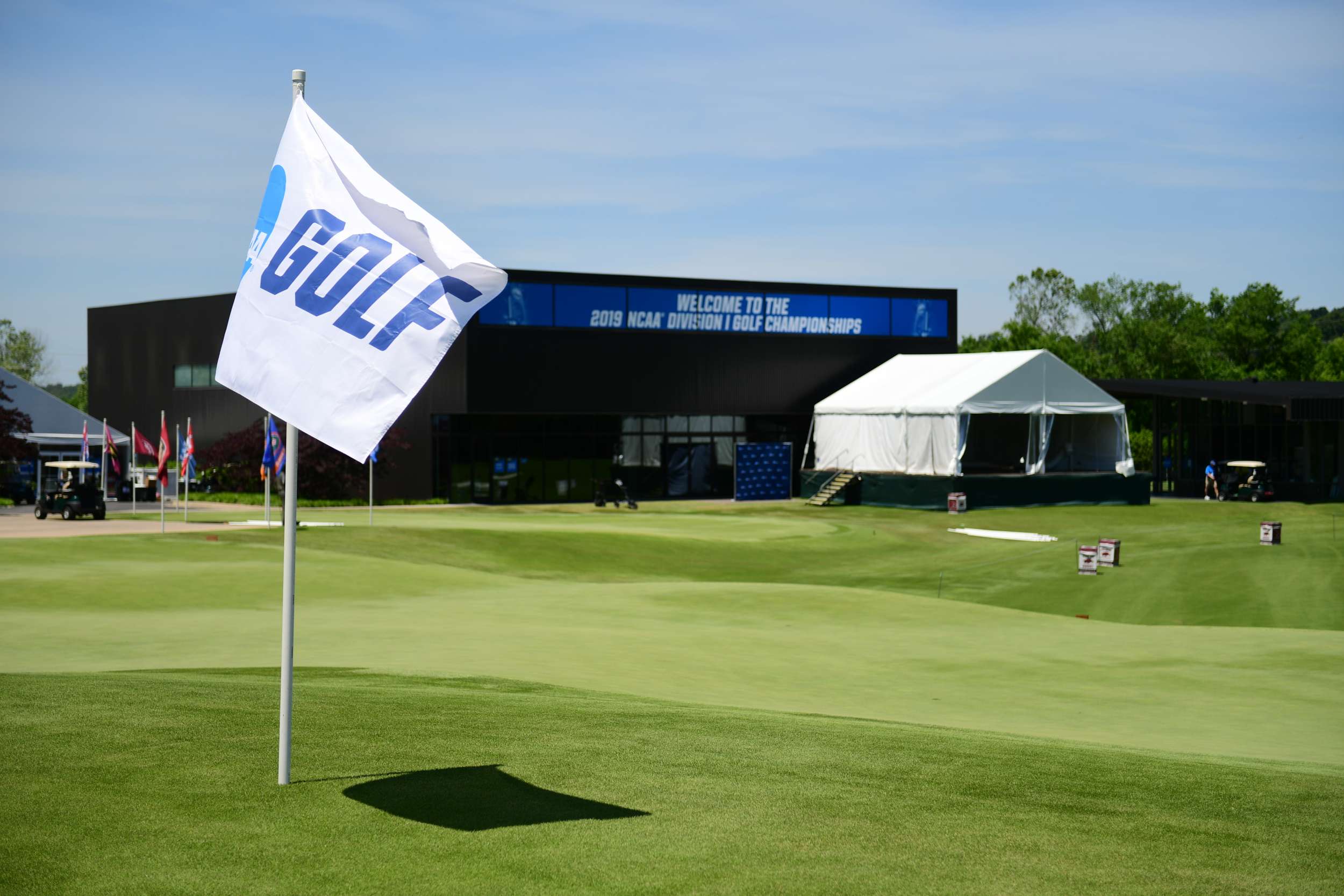 Arkansas was also home to the 2019 SEC Indoor Track and Field Championships at the Randal Tyson Track Center and the 2019 SEC Outdoor Track and Field Championships at John McDonnell Field.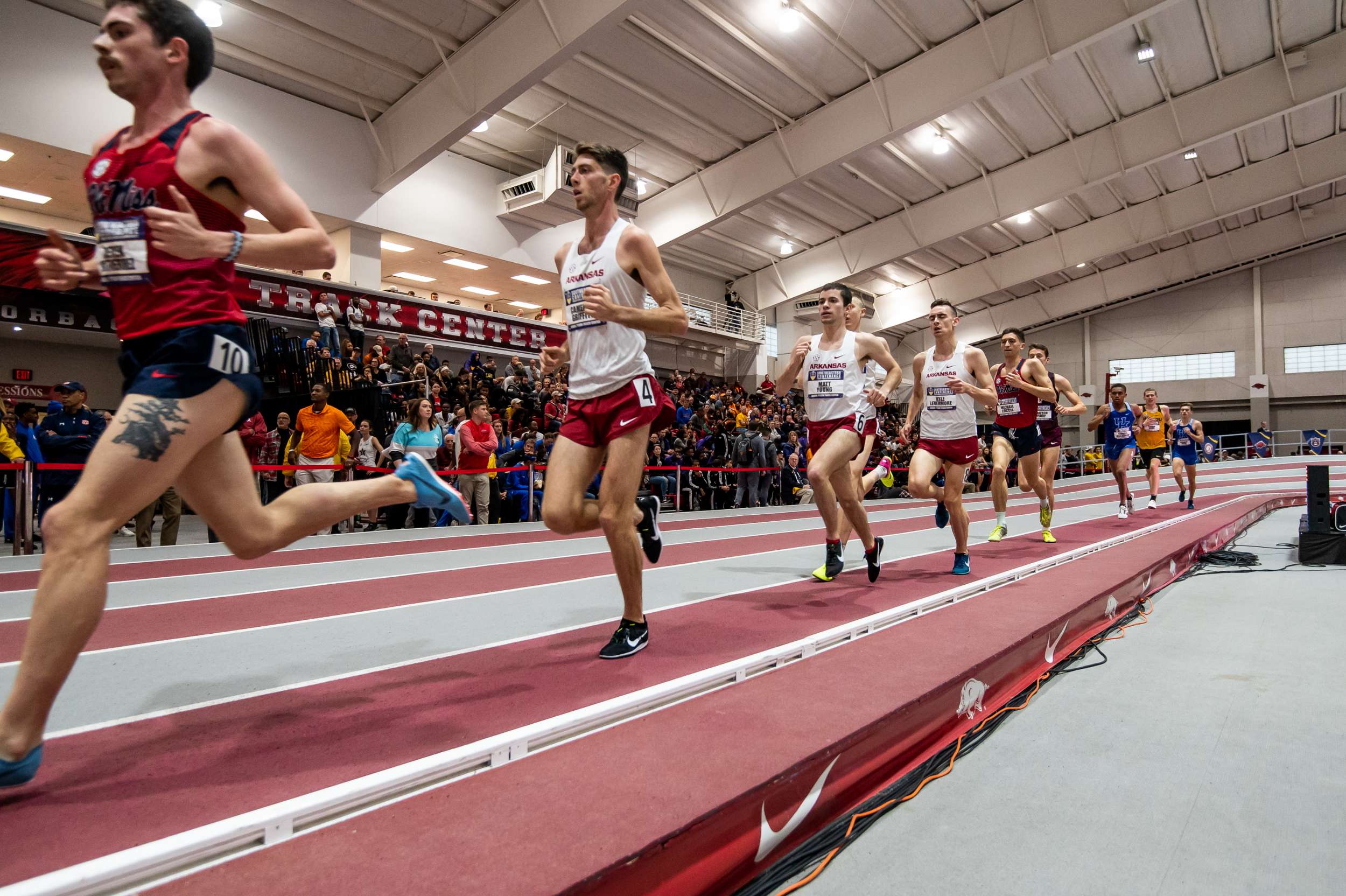 Our campus played host to some post-season basketball action as our women's team played three WNIT games in front of some large and loud crowds at Bud Walton Arena.

Reaching Out to Razorback Nation
With fans in every corner of Arkansas and around the nation, it is imperative to the success of our program that we connect with the Razorback Nation where they call home. Our coaches, student-athletes, spirit squads and the Razorback Band made numerous trips around the state and region to bring the state's team directly to its loyal fan base. It is just our way of saying – Thank You!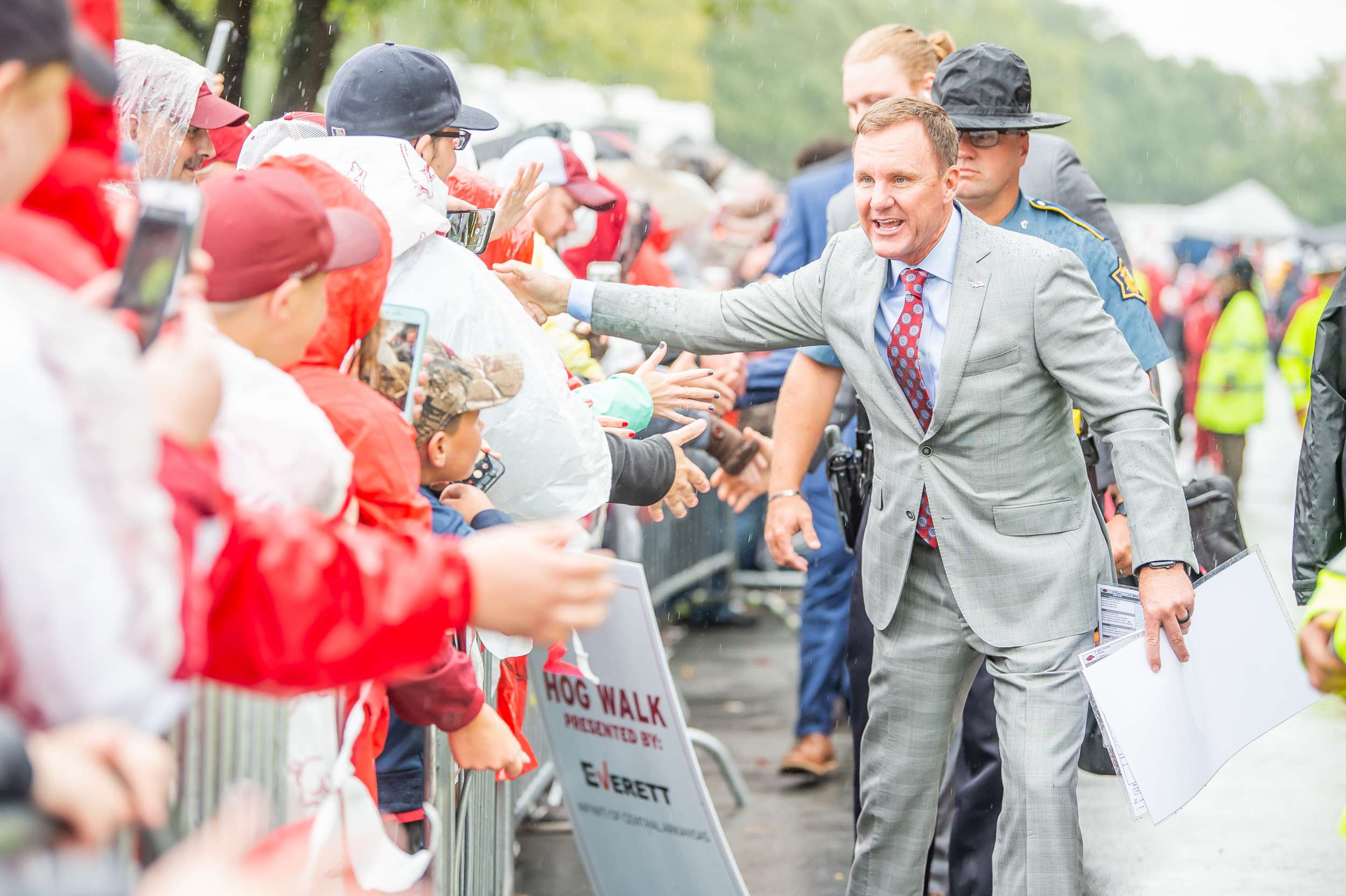 In the fall, the football team took the field at War Memorial Stadium, while the men's basketball team took the court in North Little Rock in December. In April, our baseball team made its annual trip to Dickey-Stephens Park to play in front of sellout crowd. For the first time in more than a half century, the University of Arkansas competed against system schools within the state, including in baseball, softball and men's and women's tennis. In 2021, the Razorbacks will take on UAPB in football.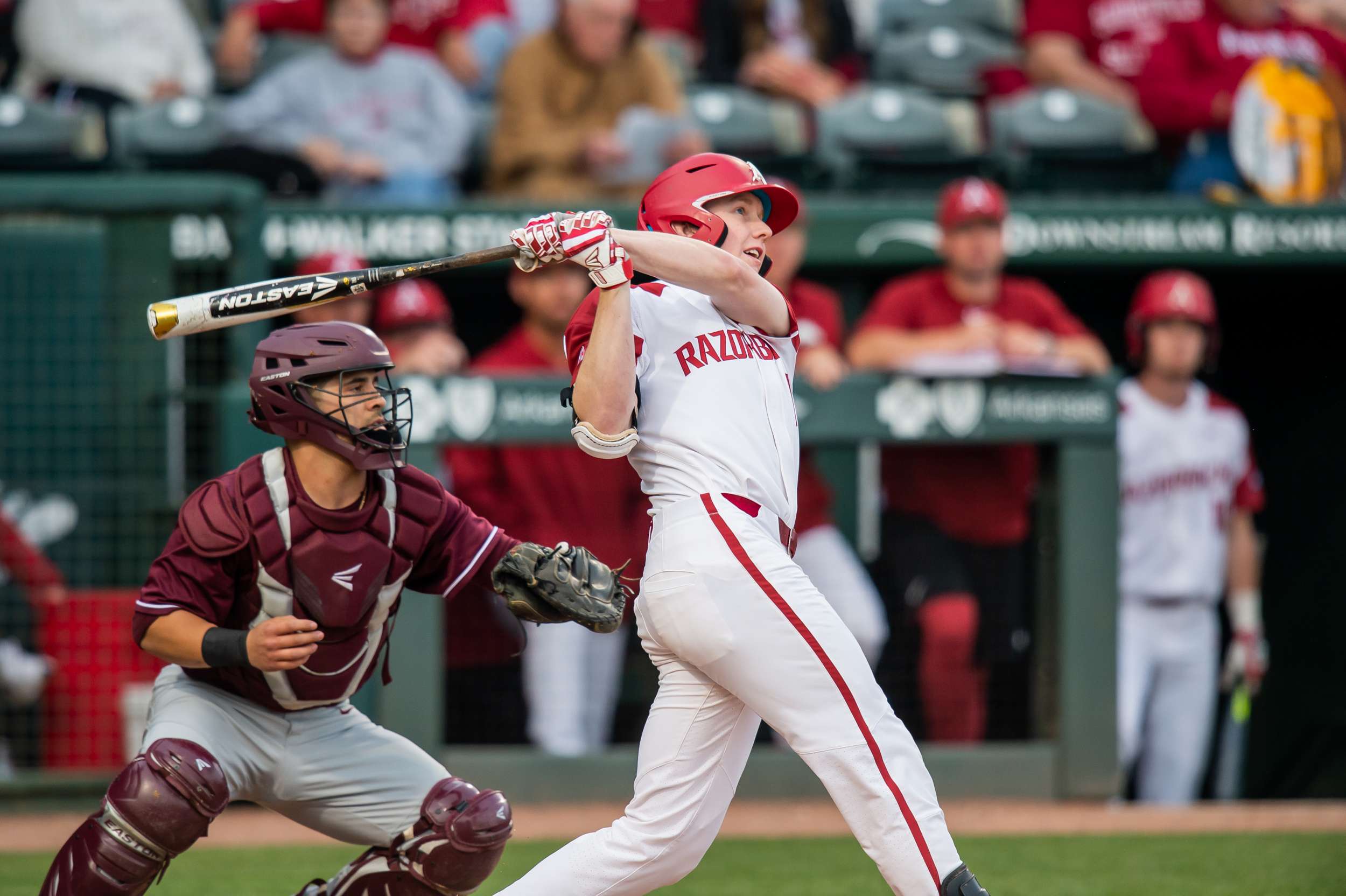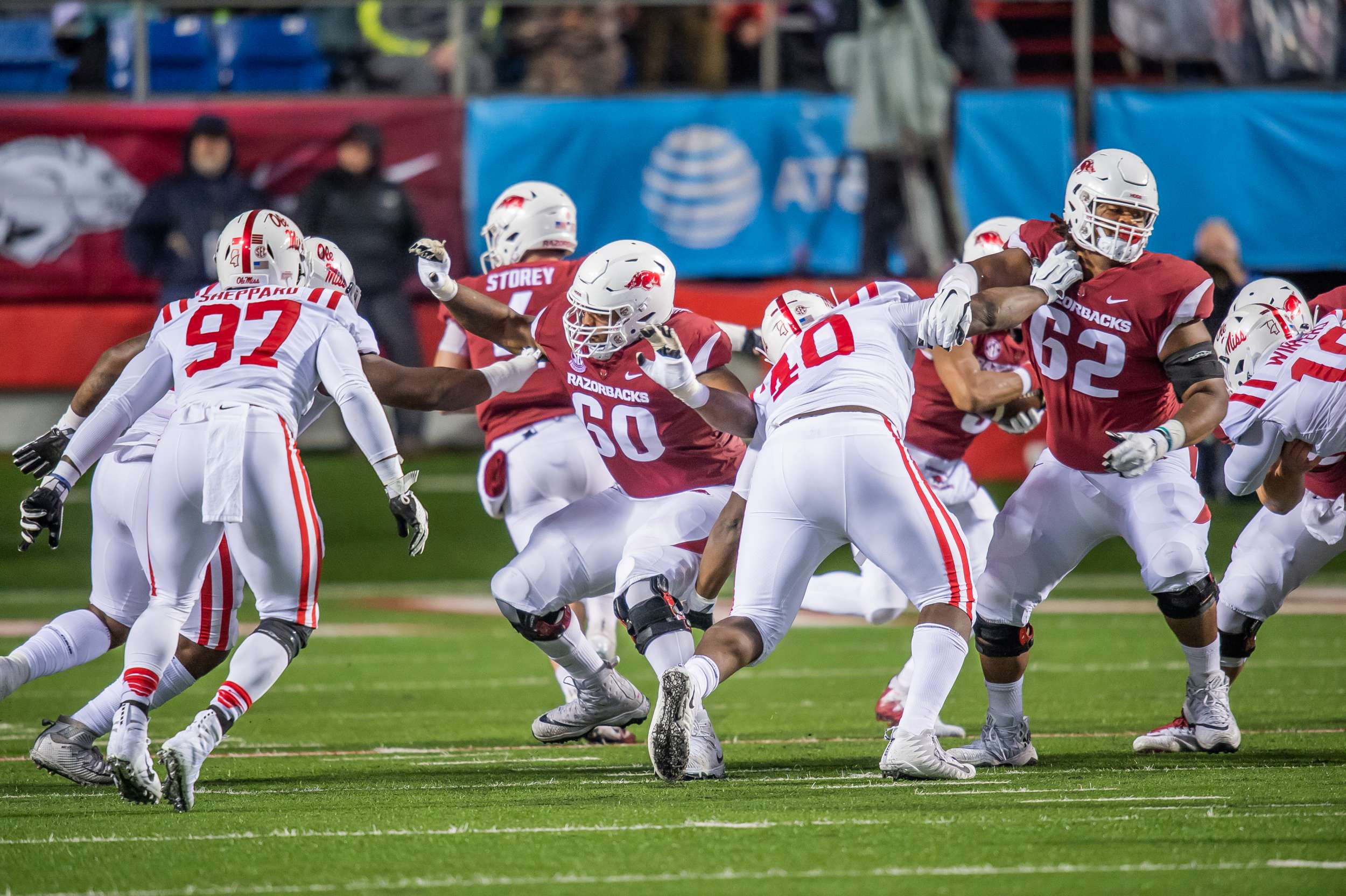 Razorback Clubs worked with the Razorback Foundation to host more than 20 events throughout Arkansas, along with Texas, Oklahoma, Tennessee and Louisiana during the spring and summer of 2019. The inaugural ONE Hog Call event was a hit as was the State of the Hog event in Little Rock featuring Chad Morris and Eric Musselman, just days after he was hired as our new men's basketball coach.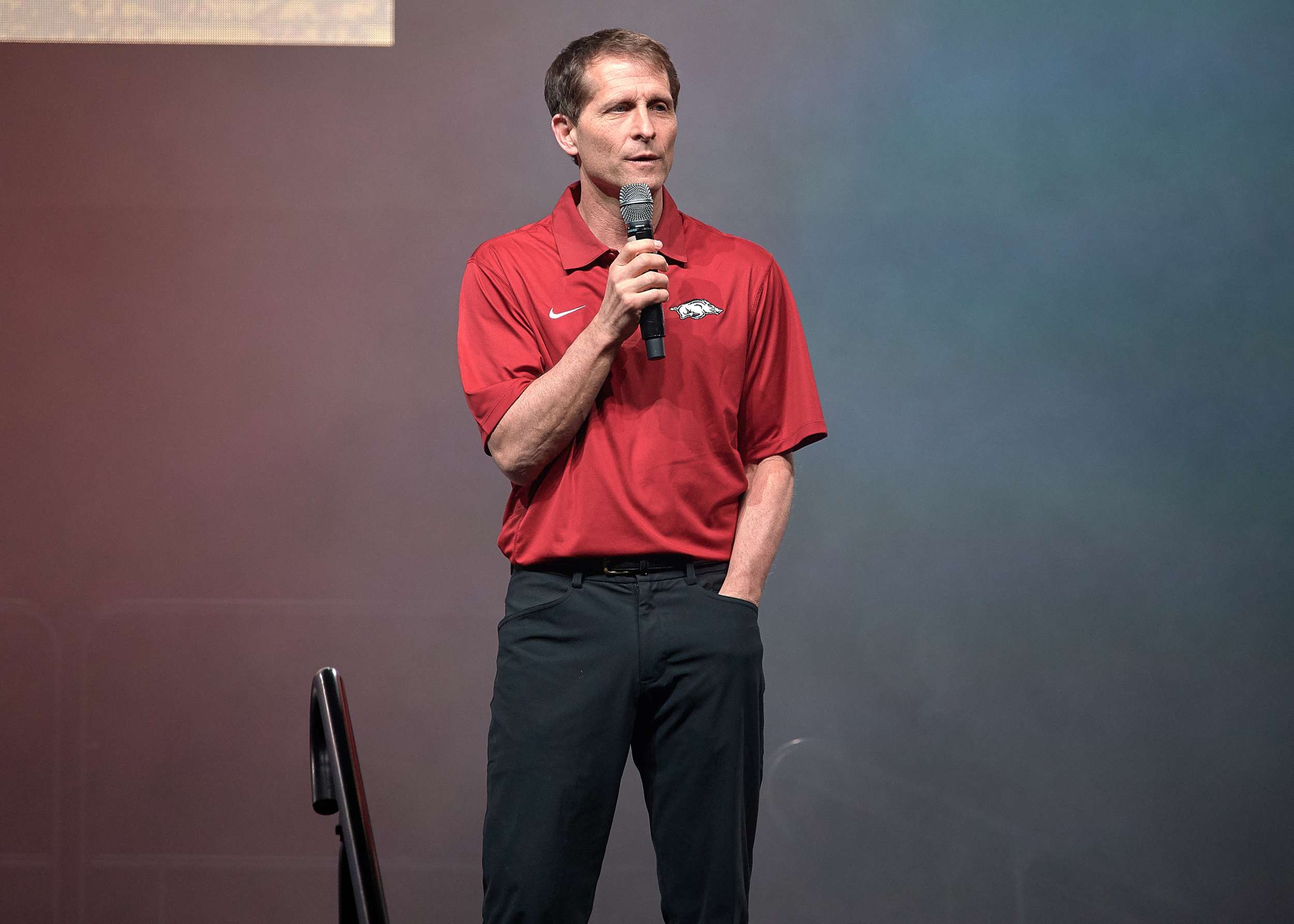 Developing Champions for Life
Our mission is clear – To Build Champions and Razorbacks for Life.
Each and every day that mission is at the core of what we do in student-athlete development. Our commitment is to help prepare student-athletes for peak performance in life, by equipping them with the tangible skills and critical information to enrich their college experience and ensure professional success.
We center our efforts around three focus areas of student-athlete development:
1. Personal Development
2. Career Development
3. Community Engagement
Whether it is participating in the numerous growth opportunities through our Student-Athlete Advisory Committee (SAAC), W.H.O.L.E. Women, International Hogs or our career development programs, including professional networking events and job interview workshops, our student-athletes are getting prepared for their lives after college. Add to that the more than 3,500 hours our student-athletes volunteered in 2018-19 reaching out to our community and throughout our state and you have just a glimpse of the comprehensive student-athlete experience provided at the University of Arkansas.
90% – More than 90% of student-athletes participated in Student-Athlete Development events and initiatives in 2018-19
19 – Every team participated in at least one event or initiative
114 – Organizations/Schools served through Community Engagement
365 – Number of student-athletes who participated in Community Engagement events (almost 80% of student-athlete population)
708 pounds – Canned Food Items Collected
3,519 – Community Engagement Hours
$98,770 – Economic Impact on the Community

Heralding Our Head Hogs
The remarkable success of Razorback Athletics in the classroom and on the athletic fields can be attributed to a collective effort. It all starts with our student-athletes. First and foremost, they are the key to our success.
However, behind our 465+ young men and women is a team helping position them for that success. That team includes University and athletic department staff, Razorback Foundation members, our loyal fans and many others. But few, have the direct impact on our student-athletes as our coaches.
So, it should come as no surprise that our coaches at the University of Arkansas rank among the best among their peers in the nation. In 2018-19, we celebrated coach of the year honors, hall of fame inductions and bid farewell to a pioneer who literally formed our gymnastics program.
2018-19 Razorback Coaching Honors
Bryan Compton
2019 USTFCCA National Indoor T&F Assistant Coach of the Year
2019 USTFCCA South Central Region Indoor T&F Assistant Coach of the Year
Lance Harter
2018 SEC Women's Cross Country Coach of the Year
2019 SEC Women's Indoor T&F Coach of the Year
2019 USTFCCA South Central Region Indoor T&F Coach of the Year
2019 USTFCCA National Indoor T&F Coach of the Year
2019 SEC Women's Outdoor T&F Coach of the Year
2019 USTFCCA South Central Region Outdoor T&F Coach of the Year
2019 USTFCCA National Outdoor T&F Coach of the Year
Chris Johnson
2019 USTFCCA National Outdoor T&F Assistant Coach of the Year
2019 USTFCCA South Central Region Outdoor T&F Assistant Coach of the Year
Dale Schultz
2019 SEC Diving Coach of the Year

Celebrating Our Greats
History and tradition are cornerstones of our program and help form the foundation for our success today and in the future. The University of Arkansas has a rich heritage of extraordinary student-athletes and coaches who helped build our program into what it is today.
It is imperative that we not only remember those men and women who put Razorback Athletics on the map, but also celebrate their legacy. In 2018-19, we welcomed back Coach Nolan Richardson and the 1994 NCAA Men's Basketball Championship team on the 25th anniversary of that signature title. We also announced that Coach Richardson's name will be on the court at Bud Walton Arena in time for the 2019-20 basketball season. His predecessor Coach Eddie Sutton will soon be honored with the naming of the men's practice gymnasium in the Basketball Performance Center. 
We celebrated Sidney Moncrief's induction into the National Collegiate Basketball Hall of Fame in Kansas City and dozens of former Razorbacks induction into the University of Arkansas Sports Hall of Honor, the Southwest Conference Hall of Fame and the Arkansas Sports Hall of Fame. 
Finally, we bid adieu to Tusk IV as he finished his reign as our live mascot at the end of the 2018-19 year. As Tusk IV enjoys the fruits of retirement at his home on the Stokes Family Farm in Dardanelle, his son Tusk V is primed and ready to take over the family tradition beginning this fall.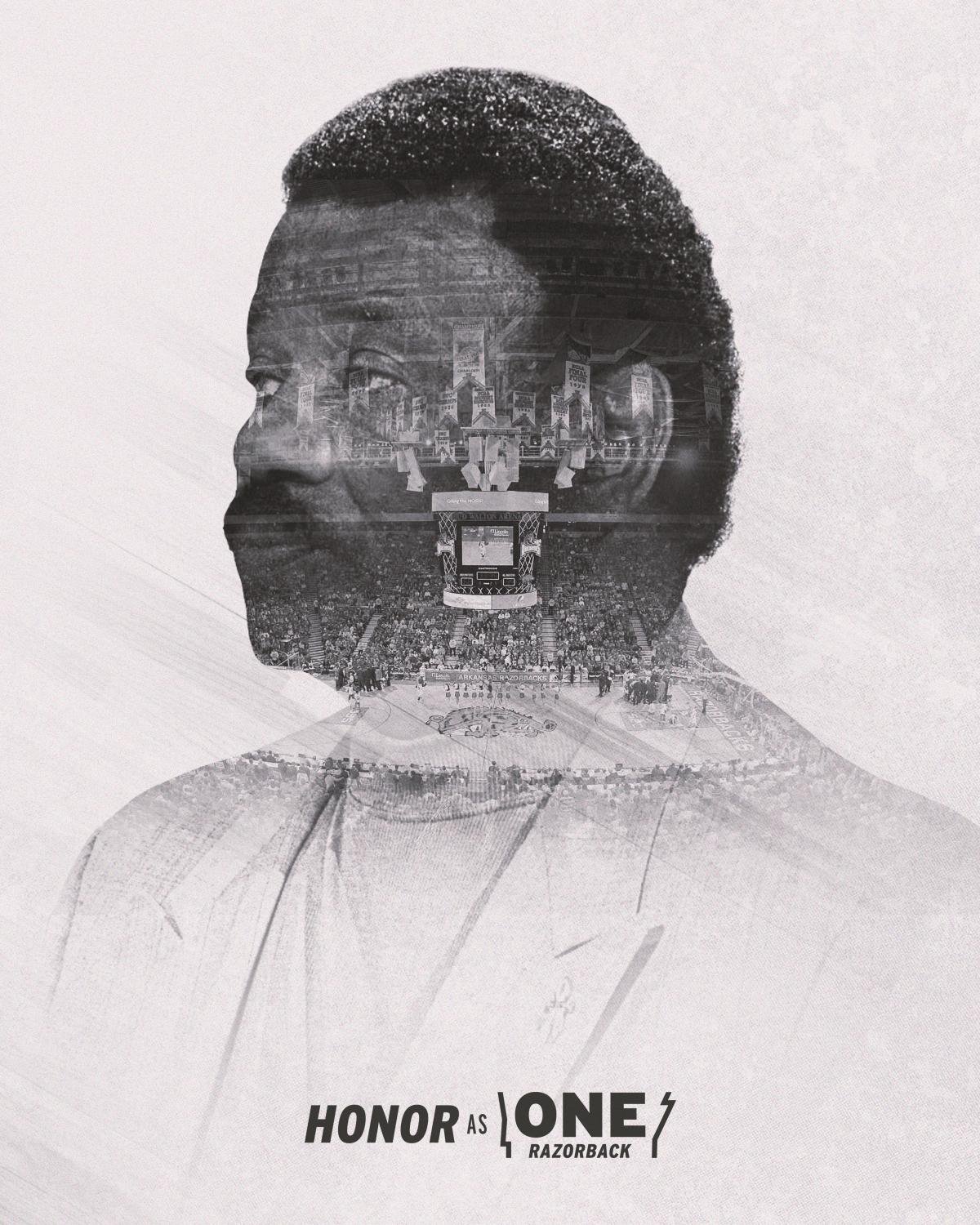 Individual Success
Throughout this past year, our more than 465 student-athletes achieved some pretty remarkable things.  Whether it is on the track, on the links or in the pool, Razorback student-athletes are not only some of the best in the nation, but among the best in the world in their respective sports. 
From NCAA champions to national award winners, from SEC Players of the Year to the SEC Female Athlete of the Year (Maria Fassi), Arkansas was home to more than 60 All-Americans and nearly 100 All-SEC performers in 2018-19.  It was an extraordinary year for Razorback student-athletes and the world took notice!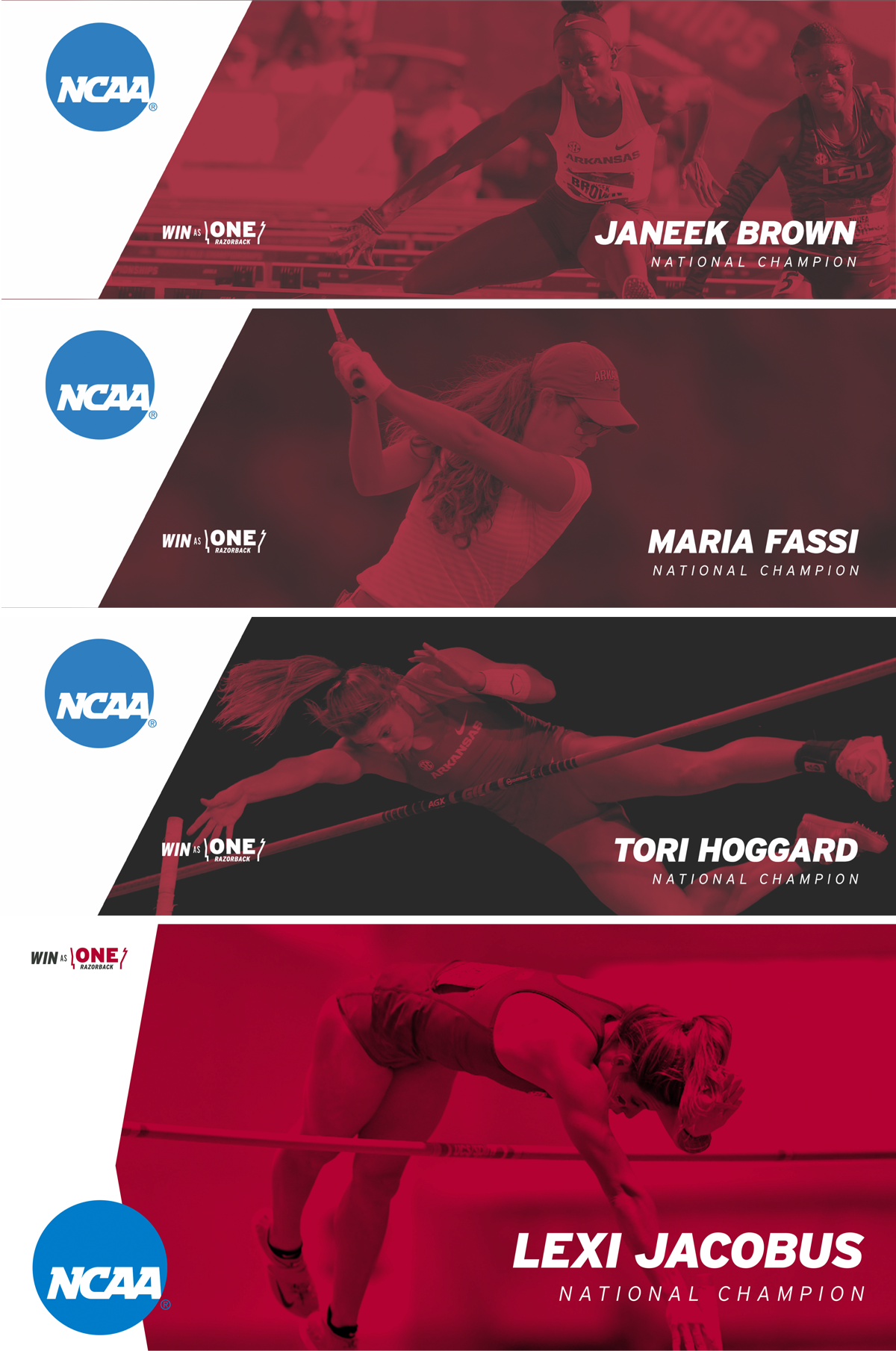 Razorback Foundation
As we continue to celebrate the many successes of our program in the past year, none of these remarkable accomplishments would have been possible without the loyal support of Razorback Foundation members and season ticket holders.
Their investment into the lives of our more than 465 student-athletes is not only fostering success in the classroom and on the fields of competition, but is also transforming the future for the young men and women who are part of our program. Simply put, your support is the backbone of our program!
Executive Director Scott Varady and our entire Razorback Foundation team, continue to find innovative ways to better connect with Razorback Foundation members while also providing additional benefits for their support. Now as we celebrate the 40th anniversary of the Razorback Foundation, Inc., we say THANK YOU to all who have been and remain an integral part of the Razorback program.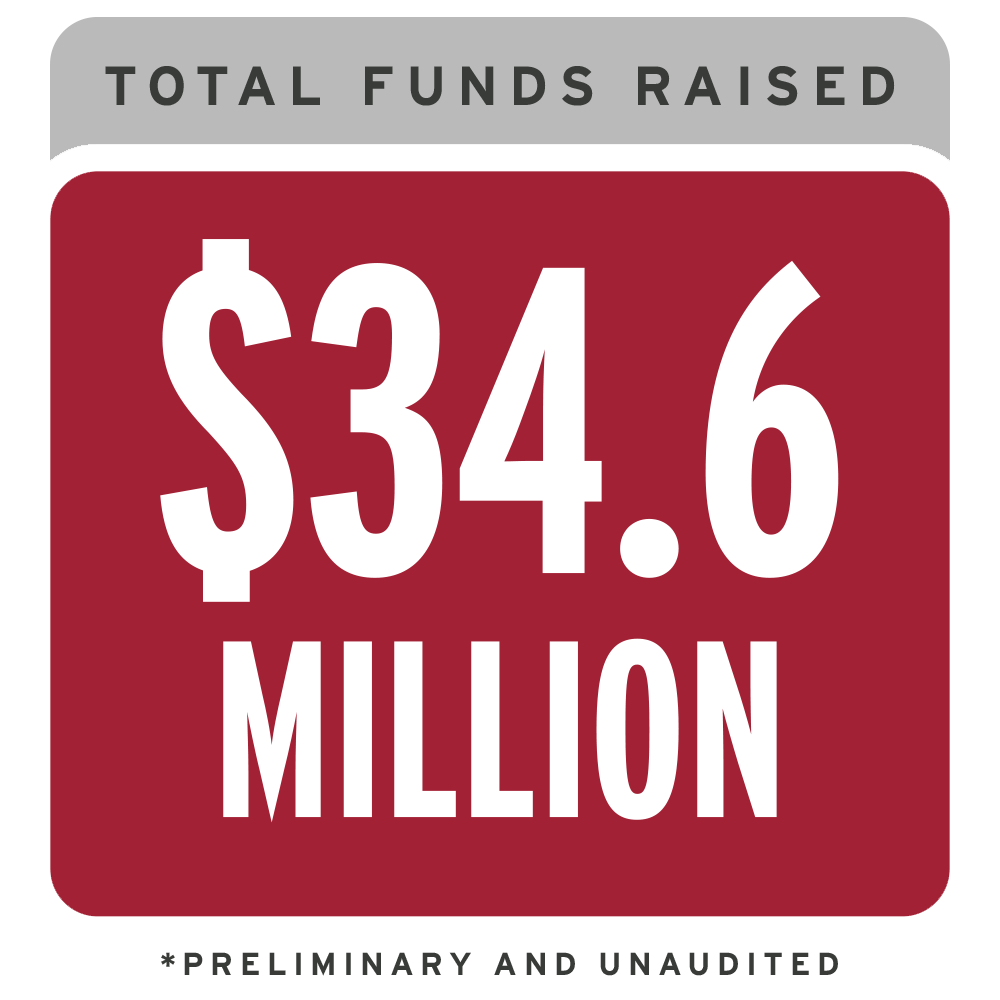 One Razorback
For more than a century, college athletics has brought people together. Whether it is in a college town or a part of a state, competition and cheering on the home team has helped break through everyday differences and sometimes disagreements to unite the masses behind a group of student-athletes competing for their beloved school.
Nowhere in the nation is that more evident than in Arkansas – the state we are proud to call home. The Razorbacks aren't just the passion of Fayetteville or Little Rock, they are what unites us from every corner of the state and around the world.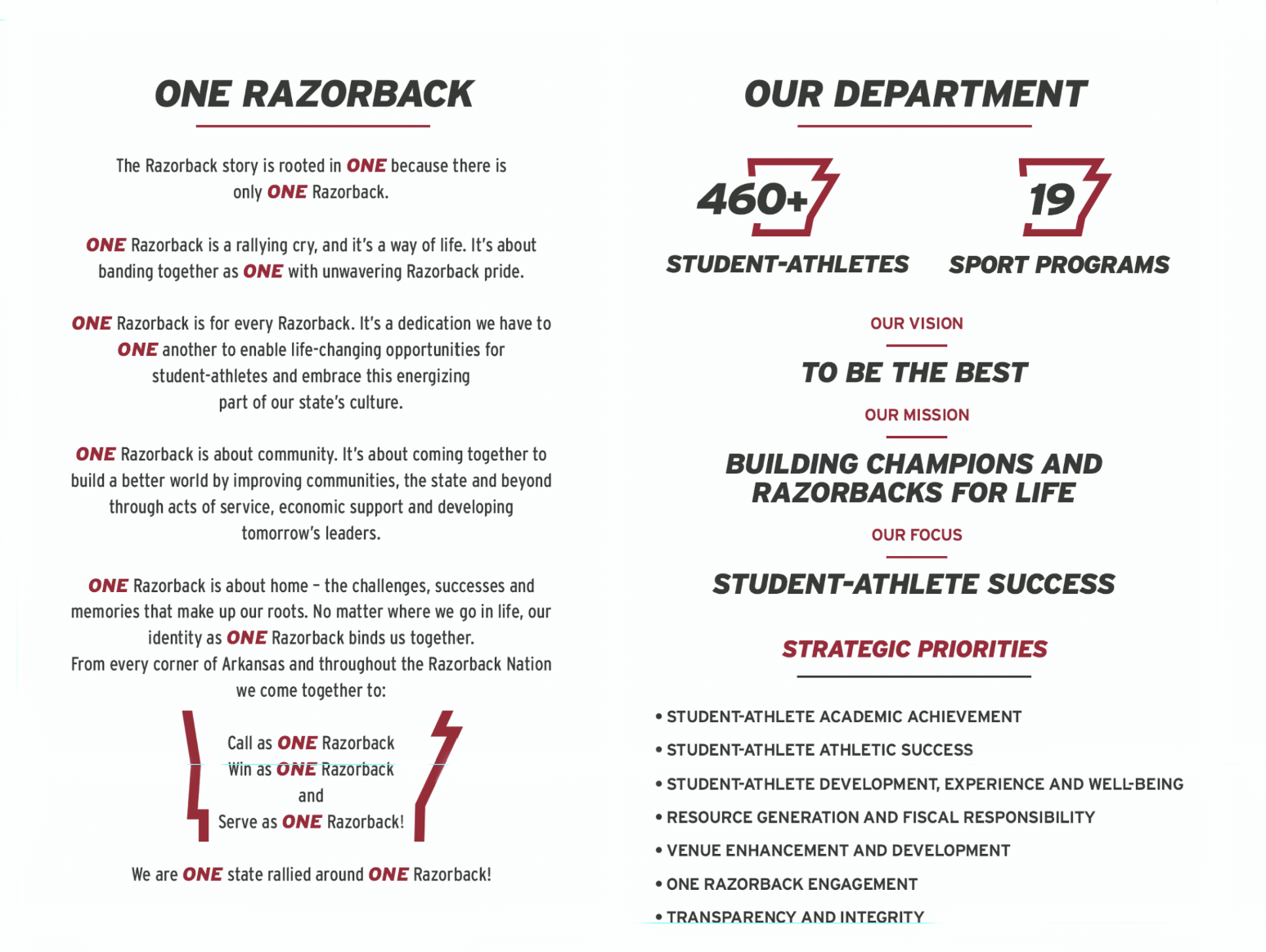 No other programs, anywhere, share our history or our iconic mascot. There are no professional teams or other Power 5 college athletics programs in Arkansas. We are truly ONE state, rallied around ONE Razorback. 
Even as we celebrate our distinctive bond, we must also work to sustain that connection for generations to come. That is why we will continue to cultivate that lifetime bond with Razorbacks of all ages as we move forward together as ONE Razorback.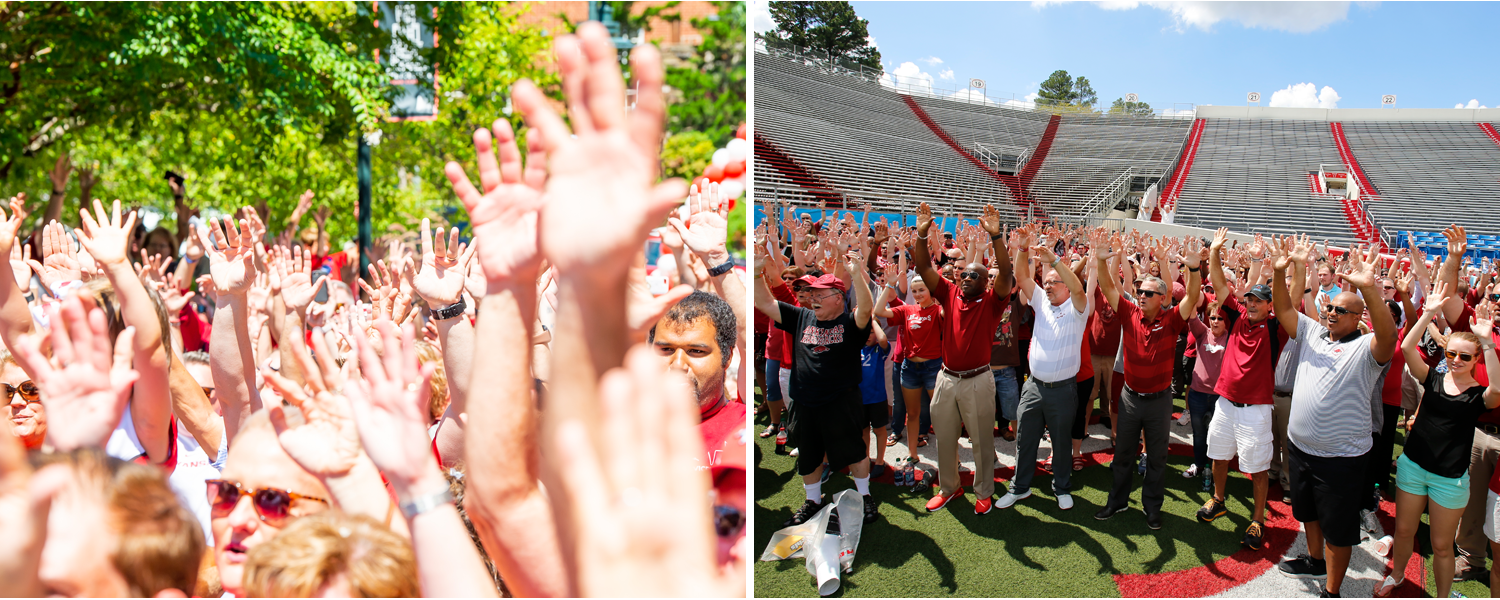 One Hog Call
On Friday, Aug. 31 at 1 p.m. CST, fans all over the world dropped what they were doing and called the Hogs in unison to kick off the new year and show support for all Razorback student-athletes. The event marked the most widespread, simultaneous Hog Call in history. 
Razorback fans answered the call to Call the Hogs, with approximately 1,250 fans attending university-sponsored events in Fayetteville and Little Rock, and thousands joining virtually and posting about the events on social media using #ONEHogCall.
2019 One Hog Call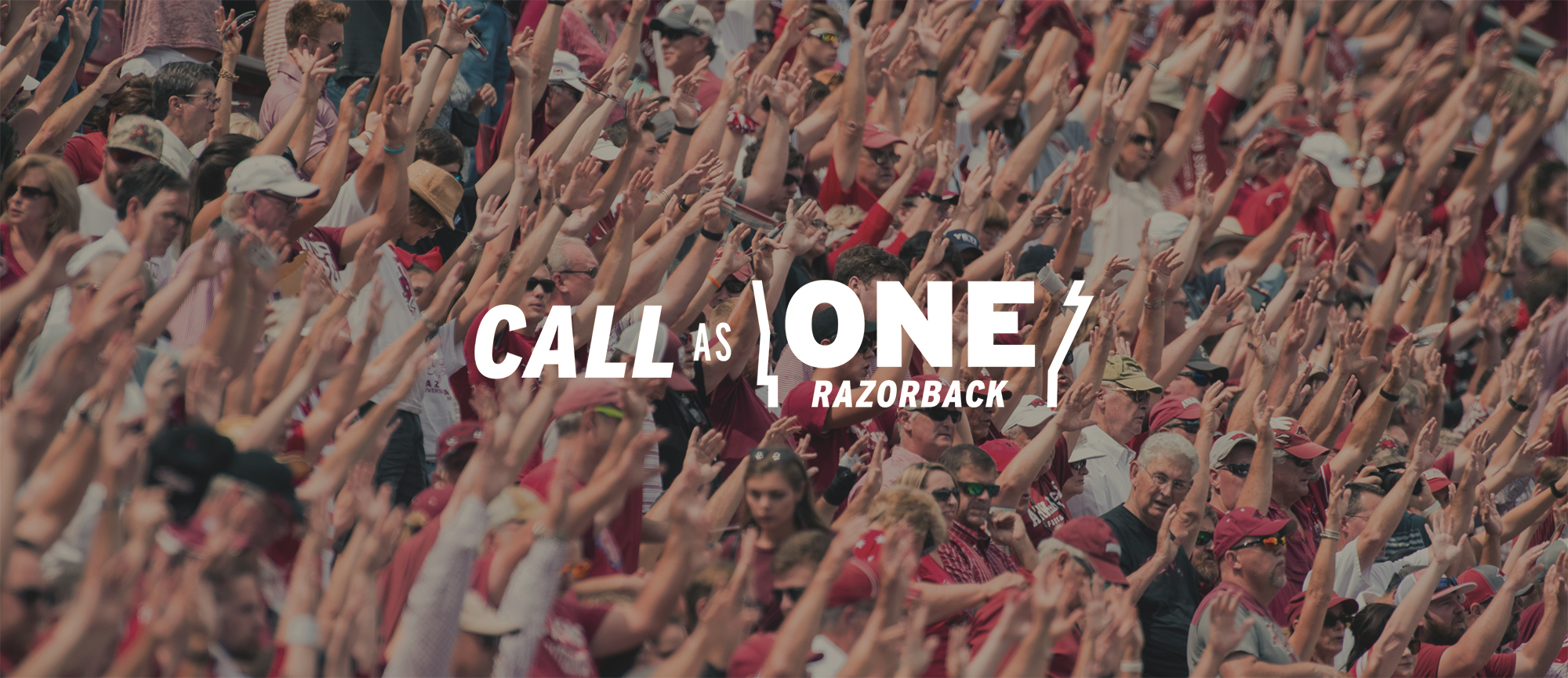 2019 ONE Hog Call Event
August 30, 2019
1 p.m. CST

Join us in:
1. Fayetteville
2. Little Rock
3. Or Wherever Razorbacks are around the world
One Razorback Roadshows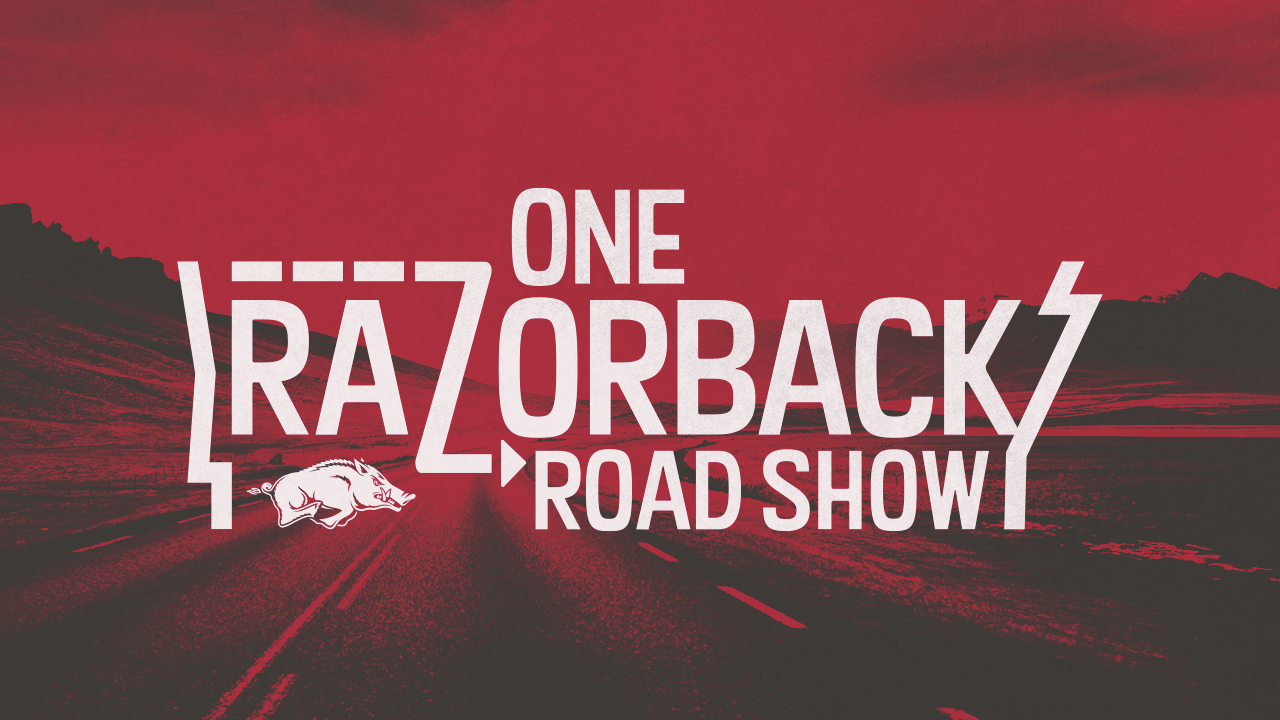 University of Arkansas Director of Athletics Hunter Yurachek and other members Razorback Athletics, including coaches, senior staff members, student-athletes, spirit squad members and mascots, hit the road this spring and summer to bring the Razorbacks to fans around the state. 
The seven roadshows are a part of Razorback Athletics' ongoing commitment to be involved in communities around Arkansas while celebrating the passion and support of the Razorbacks throughout the state. Razorback coaches and student-athletes have traveled throughout the state to greet fans and participate in community service projects.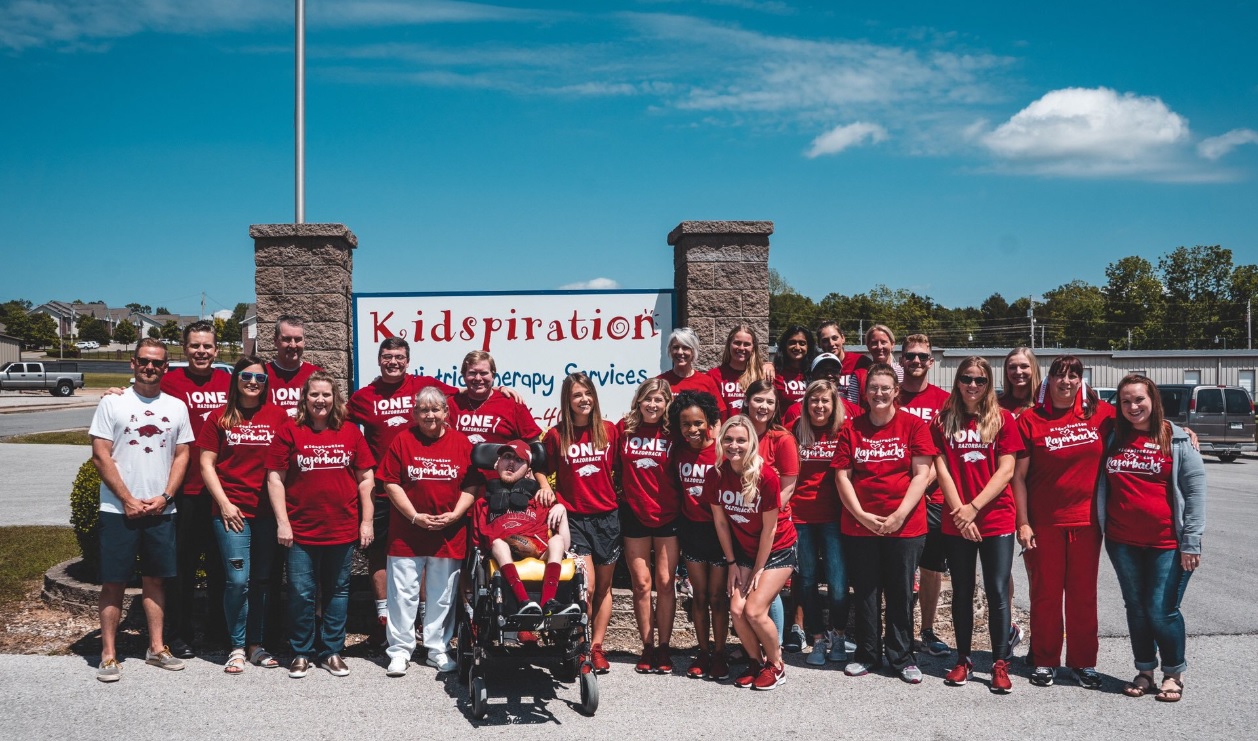 The roadshow tour will culminate with the second ONE Hog Call event at War Memorial Stadium in Little Rock on August 30, the day before the Razorbacks open the 2019 football season against Portland State at Donald W. Reynolds Razorback Stadium in Fayetteville.

The OmaHogs
In what is quickly becoming a summer tradition, the Razorback Baseball team once again provided us with a memorable run to the College World Series in Omaha. After finishing as the national runner-up in 2018, Coach Dave Van Horn's Razorbacks turned in another epic season in 2019.
With a blend of returners and talented newcomers, Arkansas forged its way through a daunting schedule to capture a share of the SEC Western Division title. The Razorbacks earned the No. 5 overall national seed to help ensure that Baum-Walker Stadium was home to both an NCAA Regional and NCAA Super Regional.
A series win over Ole Miss in the NCAA Super Regional propelled the Hogs to its 10th trip to the College World Series, including the first back-to-back appearances in school history.
The Final Out & Call of the Game


Welcoming Coaches
This past year, we had the pleasure of welcoming two new head coaches to the Razorback Family. In the span of just more than two weeks, Eric Musselman and Jordyn Wieber arrived on campus to take leadership of our men's basketball and gymnastics programs, respectively.  From the start, Eric and Jordyn ignited excitement throughout the Razorback Nation and around the nation about the future of two of our most popular programs.

Stadium Renovation & North End Zone Expansion
As fans filed into Donald W. Reynolds Razorback Stadium for the 2019 football season, they were surrounded by a spectacular $160 million renovation and north end zone addition to the Home of the Razorbacks. The north end zone addition included a new game day locker room, athletic training room, four indoor clubs, three levels of suites, two levels of club seats and loge boxes as well as an upper level gameday patio.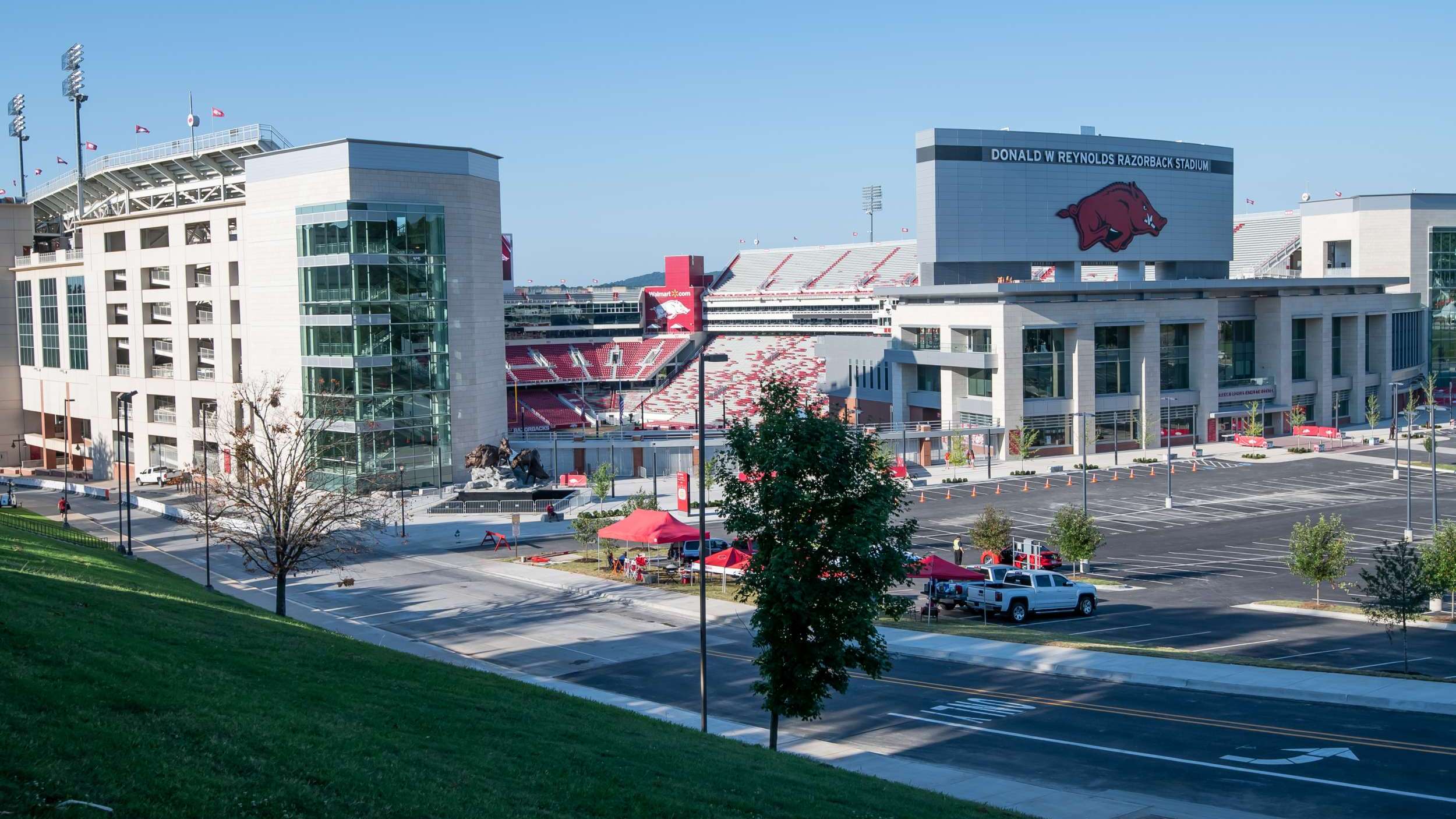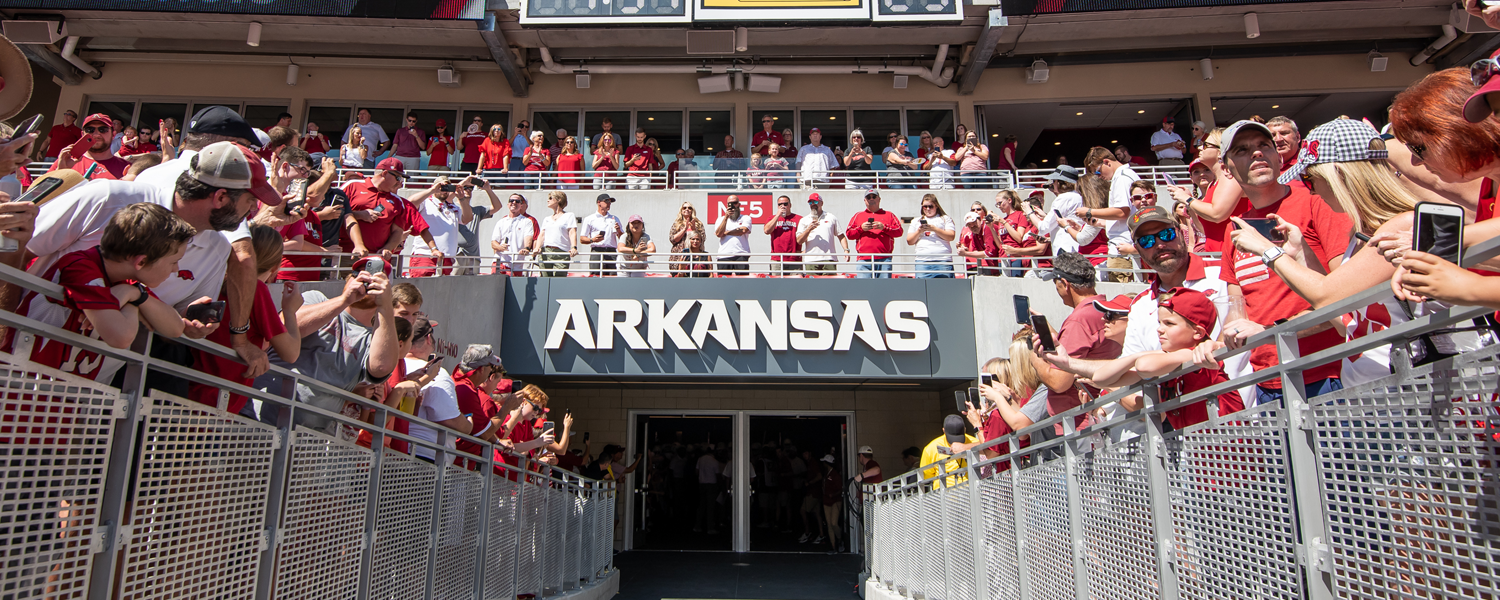 Track Dominance
Few things in collegiate athletics are as synonymous as the University of Arkansas and championship track and field. For decades, Fayetteville has been referred to as the "Track and Field Capital of the World." With the extraordinary dominance displayed through the years by the Razorbacks, it would be hard for anyone to argue.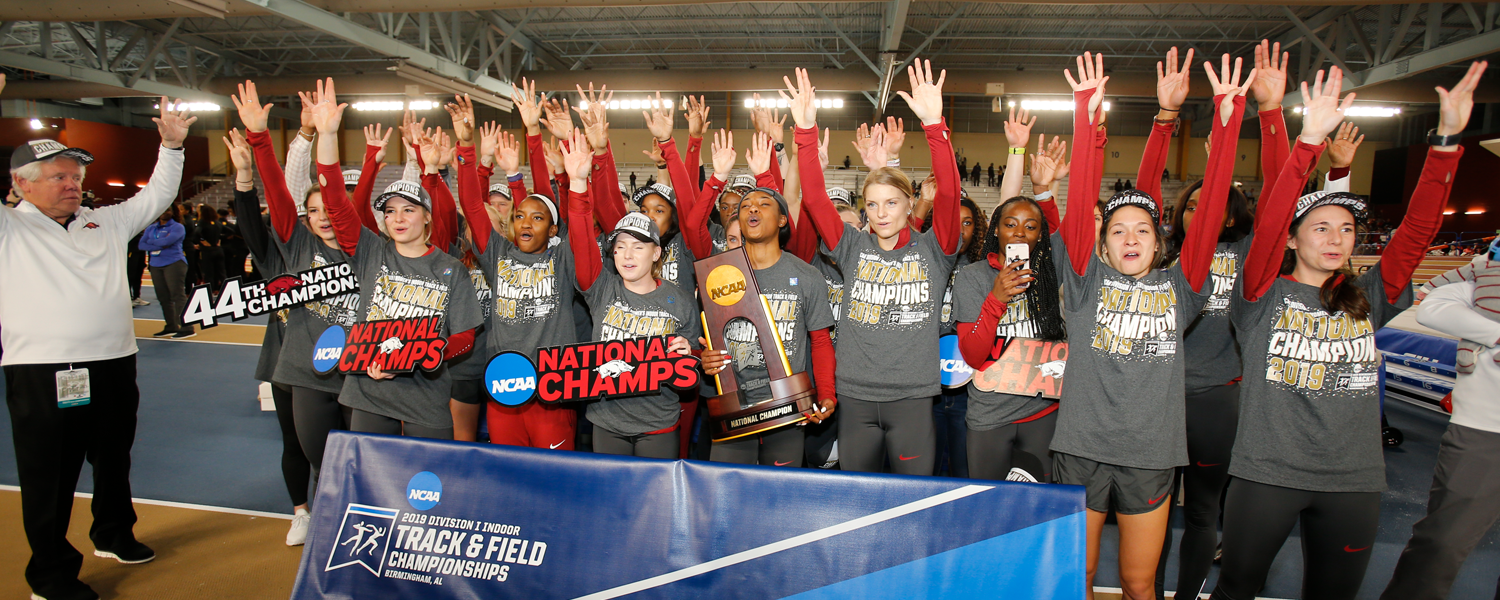 Raising the Bar Academically
At the very core of our mission of Building Champions and Razorbacks for Life, is empowering our student-athletes to achieve success in the classroom. Just as competing in front of a stadium full of Razorback fans is a tremendous advantage in athletic competition, the Jerry and Gene Jones Family Student-Athlete Success Center is the ultimate home field advantage for Razorback student-athletes on the path to graduation.
By the end of the 2018-19 year, 97 Razorback student-athletes qualified to participate in commencement ceremonies, including 98% of those who were completing their athletic eligibility. Along the way, Razorback student-athletes earned numerous selections to Academic All-America team as well as SEC and University academic honor rolls. 
It all added up to another phenomenal year of academic accomplishments and most importantly another 97 Razorback student-athlete names added to the famed University of Arkansas' Senior Walk.

Razorback Fans: Attendance
There is no more fitting way to start a look back at the past year, than by taking an opportunity to celebrate the most passionate fans in college athletics! Many programs have supportive fan bases, but time and time again the Razorback Nation proves to be the best in the country.
1 of only 2 programs in the nation to rank in the top 25 of attendance in football, men's basketball and baseball (Nebraska) – both Top 25 in gymnastics as well
| Sport | Average | National Rank | Total | National Rank |
| --- | --- | --- | --- | --- |
| Baseball | 8,344 | 4th | 283,701 | 3rd |
| Men's Basketball | 15,278 | 11th | 275,012 | 13th |
| Football | 59,884 | 23rd | 419,186 | 21st |
| Gymnastics | 3,056.80 | 14th | 15,284 | 16th |
| Soccer | 896 | 16th | 9,804 | 27th |
| Softball | 566 | 38th | 41,469 | 50th |