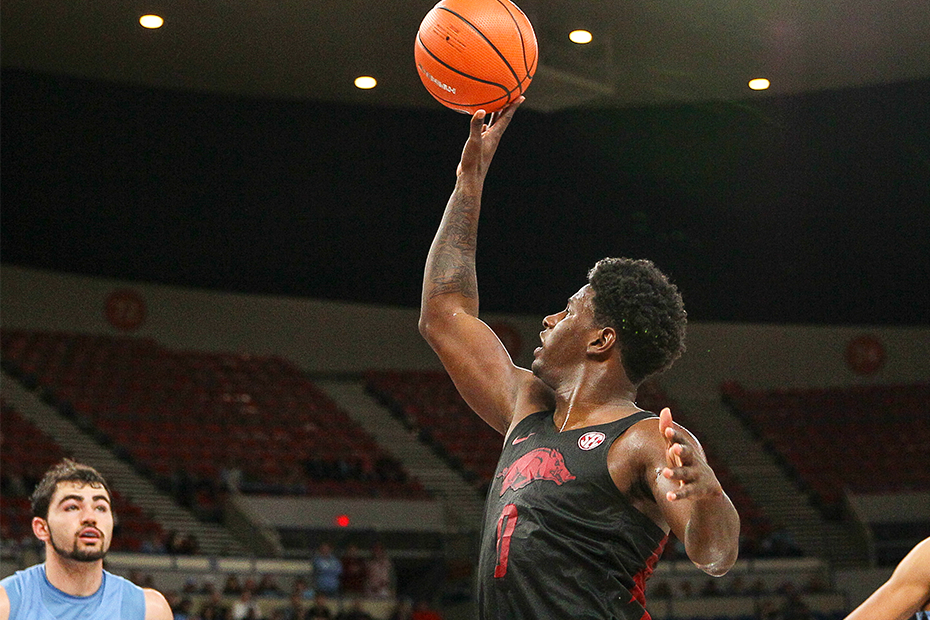 Comeback Falls Short Against No. 9 North Carolina
PORTLAND, Ore. – The Razorback men's basketball team suffered its first loss of the season on Saturday, falling to No. 9 North Carolina 87-68.
Arkansas came out with the pressure. At the first media timeout, Arkansas led 6-2, holding North Carolina to 0-of-8 from the field, blocking three shots and recording two steals.
After UNC missed its first eight shots, it proceeded to sink seven straight to lead the Hogs 19-16 with 7:49 left in the first half.
Arkansas was only 10-of-31 from the field in the first half, opening the door for the Tar Heels to lead by as many as 13 in the opening period. At the break, Arkansas trailed for the first time this season 37-26.
In the second half, Barford cut the UNC lead to eight, scoring five straight, before the Tar Heels stretched it back out to as many as 16, the largest deficit Arkansas has faced this season.
Arkansas would get a spark off the bench, as it did yesterday, in freshman big man Daniel Gafford.
Down 15 with a little under five minutes to play, sophomore guard C.J. Jones hit back-to-back threes to cut the lead to nine.
Arkansas would cut it to as little as six, but could not complete the comeback.
Barford would lead the Hogs with 21 points, his seventh 20-point game of his career, second this season.
The Razorbacks will face the loser of the UConn/Michigan State game on Sunday at either 2 or 2:30 p.m. CT from the Moda Center.
Ticket Packages
Season tickets, mini plans, mobile passes and single-game tickets for the 2017-18 season are available now at the Razorback Ticket Center by calling at 1-800-982-HOGS (4647) and online by clicking here.