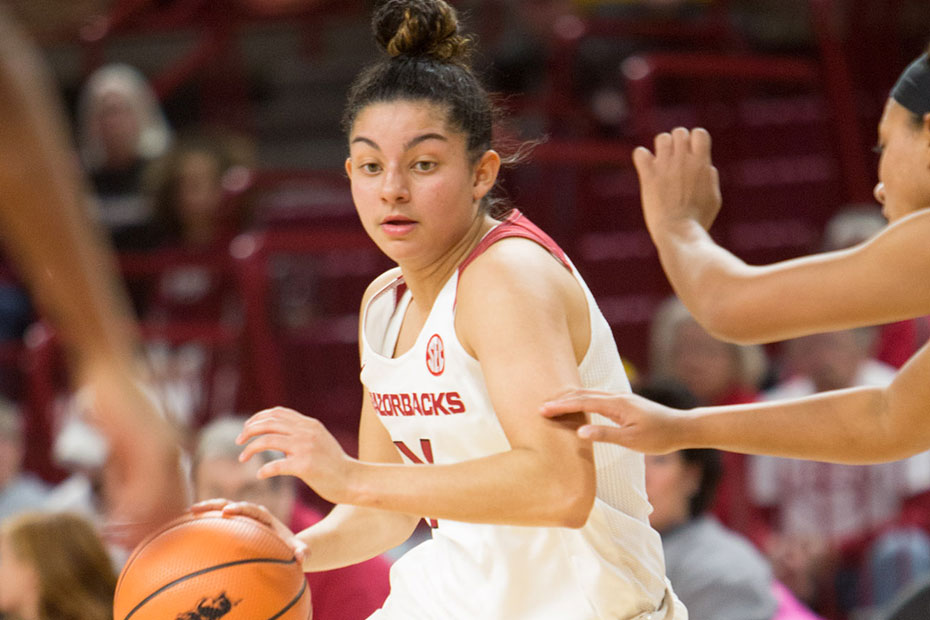 Arkansas Falls At No. 11 Missouri
COLUMBIA, Mo. – The University of Arkansas women's basketball team had no answer for the inside play of No. 11 Missouri as the fell, 88-54, in Southeastern Conference action on the road on Sunday.
Big scoring runs by Missouri (17-2, 5-1 SEC) were possible behind good play by the Tigers in the paint. Undersized, Arkansas (11-9, 2-5 SEC) got into foul trouble early and was unable to overcome the deficit.
As Arkansas focused on the inside game, the Tigers kicked the ball outside and their 3-point shooters went to work. The Razorbacks allowed a season-high 13 opponent 3-point field goals in the loss.
Three players scored in double figures for Arkansas paced 14 points each from Jailyn Mason and Kiara Williams. Malica Monk scored in double figures for the 19th game this season with 11 points.
Notes
• Arkansas went with just the fourth different lineup this year and the second in as many games – Monk, Williams, Mason, Zimmerman and Thomas.
• Jailyn Mason scored 14 points. It is her 12th game in double figures this season.
• Kiara Williams scored 14 points. It is her eighth game in double figures this season.
• Malica Monk recorded her 19th double-figure scoring game of the year finishing with 11 points.
• Missouri's 13 3-pointers is only the fourth time this season that Arkansas has allowed double-digit makes from distance.
• Arkansas gave up a season-high 13 3-point field goals.
Up Next
The Razorbacks travel to defending national champion No. 10 South Carolina as SEC action continues. Arkansas returns home hosting Kentucky on Monday, Jan. 29, in a 6 p.m. tip on the SEC Network.
More Information
For more information about Arkansas women's basketball, follow us on Twitter and Instagram at @RazorbackWBB and on Facebook at Facebook.com/RazorbackWBB. Be sure to subscribe to our YouTube Channel, "Kickin' It In The Neighborhood" for an inside look at the Razorback women's basketball program and check out The Neighborhood podcasts at CoachNeighbors.com.