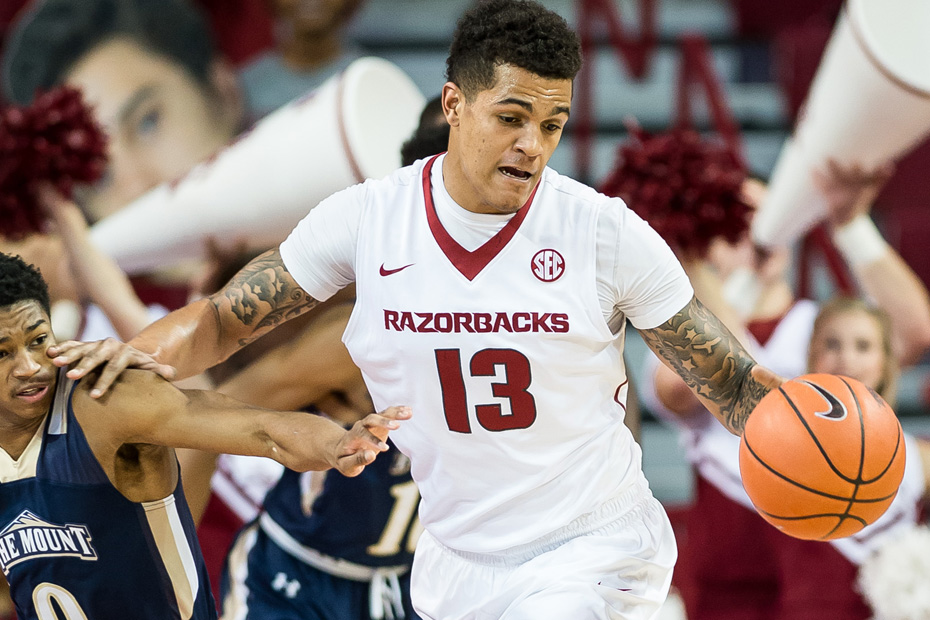 Balanced Attack Leads Hogs Past Mountaineers
Box Score | Highlights | Photos | Players Interview | Anderson Interview
FAYETTEVILLE, Ark. — The Arkansas men's basketball team improved to 4-1 on the season with a 89-76 win over the Mount St. Mary's Mountaineers Monday night inside Bud Walton Arena.
Arkansas improves to 4-1 to start the season for the 10th time in the last 14 years, while Mount St. Mary's falls to 1-7 on the year.
The win marks the 50th victory against unranked non-conference opponents in Bud Walton Arena under head coach Mike Anderson, moving to 50-1 in such games.
The Razorbacks saw two new faces in the starting lineup Monday night as Anton Beard recorded his first start of the season, 18th of his career, while Manuale Watkins started for the first time this season and the 10th time in his career.
Arkansas had five players score in double figures with Daryl Macon leading the way with 15 points. Jaylen Barford and Dustin Thomas finished with 13 each, while Dusty Hannahs tallied 12 and Anton Beard added 11. The Razorbacks have had four or more players score in double figures in four of the first five games this season. Hannahs has now scored in double figures in 13 straight games dating back to last season.
Moses Kingsley entered the game ranked second in the nation in blocks per game and added to that total in the second half as he finished a point shy of his second straight double-double with nine points and 13 rebounds.
The Razorbacks outscored Mount St. Mary's 21-9 in transition to improve their streak of tying or leading their opponents in fast break points to 10 straight games. Arkansas has also outscored its opponents in the paint in six straight games dating back to last season after outscoring the Mountaineers 48-34. The Razorbacks capitalized on Mount St. Mary's turnovers, turning 11 miscues into 18 points the other way.
QUOTABLES
"Some of the things I wanted to see in his particular game, I saw. We cleaned up our turnovers and talked about sharing the basketball and I thought we did a much better job at that. We played a lot of guys and got efficient minutes out of them. I thought Dustin Thomas was the highlight guy in the first half. He was on the receiving end of a lot of nice passes, rolled to the basket and was able to finish around the basket. It was good to see us attack inside." – head coach Mike Anderson
"Tonight, we played with a lot more confidence on the offensive end. We played our game and we weren't thinking about it. Last week, when we played Minnesota, we were thinking about our shots and hesitating. Tonight, we went out there and played with a lot of energy and played our game and offensively good things happened for us." – junior guard Daryl Macon
UP NEXT
The Razorbacks will play their second game of a five-game homestand on Thursday, Dec. 1, hosting Stephen F. Austin at 8 p.m. inside Bud Walton Arena. The non-conference showdown will be televised on SEC Network.
TICKETS
Season tickets, mini plans, mobile passes and single-game tickets for the 2016-17 season are available now at the Razorback Ticket Center by calling at 1-800-982-HOGS (4647) and online by clicking here.
For more information on Arkansas Men's Basketball, follow @RazorbackMBB on Twitter.