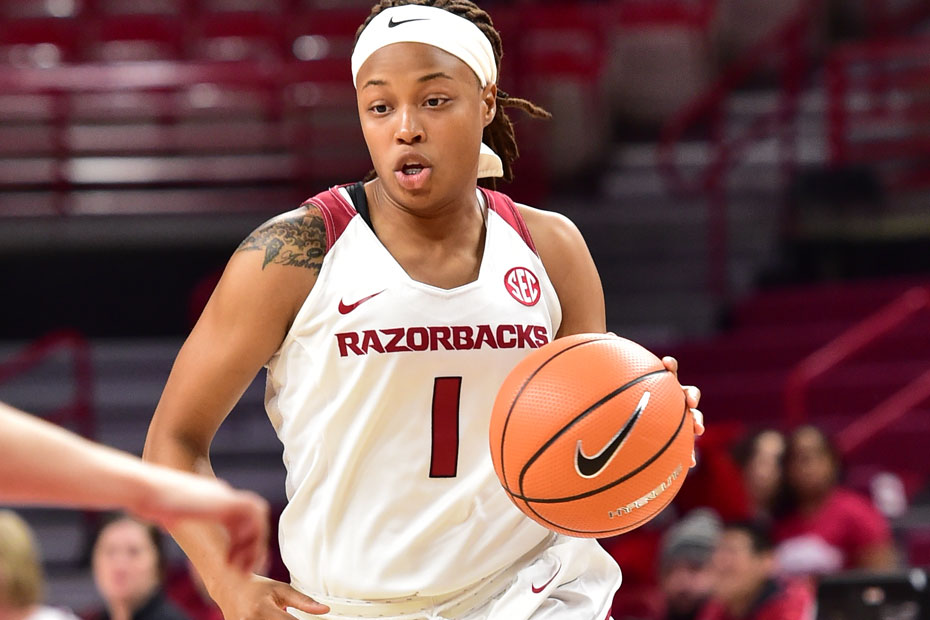 Northcross-Baker Paces Arkansas To Win
FAYETTEVILLE, Ark. – Junior Raven Northcross-Baker dropped in a career-high 22 points, including six three-pointers, leading the University of Arkansas to a 91-57 win over UT-Arlington in Bud Walton Arena on Sunday.
Arkansas (8-3) got double figure scoring from four players, with Malica Monk netting 20 points, Jailyn Mason with 15 points and Keiryn Swenson with 10 points to join Northcross-Baker.
The win was fueled by some halftime adjustments and, oddly enough, a scoring run by the Mavericks. Arkansas was up double figures at halftime but UTA came out of the locker room hitting six-of-seven field goals to cut the lead to single digits.
With the lead trimmed to eight points, 52-44, with 2:18 to play in the third period, the Mavericks controlled the tempo and energy brining life to their bench and fans.
The ruckus from the visitor's bench seemed to inspire Arkansas who charged down the floor and got a 3-pointer from Swenson to regain a double-figure lead. Sophomore Kiara Williams got a steal and Mason ran the floor for a layup as Arkansas stretched the lead to 11 points.
Arkansas opened the fourth quarter with a 3-pointer from Swenson, a steal, and back-to-back three-pointers from Northcross-Baker. That run helped secure the win for Arkansas.
Northcross-Baker hit four 3-pointers in the fourth period scoring 12 points and helping the Razorbacks outscore UTA 28-11 in the final 10 minutes.
Notes
• Raven Northcross-Baker scored in double figures for the second time of the season with a career-best 22 points.
• Malica Monk recorded her 11th consecutive double-figure scoring game and her sixth 20+ point game.
• Arkansas forced double figure turnovers for the 10th time in 11 games.
• Career-best 12-for-12 from the line for Malica Monk. It is the fifth time this year she has been perfect from the line.
• It is the fourth time this year Arkansas has recorded double figure 3-pointers.
• Twelve 3-pointers is a season-best and the fourth time this year the Razorbacks have had double digit baskets from distance.
• Arkansas has outrebounded its opponent in five games including Sunday, 40-27, over UTA.
• Arkansas had season bests for field goals (30, 3-pointers (12), assists (19) and tied their season-best with 19 free throws.
Up Next
The Razorbacks travel to Arizona State for the final game before the holiday break. Arkansas returns hosting Grambling on Dec. 28 and opens Southeastern Conference play with Ole Miss in Bud Walton Arena on Dec. 31.
More Information
For more information about Arkansas women's basketball, follow us on Twitter and Instagram at @RazorbackWBB and on Facebook at Facebook.com/RazorbackWBB. Be sure to subscribe to our YouTube Channel, "Kickin' It In The Neighborhood" for an inside look at the Razorback women's basketball program and check out The Neighborhood podcasts at CoachNeighbors.com.