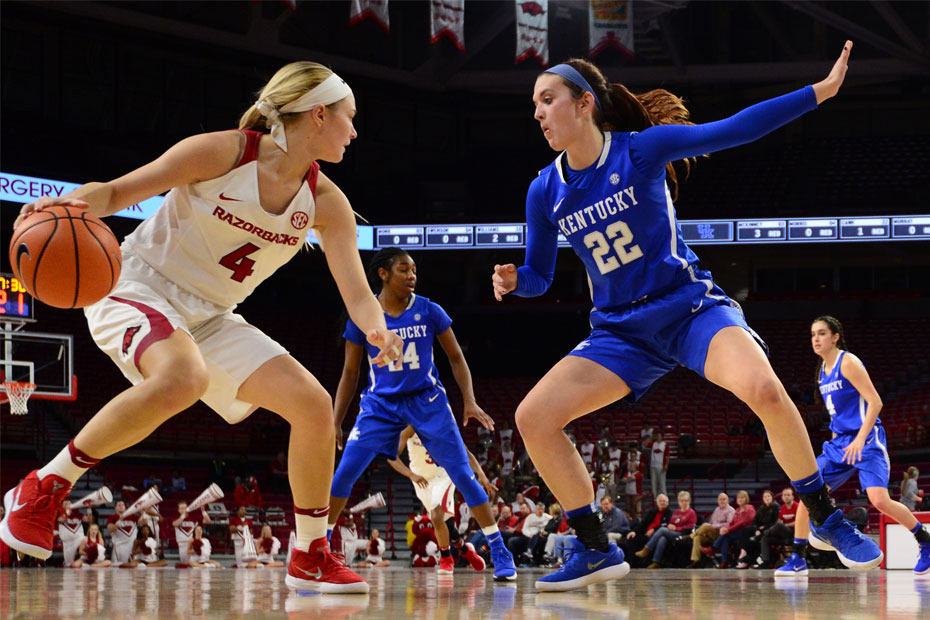 Razorbacks Fall To Kentucky
FAYETTEVILLE — Devin Cosper scored 17 points on Monday night but the University of Arkansas women's basketball team fell, 76-65, to Kentucky in Southeastern Conference action in Bud Walton Arena.
The Razorbacks (11-11, 2-7 SEC) struggled with several long scoring lapses and never seemed to get in sync offensively. The Wildcats (11-11, 3-5 SEC) shot better than 50% for the first half opening a big lead that Arkansas was unable to overcome.
The game was even in the opening minutes, with Kentucky up one, 13-12, at the 5:08 mark of the first frame. The Wildcats moved into a zone defense and finished the first quarter on 6-2 run. They extended the margin with a double-digit scoring run in the second quarter to lead by 17 at the half.
Jailyn Mason and Malica Monk also scored in double figures. Mason had 13 points and three rebounds while Monk added 11 points and six assists for Arkansas. The Razorbacks made four more 3-point field goals (9-5) than the Wildcats and the rebounds were nearly even with Kentucky finishing with a 35-33 advantage.
Notes
• Malica Monk scored 11 points, scoring in double figures for the 21st time in 22 games this season.
• Devin Cosper led the team in scoring with 17 points. It is Cosper's 16th double-digit points game and it is the sixth time she has paced the team this year.
• Jailyn Mason added 13 points, scoring in double figures for the 14th time this year.
• Malica Monk dished out six assists. It is the seventh game of the year she has had five or more assists and it is the 14th game of her career with five or more assists.
Up Next
Arkansas plays four of its final seven games in Bud Walton Arena. The Razorbacks also host No. 10 Tennessee, No. 11 Missouri, LSU and No. 15 Texas A&M. Arkansas sprinkles in road trips to Alabama, Kentucky and Vanderbilt before the SEC Tournament.
More Information
For more information about Arkansas women's basketball, follow us on Twitter and Instagram at @RazorbackWBB and on Facebook at Facebook.com/RazorbackWBB. Be sure to subscribe to our YouTube Channel, "Kickin' It In The Neighborhood" for an inside look at the Razorback women's basketball program and check out The Neighborhood podcasts at CoachNeighbors.com.