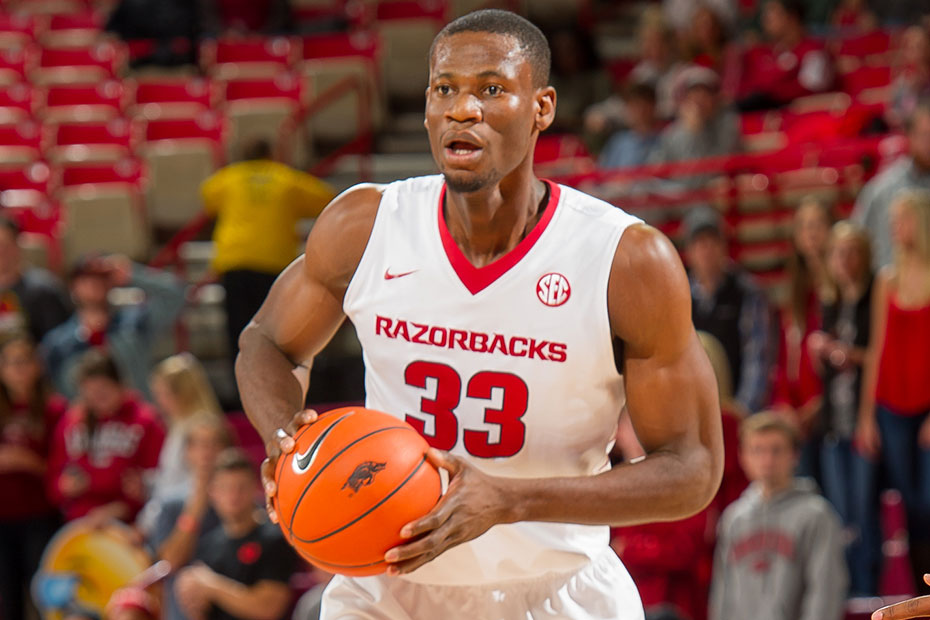 Razorbacks Fall to Ole Miss in The Pavilion
OXFORD, Miss. — Despite Moses Kingsley's 12th double-double of the season, the Arkansas men's basketball team fell at Ole Miss 76-60 on Saturday afternoon in The Pavilion. Kingsley led all players with 19 points and 13 rebounds, and became the seventh high major player to reach 12 such games this season.
Anthlon Bell bounced back from a nine-point performance earlier this week against Mississippi State, as he was second on the Razorbacks with 16 points, including 7-for-7 from the foul line. Jimmy Whitt scored nine points in five minutes of playing time in the first half, just missing out on his third consecutive double-figure scoring effort.
At halftime, Arkansas led the Rebels 37-35. Early on, the visitors held a 26-17 lead at the 8:37 mark after seven straight points from Whitt. Kingsley scored 15 of his 19 in the first frame and grabbed six rebounds. Meanwhile, Arkansas held Ole Miss' leading scorer Stefan Moody to one point on 0-for-8 shooting from the field.
But the second frame was a different story, as the Rebels opened on a 17-5 run and never looked back. Bell had 11 of his 16 in the second half, but the rest of the Razorbacks combined for only 12. Moody ended up with 17 points on 4-for-17 shooting in the game.
QUICK HITS
• Anthlon Bell has hit a three-pointer in all 25 games this season.
• With 19 points and 13 rebounds, Moses Kingsley recorded his 12th double-double of the season.
• Kingsley had six offensive rebounds, his third game of the season with that many or more. Kingsley has grabbed one offensive board in all 25 games this season.
• This was the first time in program history that Arkansas had back-to-back games in the state of Mississippi.
UP NEXT
Arkansas returns to Bud Walton Arena for a three-game homestand starting on Wednesday, Feb. 17 when the Razorbacks welcome Auburn to town. The contest begins at 6 p.m. and will be televised on SEC Network.