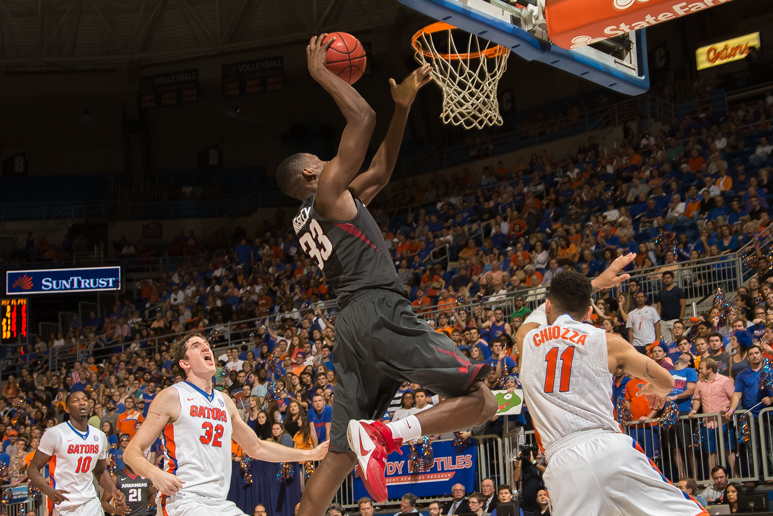 Razorbacks' Rally Comes Up Short in Gainesville
Box Score (PDF)  |  Bell Joins 1,000 Club
GAINESVILLE, Fla. — Anthlon Bell reached 1,000 points in his career, but the Arkansas men's basketball team fell to Florida 87-83 on Wednesday night at the O'Connell Center. Bell (24), Dusty Hannahs (20), Moses Kingsley (15) and Jabril Durham (10) all reached double digits in the same game for the fourth time this season.
Down 10 points with under two minutes remaining, the Razorbacks hit six consecutive shots to get within a two-point deficit. But two foul shots by the Gators with six seconds left iced the four-point win for the home team. Arkansas went 10-for-21 from beyond the arc, led by Bell's 4-for-5 performance, for their second-most three-pointers this season.
Florida grabbed its biggest first-half lead with 5:20 remaining, as the Gators led 35-26. But back came the Razorbacks on an 11-4 run to find themselves down only 39-37 at halftime. Bell led Arkansas with 11 points in the first 20 minutes, and was only three shy of 1,000 career points.
Early in the second, Bell sunk back-to-back baskets to become the 39th player in program history to reach the landmark and bring Arkansas within 54-50 at the 14:04 mark. But back pushed Florida to extend its lead to as many as 12 with five minutes left. As the furious comeback fell short at the very end, the Razorbacks dropped to 11-11 overall and 4-5 in SEC play.
QUOTABLES
"It was a gutsy performance by our team, we didn't go away and we gave ourselves a chance. Give them a lot of credit for going to the free throw line and knocking their shots down. All of the guys brought it tonight. We came in here with the mindset of winning, but give them credit for holding serve at home." — Head coach Mike Anderson
QUICK HITS
• Anthlon Bell scored his 1,000th career point at the 14:04 mark of the second half on a running layup. He became the 39th player in program history to reach the mark.
• Bell scored 20-plus points for the seventh time this season, while Dusty Hannahs scored 20-plus points for the 11th time.
• Hannahs has scored 20-plus points six times in the last eight games.
• Bell and Hannahs each hit at least three shots from beyond the arc for the 12th time this season.
• Bell has hit a three-pointer in all 22 games this season.
• With 15 points, Moses Kingsley has scored in double figures in all 22 games this season.
• Kingsley led the team in rebounds (9), while Jabril Durham led the team in assists (4), each for the 21st time this season.
• Durham scored in double figures for the fifth time this season.
• The Razorbacks hit 10 three-pointers, their second-most in a game this season.
UP NEXT
Arkansas returns home to face Tennessee on Saturday evening in Bud Walton Arena. Tip-off is set for 7 p.m. CT on SEC Network.
For more information on Arkansas men's basketball, follow @RazorbackMBB on Twitter.