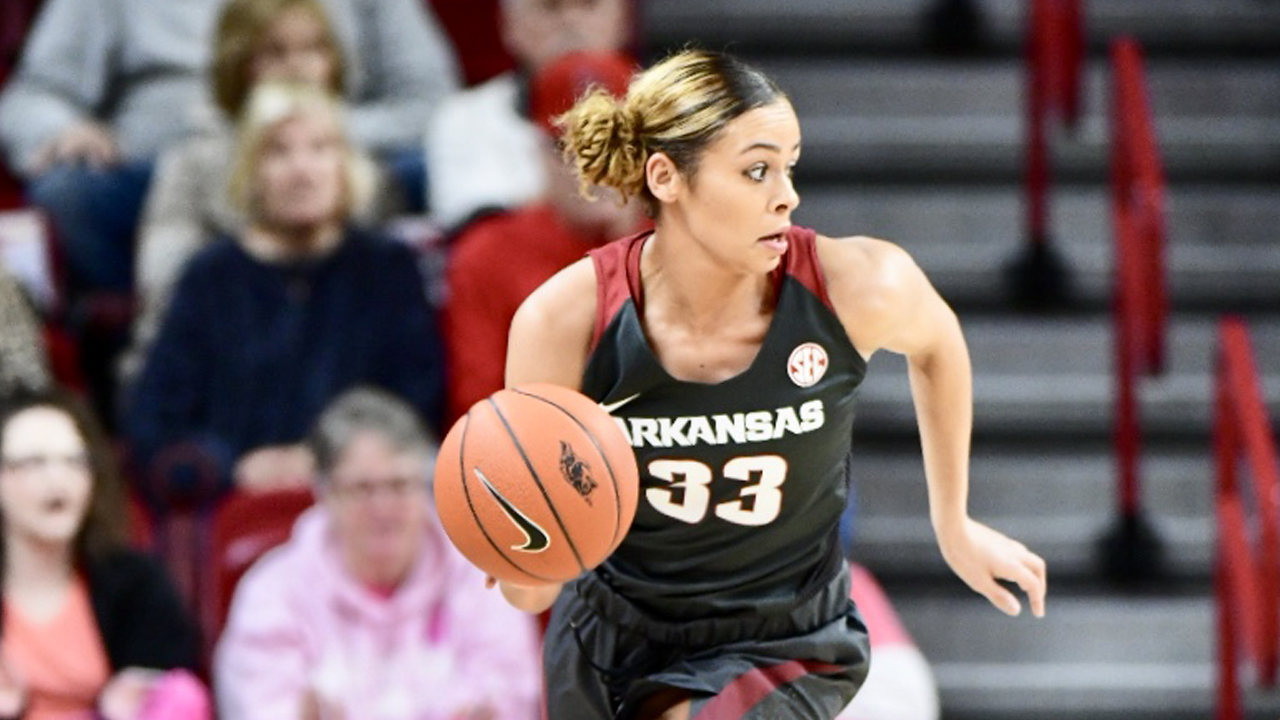 Second Half Effort Falls Short
FAYETTEVILLE, Ark. – Chelsea Dungee scored 41 points, but the University of Arkansas women's basketball team fell 75-72 to Auburn in Southeastern Conference action in Bud Walton Arena on Sunday.
Chelsea Dungee
•41 points
•10-for-18 from the floor
•4-for-7 from 3-point range
•17-for-19 from the line
•40 minutes
An early rebounding advantage paired with nearly 50% shooting allowed the Tigers (18-6, 6-5 SEC) to open up an early lead in the first half. Arkansas (16-9, 5-6 SEC) also started fast but poorly timed turnovers and a size disadvantage allowed Auburn to stretch the lead to 14 points at the break.
Dungee had nine points in the first half but exploded in the third quarter with a 17-point effort. She hit three 3-pointers and went 8-for-9 from the line but Arkansas seemed unable to close the gap, trailing 60-47 as they started the fourth frame.
But Arkansas rallied. They had a short scoring run to start the quarter and found a spark from senior Raven Northcross-Baker. Baker finished with 12 points making four 3-pointers off the bench. The Razorbacks chipped away at the score closing within three points when Dungee was fouled. She went to the line for four free throws after a technical foul was also assessed.
Dungee drained all four bonus shots giving Arkansas the lead, 71-70, with 1:39 to play. Auburn answered from the free throw line reclaiming the lead. Arkansas had one last chance but couldn't get the shot to fall.
Arkansas has its second bye of the season on Thursday and returns to action with back-to-back road games at Kentucky Feb. 17, and at Georgia Feb. 21.
Notes
•Arkansas Starters: Alexis Tolefree, Malica Monk, Kiara Williams, Jailyn Mason, Chelsea Dungee
•Chelsea Dungee scored 17 points in the third quarter.
•Chelsea Dungee has scored in double figures in 22 of Arkansas' 25 games and has scored 20 or more points 12 times this year.
•Chelsea Dungee has been Arkansas' leading scorer in 13 games.
•Chelsea Dungee has scored 30+ points twice (Auburn and #16 South Carolina).
•Chelsea Dungee's 41 points is the most in program history in an SEC game. It is three points shy of the all-time single-game record of 44 points.
•Raven Northcross-Baker scored 12 points. It is her second game of the season in double figures.
For more information about Arkansas women's basketball, follow us on Twitter and Instagram at @RazorbackWBB and on Facebook at Facebook.com/RazorbackWBB. Be sure to subscribe to our YouTube Channel, "Kickin' It In The Neighborhood" for an inside look at the Razorback women's basketball program and check out The Neighborhood podcasts at CoachNeighbors.com.