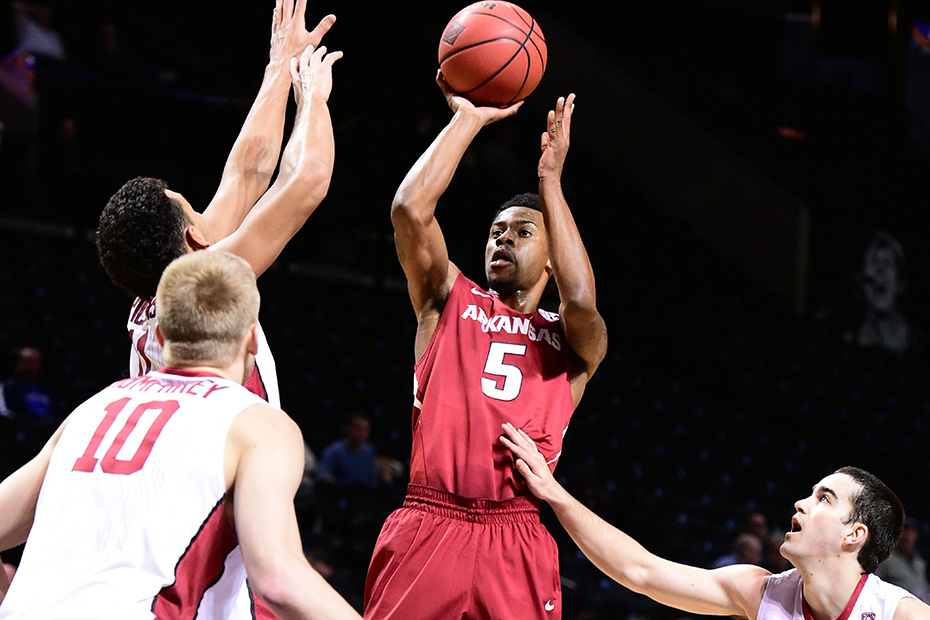 Stanford Edges Razorbacks 69-66 in Brooklyn
Box Score (PDF) | Video Highlights
BROOKLYN, N.Y. — The Arkansas men's basketball team fell to Stanford 69-66 in the consolation game of the NIT Season Tip-Off Friday afternoon at the Barclays Center.
An early 15-0 spurt put the Razorbacks up 18-4, but a late run by the Cardinal proved to be the difference in the contest. Anthlon Bell led the team with 17 points on 5-for-7 shooting from three-point range, while Moses Kingsley secured his third double-double of the season with 12 points and 12 rebounds.
Bell was unstoppable in the first half, going 5-for-5 from long range and making all five treys in a span of six minutes and 34 seconds. Arkansas led by as many 20 points in the first period before settling for a 10-point lead at intermission.
The Razorbacks pushed the advantage back to 17 points with 6:38 left in the game, but that would be all the offense Arkansas could muster as Stanford ended the game on a 21-1 run to complete the comeback victory.
After the Cardinal took a 69-66 lead with 2.9 seconds left, Dusty Hannahs let a half-court heave fly as time expired, but the attempt rimmed out to give Stanford the victory.
QUOTABLES
"I'm disappointed in the outcome of the game. Congratulations to Johnny Dawkins and Stanford. They could have folded their tent. At halftime we had a ten point lead and I felt pretty good about our basketball team. I'm very disappointed we didn't get the win, but like I always say the sun will come up tomorrow and we will get the opportunity to go out and get better." – Mike Anderson
"We did all the things that are in our DNA. We are a blue collar team. We saw that today. You saw guys scrambling, hustling, deflecting passes, diving on the floor, and trying to take charges. We did all the little things that add up to winning. That's the recipe for us. We just have to do it for a longer period of time." – Mike Anderson
QUICK HITS
• Anthlon Bell went 5-for-5 from behind the arc in the first half, draining all five treys in a span of six minutes and 34 seconds.
• Bell has made five-plus treys seven times during his collegiate career.
• Moses Kingsley recorded his third double-double of the year, scoring 12 points and tying his career-high with 12 rebounds.
• Bell, Kingsley and Hannahs have all scored in double figures every game this season.
• Jimmy Whitt tied his career high with 14 points, going 6-for-11 from the field and 2-for-2 from the charity stripe.
• Arkansas has had a player make at least five three-pointers in four of five games after doing so just twice last year.
UP NEXT
The Razorbacks return to action next week, welcoming Northwestern State to town on Tuesday, Dec. 1 for a 7 p.m. tip-off inside Bud Walton Arena. The game will be shown on SEC Network Plus through the WatchESPN App.
For more information on Arkansas men's basketball, follow @RazorbackMBB on Twitter.