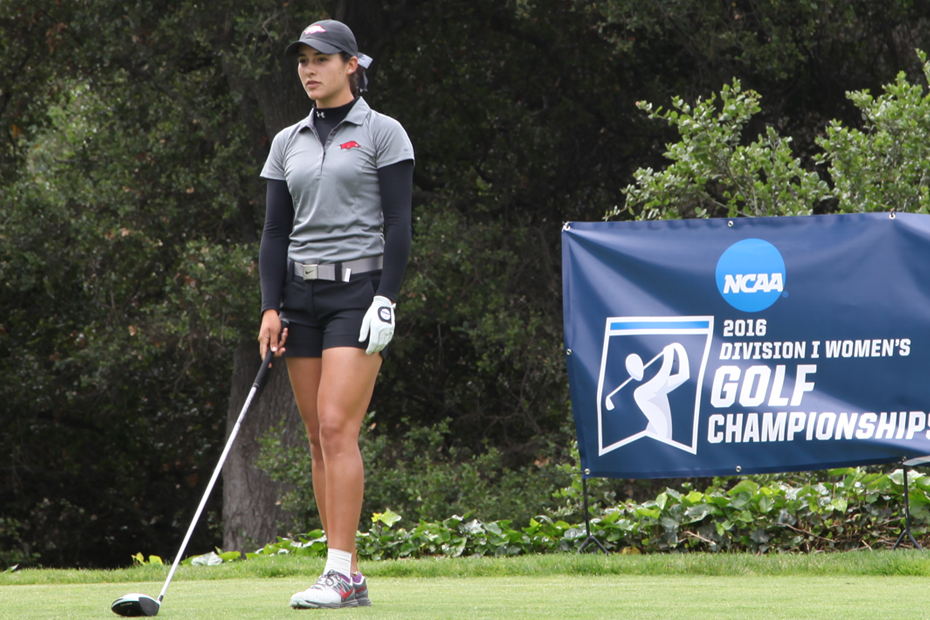 FAQ For NCAA Women's Golf
MISCELLANEOUS
Location: Eugene Country Club
255 Country Club Road
Eugene, OR 97401
541‐345‐0181
Course History and Virtual Tour
Yardage/Par: Women – 6,369 or 6,331 yards, Par 72 (depending on whether No. 11 is played at 190 yards or 152 yards)
Dates: Women's Championship: May 20‐25, 2016
Men's Championship: May 27‐June 1, 2016
Television coverage: Golf Channel
NCAA Women's Golf Website: http://www.ncaa.com/sports/golf‐women
Credentials
Media desiring credentials to cover the 2016 NCAA Division I Men's and/or Women's Golf Championships at Eugene Country Club should apply online at www.ncaa.com/media. Please apply for the women's and men's championships separately. Credentials will not be mailed; they will be distributed at Eugene Country Club beginning Thursday, May 19 (Women's Championships) and Thursday, May 26 (Men's Championships). Recipients must present a government‐issued photo ID to claim credential.
Championships Format
Finals play for both championships consists of three days of stroke play on Friday thru Sunday (54 holes), after which the top 15 teams and nine individuals not on an advancing team will be determined. That is followed by a final day of 18 holes of stroke play (Monday) to determine the top eight teams that will advance to match play as well as the 72‐hole individual champion. The team national champion will be determined by a match‐play format that will consist of quarterfinals and semifinals conducted on Tuesday, followed by the finals on Wednesday.
*** See information below regarding Bylaw 31.1.4.1 and finals site competition details
To accommodate Brigham Young's policy of not competing on Sunday, the school will have the option to participate in the practice round on Thursday with the other 132 participants (24 teams and 12 individuals) and then begin its first round of play (with Sunday hole locations) on Thursday afternoon following the practice round. All 24 teams and 12 individuals will play Friday and Saturday while on Sunday the other 23 teams and 12 individuals will finish their final rounds.
Finals Schedule of Events (All Times Local – Pacific Time/Central Time):
Thursday, May 19
Following practice BYU may complete its Sunday round
Friday, May 20
7:30 a.m./9:30 a.m. First round of competition
Saturday, May 21
7:30 a.m./9:30 a.m. Second round of competition
Sunday, May 22
7:30 a.m./9:30 a.m. Third round of competition
(Top 15 teams and 9 individuals not on an advancing team are determined)
Monday, May 23
Approx. 11:50 a.m./1:50 p.m. Tee times begin for final round
3‐4 p.m. /5-6 p.m. Pre‐game coverage on Golf Channel
4‐7 p.m. /6-9 p.m. Live coverage on Golf Channel
7‐8 p.m. /9-11 p.m. Post‐game coverage on Golf Channel
7:10 p.m. /9:10 p.m. Individual awards ceremony (runner‐up followed by medalist)
7:25 p.m. /9:25 p.m. Quarterfinal Match Play pairings determined
Tuesday, May 24
7 a.m. /9 a.m. Match #1 and #2 begin (1st and 10th tees)
7:50 a.m. /9:50 a.m. Match #3 and #4 begin (1st and 10th tees)
9‐10:30 a.m. /11-12:30 p.m. Pre‐game coverage on Golf Channel
10:30 a.m.‐12:30 p.m. /12:30-2:30 p.m. Live coverage (quarterfinals) on Golf Channel
12:30‐1 p.m./2:30-3 p.m. Post game coverage (quarterfinals) on Golf Channel
1:30 p.m./3:30 p.m. Match #5 begins (winners of match #1 and #2)
2:20 p.m./4:20 p.m. Match #6 begins (winners of match #3 and #4)
3‐3:30 p.m./5-5:30 p.m. Pre‐game coverage on Golf Channel
3:30‐7 p.m./5:30-9 p.m. Live coverage (semifinals) on Golf Channel
7‐8 p.m./9-10 p.m. Post‐game coverage on Golf Channel
7:30 p.m./9:30 p.m. Semifinalist awards ceremony outside media interview room
7:45 p.m./9:45 p.m. Championship Match Play pairings determined