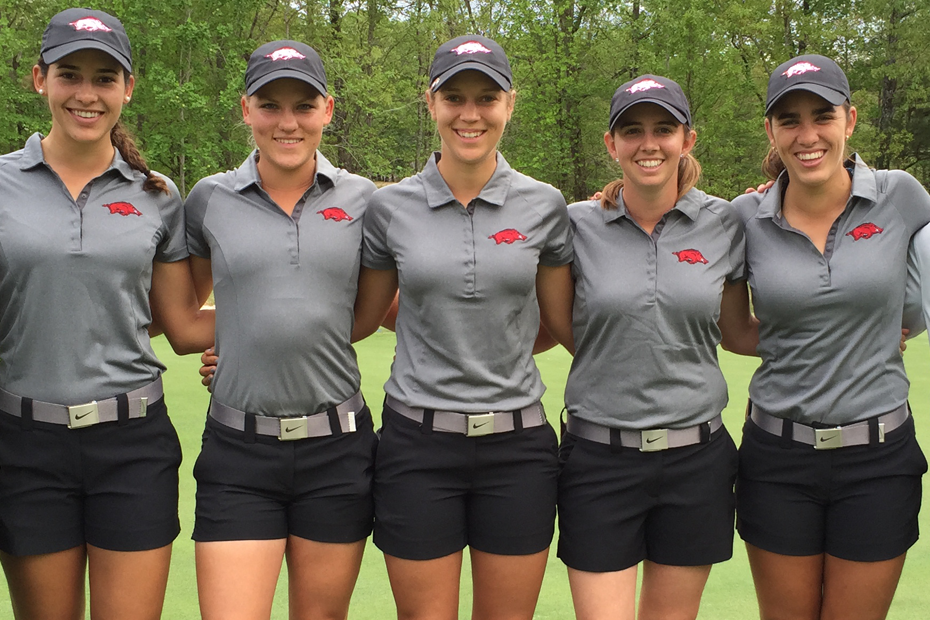 Razorbacks Go West For Postseason Action
Event Notes | Stanford NCAA Regional Website
FAYETTEVILLE, Ark. – The seventh-ranked University of Arkansas women's golf team continues postseason action this week at the Stanford NCAA Regional Championship in Palo Alto, California, May 5-7.
Making the trip to NCAA Regionals this year will be a cast of familiar characters for Arkansas. Senior Regina Plasencia makes her fourth NCAA Regional appearance while junior Summar Roachell is taking part for the third time in her career. Sophomore Alana Uriell makes her second appearance after tying for second place at last year's event in St. George, Utah. Freshmen Cara Gorlei and Maria Fassi are each debuting at the event.
The field will challenge Arkansas as the Razorbacks take on five Golfstat.com top-25 programs in a field that includes No. 2 Southern California, No. 7 Arkansas, No. 12 Stanford, No. 15 Virginia, No. 18 UNLV, and No. 21 San Diego State all in the top-25.
Arkansas is one of 10 Southeastern Conference teams who advanced to the postseason but is the only league team at the Stanford Regional. The Pac-12, Atlantic Coast Conference and Mountain West Conference all have three programs at the event.
From Shauna Estes-Taylor
We are excited to be heading to California to play at Stanford Golf Course. This is a championship golf course and as a coach that's exactly what you want to see at a Regional. The team has worked extremely hard for this opportunity and it is another step in our process to have an opportunity to win a Championship.
@RazorbackWBB Lineup
Maria Fassi Fr. Pachuca, Hidalgo, Mexico
Alana Uriell So. Carlsbad, Calif.
Cara Gorel Fr. Cape Town, South Africa
Regina Plasencia Sr. Guadalajara, Mexico
Summar Roachell Jr. Conway, Ark.
2016 NCAA Stanford Regional Field (Golfstat.com rankings)
No. 2 Southern California, No. 7 Arkansas, No. 12 Stanford, No. 15 Virginia, No. 18 UNLV, No. 21 San Diego State, No. 26 Texas Tech, No. 31 Ohio State, No. 34 Colorado, No. 39 Wake Forest, No. 50 Michigan State, No. 45 North Carolina, No. 49 Pepperdine, No. 54 San Jose State, No. 96 UC-Riverside, No. 100 Idaho, No. 127 Richmond and No. 198 Seton Hall.
What You Need To Know
Date: May 5-7, 2016
Location: Palo Alto, California
Course: Stanford University Golf Course
Number of Regional Appearances: 15
Format: Four regional sites with the top six teams and individuals moving on
About: 72 teams and 24 individuals earning bids to the 2016 NCAA Division I Women's Golf Regional Championships… Twenty-nine of the 72 teams are automatic qualifiers from conference championships, while 43 are at-large teams.
2016 NCAA Women's Golf Regional Championships, Thursday-Saturday, May 5-7
Stanford Golf Course | Stanford, California | Stanford University, host
Traditions Club | Bryant, Texas | Texas A&M University, host
University Club | Baton Rouge, Louisiana | LSU, host
Shoal Creek Club | Shoal Creek, Alabama | University of Alabama, host
Golf Channel will feature scores, highlights and interviews from the regional championships, airing within Golf Central and Morning Drive. The low six teams and low three individuals (not on those teams) from each of the four regionals advance to the NCAA Women's Golf Championships. Golf Channel's live tournament coverage of the women's championships will begin on Monday, May 23 to crown the individual national champion, as well as to track the teams attempting to qualify for the eight-team match-play tournament. Golf Channel's coverage also will include all three rounds of the team match-play tournament on Tuesday, May 24 and Wednesday, May 25. The same television coverage is planned for the men's national championships the following week: Monday, May 30 – Wednesday, June 1.
Golf Channel NCAA Women's Golf Championships Coverage
Monday, May 23 Final Round, Individual Stroke Play 7-10 p.m. ET (Live)
Tuesday, May 24 Quarterfinals, Match Play 1:30-3:30 p.m. ET (Live)
Tuesday, May 24 Semifinals, Match Play 6:30-10 p.m. ET (Live)
Wednesday, May 25 Finals, Match Play 6-10 p.m. ET (Live)