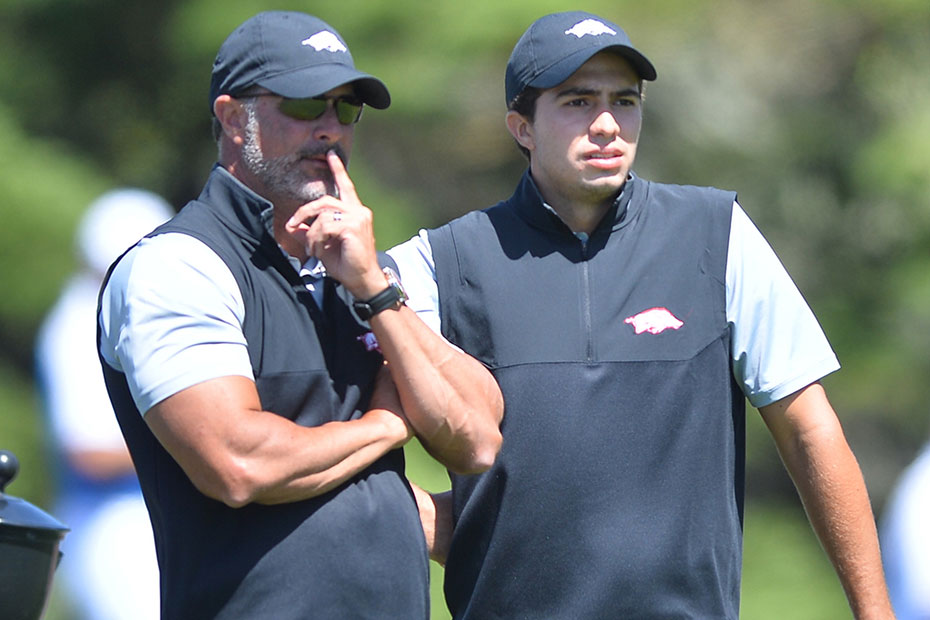 Arkansas Men's Golf Announces Three Recruits
FAYETTEVILLE – University of Arkansas head men's golf coach Brad McMakin announced William McDonald (Oklahoma City, Okla.), Mauricio Figueroa (Guadalajara, Mexico) and Denver Davis (Fayetteville, Ark.) will join the Razorback program for the 2019-20 season.
William McDonald
Oklahoma City, Okla.
Heritage Hall HS
The top-ranked high school golfer from Oklahoma and ranks #27 for the Class of 2019 by the National Junior Golf Scoreboard.
Led his team to Oklahoma 4A state championships in 2017 and 2018.
Individually, was state runner-up in both 2017 (as a sophomore) and 2018 (as a junior).
Won the 2018 AJGA Gateway Mortgage Group Tulsa Junior Championship and placed ninth at the AJGA Trusted Choice Big I National Championship.
Won the 2018 OJGT Lincoln Park Best of the West Classic as he birdied eight of the last 12 holes en route to a final round of 65 and a two-shot victory.
Added runner-up finishes at the OJGT Red River Challenge and OJGT Lake Hefner Fall Shootout.
Son of Mike and Lisa McDonald.
Mauricio Figueroa
Guadalajara, Mexico
Bishops Gate Golf Academy (Fla.) – Montverde Academy
Rated 24th on the Golfweek.com Boys Junior Class of 2019 ranking and 34th for the Class of 2019 by the National Junior Golf Scoreboard.
Is the #2 overall ranked Mexican Junior Golfer.
Represented Mexico at the Toyota Junior World Cup and the Junior Americas Cup.
Was medalist the Toyota Junior World Cup Qualifier, shooting a 3-under 214 (77- 69-68), and finished 27th at the World Cup Championship shooting a 3-over 287 (69-69-77-72) to lead Mexico to a seventh-place finish.
Placed t-17th at the Junior Americas Cup as Mexico finished second.
Won a United States Junior Amateur Championship qualifier and went on play at Baltusrol Golf Club in Springfield, N.J., in the 71st U.S. Junior Amateur. Was 51st after stroke play and tied for 33rd after reaching the first round of match play.
On the AJGA Tour, placed 8th at the Billy Horschel Junior Championship, 12th at the Thunderbird International and 13th at the Justin Thomas Junior Championship.
Claimed a runner-up finish at the Latin American Junior Classics.
Playing in the Mexican Golf Federation, won the Copa Yucatan and placed second at the Junior Mexican National Championship.
Comes from the same prep school as current Razorbacks Luis Garza and Julian Perico.
Son of Mauricio and Claudina Figueroa.
Denver Davis
Fayetteville, Ark.
Fayetteville HS
A two-time All-State golfer as he helped the Bulldogs win three Class 7A state championships (2015, 2016 and 2017) and four 7A-West Conference championships (2015, 2016, 2017 and 2018). Fayetteville finished third at the 2018 state championship.
Individually, placed fourth at the 2016 state championship, seventh in 2017 and 13th in 2018.
Listed 15th on the Arkansas State Golf Association Junior Boys rankings.
Placed 10th at the AJGA UHY LLP CPA's Junior Championship.
Was runner-up at the ASGA NW Arkansas Junior Championship and tied for fourth at the 2018 ASGA Arkansas Junior Amateur Championship.
Also took second at the 2018 Future Tour Championship.
Son of Duane and Martha Davis.