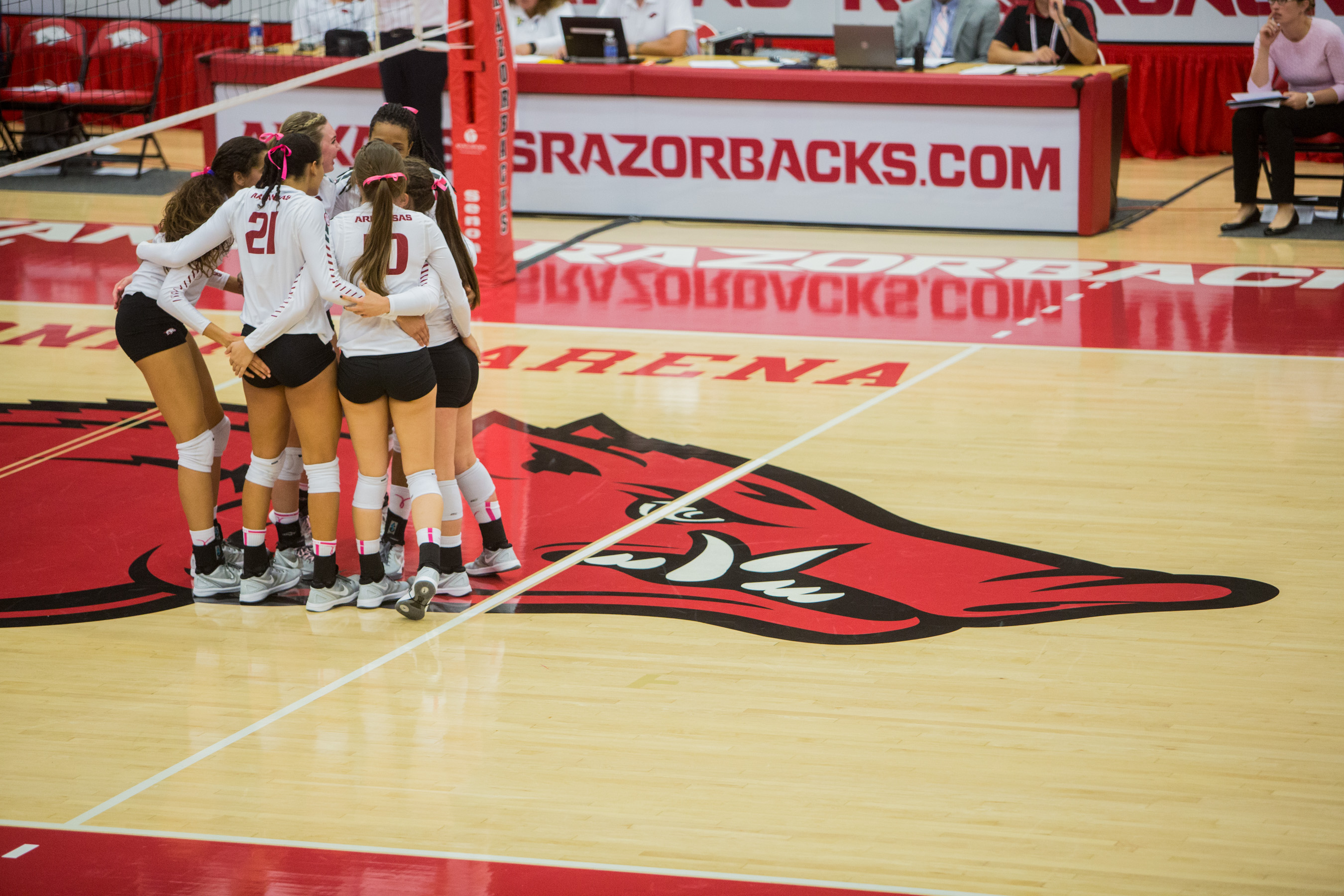 Standout Performances Not Enough vs. Ole Miss
FAYETTEVILLE, Ark. – Despite a career-high performance from Pilar Victoria and a strong collective blocking effort, the University of Arkansas volleyball team lost in five sets Sunday evening to Ole Miss. Victoria registered 35 kills, her second 30-kill effort of the season, while the Razorbacks put up 20.0 total team blocks in the setback. Sunday's match was played in front of 1,269 fans, the No. 10 home attendance in program history.
FINAL
Ole Miss 3, Arkansas 2 (27-25, 27-29, 25-21, 14-25, 15-13)
Barnhill Arena | Fayetteville, Ark.
Attendance: 1,269 (No. 10 in program history) | Time: 2:40
#RazorStats
• Leaders vs. Ole Miss
o Kills: Pilar Victoria – 35 (No. 2 in program history)
o Digs: Okiana Valle – 24
o Blocks: Chanell Clark-Bibbs, Ana Sofia Jusino – 7.0
Having split the first four sets with the Razorbacks posting a 25-14 win in the fourth, the teams headed to the decisive fifth set. The home team scored first with an ace from Chanell Clark-Bibbs and used a three-point push to take a 7-5 lead after a kill by Liz Fortado. With a kill by Victoria, Arkansas led 8-7 at the switch but with the score tied at 10-all, Ole Miss (17-5, 3-4 SEC) scored four of the next six points to arrive at match point. The Razorbacks saved one with a Victoria kill but on the next point, Ole Miss sealed the win with a joust at the net that landed back on Arkansas' side.
Victoria's 35 kills—on a .342 hitting percentage—are the second most by a Razorback in program history, just two shy of the Arkansas record of 37 kills set by Yarleen Santiago in 1997, also against Ole Miss. Victoria is now one of just two Razorbacks with two 30-kill performances in their career, joining the program's all-time kills leader Krystal Osborne who had four. Victoria also finished the match with 11 digs to complete her team-leading eighth double-double of the season.
Clark-Bibbs continued her strong season, putting down 13 kills to go along with a .407 hitting percentage. Sunday marked her 10th double-digit showing of the season, five of which have come in SEC play. With her eighth kill against the Rebels, Clark-Bibbs tallied the 500th kill of her Razorback career. She also reached the 200-block milestone with her sixth block of the match. She and Ana Sofia Jusino tied for the match lead with seven total blocks each.
The Razorbacks' 20.0 total team blocks against Ole Miss tie the No. 7 mark in program history for a single match, reaching that figure for the first time since the 2007 season. Along with the efforts by Clark-Bibbs and Jusino, Victoria and Adrien Wohlschlaeger each had six total blocks. Overall, nine different Razorbacks had a hand in at least one block Sunday.
Behind the block, Okiana Valle tallied a match-high 24 digs from her libero position. This marks her third 20-dig performance of the season, and her second against an SEC opponent. With her first dig Sunday, senior Monica Bollinger became the 13th player in program history with 900 career digs. She finished the match with six and now has 905 digs in her career, and now trails former teammate Raymariely Santos with 933 for 12th place in the Razorbacks' records book.
With Sunday's result, Arkansas falls to 13-5 overall and is 3-3 in SEC play. The Razorbacks return to the road next weekend with matches at No. 17 Florida and South Carolina. The weekend opener with the Gators will be televised on the SEC Network with both matches available on ESPN3 and through the WatchESPN app. Arkansas' next home match Friday, Oct. 30, against Auburn.
For more information about Arkansas volleyball, follow @RazorbackVB on Facebook, Instagram, Snapchat and Twitter.