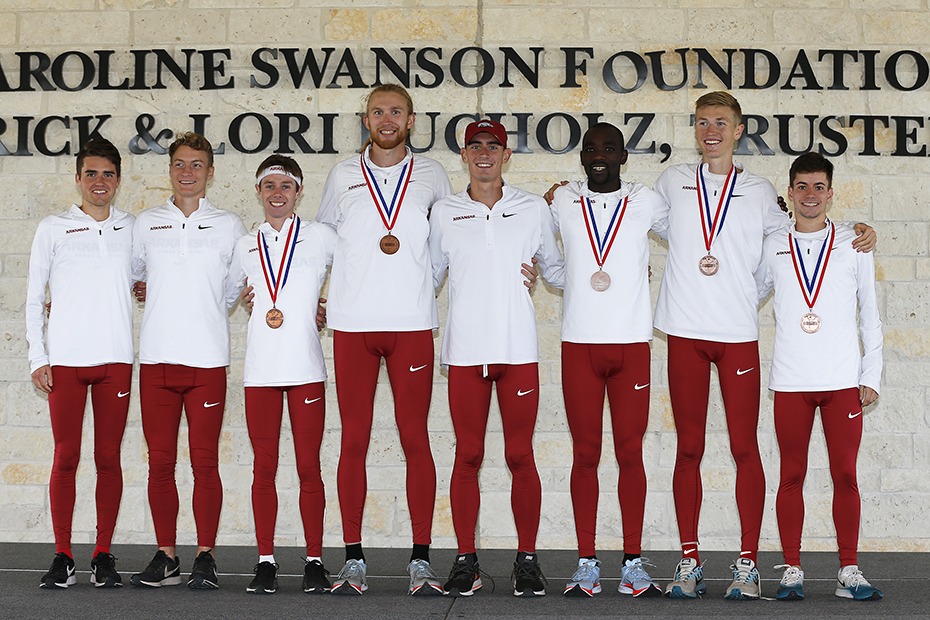 Championships: Arkansas-2, The Opposition-0
Regional Championships Results
COLLEGE STATION, Texas – The 17th-ranked Arkansas men's cross country team continued its postseason win streak, capturing its fifth-consecutive NCAA South Central Region title Friday morning in College Station.
The victory, which was Arkansas' 37th at the regional meet in program history, earned the Razorbacks automatic qualification into next weekend's 2017 NCAA Cross Country Championships in Louisville, Kentucky. Arkansas captured the crown by a 14-point margin ahead of former Southwestern Conference foes Texas.
"You never take any victory lightly and any time you qualify for nationals that's a big deal," head coach Chris Bucknam said. "I'm really proud of how our guys executed today. We had a plan to go out and make it an honest race, settle in and not bury the hatchet at the end of the meet. Our guys ran under control and had good self-awareness throughout the race, not stepping on the accelerator, which we hope will pay dividends next weekend in Louisville, so I'm really proud of the team."
Arkansas was the only team to have three runners finish inside the top-10 led by the senior trio of Jack Bruce, Alex George and Austen Dalquist. Bruce, George and Dalquist ran with the lead pack consistently throughout the duration of the 10K race before placing fifth, seventh and eighth, respectively.
"What impresses most about Jack, Alex and Austen is how much they've grown as people and leaders," Bucknam said. "They are the glue to our program and communicate so well with the group. It's wonderful to see as a coach these guys develop and put into use crucial leadership skills, which help them guide the team."
Arkansas' top five was completed by Matt Young (16th) and Andrew Ronoh (25th) who both finished inside the top-25. Recently dubbed the Southeastern Conference Freshman Runner of the Year, Young proved a case could be made for him to receive a regional honor of the same caliber. The 'young' Razorback was the fastest-freshman performer for the second-consecutive week, completing the race in 30 minutes, 31.90 seconds – 2 seconds off his personal best from the Chile Pepper Festival.
"This is the regional meet and we wanted to stay fairly relaxed so I just thought I got to pack up with the front guys and try to hang on and if they pull away then just maintain and stay where I'm at," Young said. "It feels incredible to be able to contribute to this team. With this competition, I didn't expect to be up there with them but now I know you can't worry about who you're racing. You just have to put the best of your ability out there and give it all you got."
Arkansas' entire top-five earned All-Region honors for finishing among the top-25 best runners in a field 167 competitors.
The Razorbacks will face their final postseason challenge next weekend when they journey to Louisville, Kentucky for the 2017 NCAA Cross Country Championships Saturday Nov. 18.
Team Results (Top Five)
1. No. 17 Arkansas, 59 (5-7-8-15-24)
2. No. 17 Texas, 73 (3-12-18-19-21)
3. Texas A&M, 98 (4-6-23-27-38)
4. McNeese State, 173 (10-16-25-49-73)
5. Texas State, 179 (17-29-33-34-66)
Arkansas Results (Overall Finishes)
5. Jack Bruce – 30:04.80
7. Alex George – 30:12.40
8. Austen Dalquist – 30:12.60
16. Matt Young – 30:31.90
25. Andrew Ronoh – 30:53.70
33. Kyle Levermore – 31:16.10
48. Colin O'Mara – 31:33.60
2017 Cross Country Schedule
Fri, Sept. 1 – Cowboy Preview (Stillwater, Okla.) 1st of 4
Fri, Sept. 15 – Iona College Meet of Champions (New York, N.Y.) 2nd of 11
Sat, Sept. 30 – Chile Pepper Festival (Agri Park) 1st of 40
Sat, Oct. 14 – Pre-Nationals (Louisville, Ky.) 9th of 40
Fri, Oct. 27 – SEC Championship (Athens, Ga.) 1st of 13
Fri, Nov. 10 – NCAA South Central Regional (College Station, Texas) 1st of 23
Sat, Nov. 18 – NCAA Championship (Louisville, Ky.)
*italicized meet denotes completion.
For more information on Arkansas track and field including in-meet updates, follow @RazorbackTF on Twitter.