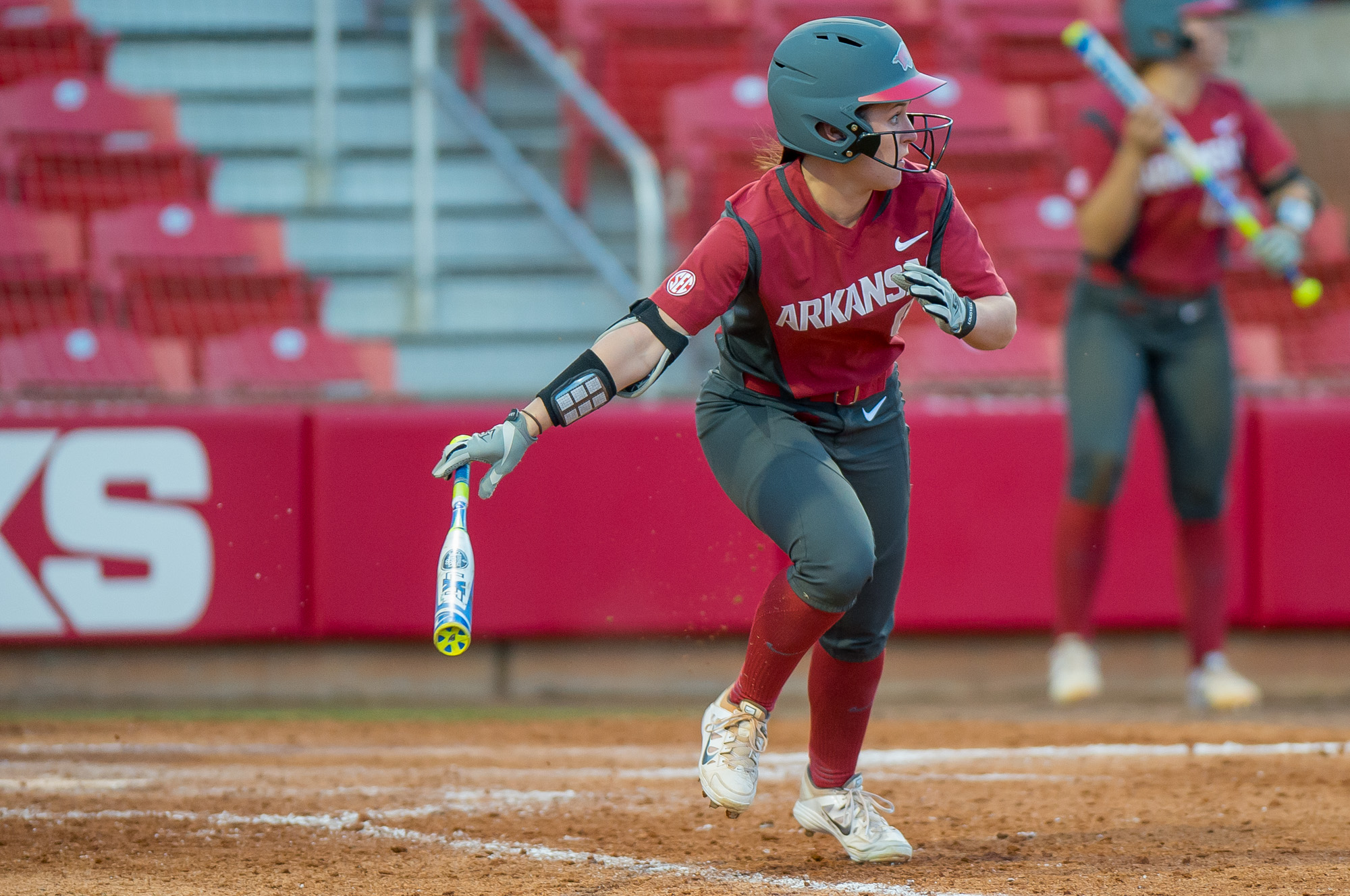 Cooper Extends Streak Against No. 1 Florida
GAINESVILLE, Fla. – Sophomore Tori Cooper extended her hitting streak to six games and reached base safely for the 11th-straight game Friday evening in the Razorbacks' 9-0 road loss to No. 1 Florida. She was one of three Razorbacks with a hit in the game, joined by freshman Ashley Diaz and junior Shelby Hiers. The teams return to Pressly Stadium Saturday for game two of the weekend series slated for a 12 p.m. (CT) start.
Saturday's game will be played in front of a national television audience on ESPNU which will be the Razorbacks' 14th TV appearance of the season. Cara Capuano and Garland Cooper will be in the booth to handle the play-by—play and color commentary duties, respectively. Portions of Sunday's series finale are also set to be televised during SEC Network's Bases Loaded coverage of the final day of the regular season.
With her one-out single in the first, Cooper extended her hitting streak to six straight and has now registered a hit in nine of the past 11 games. Her stretch of reaching safely in 11-straight games is a career high. The single to center field was Cooper's 30th hit of the season. She now has a hit in 15 of the 20 SEC games she's played in this year.
Florida (50-4, 18-4 SEC) opened the scoring with a three-run first inning, highlighted by RBI hits by Kayli Kvistad and Kirsti Merritt. Senior Claire Clark, making her ninth start of the season, steadied to strand runners at second and third with a fly ball to center. Kelsey Stewart pushed the home team's lead to 4-0 with a solo shot down the line in right field in the second inning.
Trailing by four through three innings, Arkansas (17-37, 1-21 SEC) put together a scoring threat in the fourth. Hiers led off the frame with an opposite-field single. With two down, Diaz dropped a single in to shallow center field which allowed Hiers to move all the way around to third. However, Florida starter Aleshia Ocasio induced a groundball to shortstop to record the third out.
After giving up the four runs in the first two innings, Clark settled and worked around two-out base runners in the third and fourth innings to keep the Gators off the scoreboard. In its third time through the lineup, Florida posted a five-run fifth with the help of home runs by Merritt and the game-ending shot by Taylore Fuller. The four-plus inning outing for Clark marked her longest appearance of the conference season.
Follow @RazorbackSB on Facebook, Instagram and Twitter for more information about Arkansas Softball.