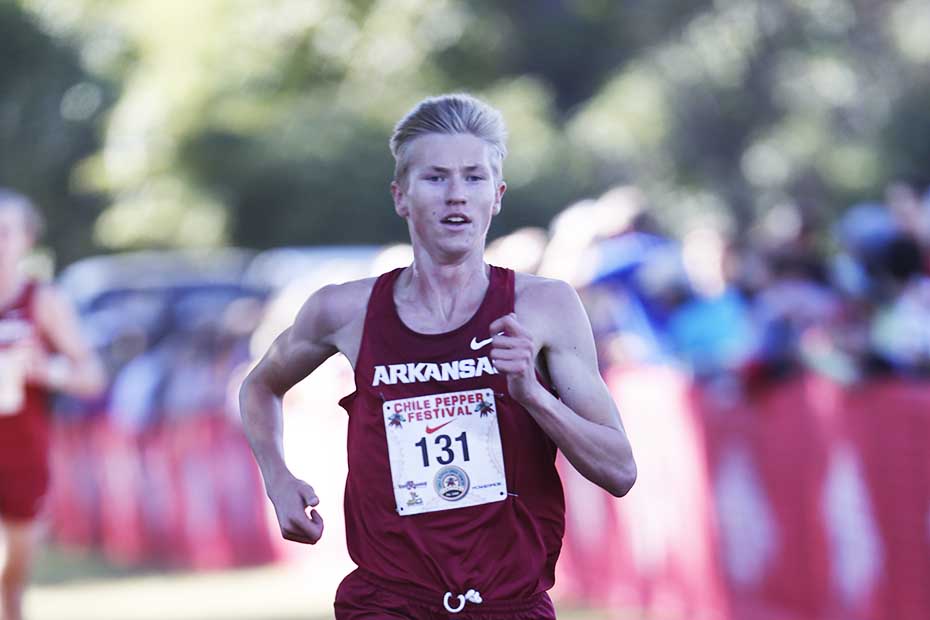 Dalquist Collects on Standout Performance
FAYETTEVILLE, Ark. – Arkansas sophomore Austen Dalquist has been selected as the SEC Runner of the Week after leading the Razorbacks to a third-place team finish at the prestigious Pre-National meet this past Saturday.
Dalquist is the second member of the Arkansas team to earn this award this year. Fellow sophomore, Alex George picked up the weekly honors two weeks earlier for his efforts at the Chile Pepper Festival.
In what was the second meet of his season, Dalquist emerged as one of the top runners in the field helping Arkansas average 23:46.76 over the 8K course with a new personal best of 23:38.70. The Keller, Texas native trimmed 22 seconds off of his previous PR as he raced comfortably through the site of the upcoming NCAA cross country championships.
This is the first SEC accolade for Dalquist within cross country. He was recognized during the 2015 indoor track and field season on the SEC All-Freshman team for his performance in the mile.
Arkansas travels to College Station, Texas on Friday, Oct. 30 for the 2015 SEC Cross Country Championships. They enter as the defending champions in pursuit of the program's 23rd title.
Pre-Nationals 8K Results – 3rd of 42
1. Austen Dalquist (21) – 23:38.70
2. Frankline Tonui (26) – 23:43.10
3. Christian Heymsfield (28) – 23:43.80
4. Gabe Gonzalez (39) – 23:50.90
5. Alex George (50) – 23:57.30
6. Jack Bruce (67) – 24:07.10
7. Cale Wallace (113) – 24:22.50
2015 Arkansas Cross Country Schedule
Tuesday, Sept. 1, Cowboy Preview | Stillwater, Okla. | 4th of 4
Saturday, Sept. 19, Iona Meet of Champions | New York, N.Y. | 2nd of 10
Saturday, Oct. 3, Chile Pepper Festival | Fayetteville, Ark. | 1st of 15
Friday, Oct. 16, Pre-Nationals | Louisville Ky. | 3rd of 42
Friday, Oct. 30, SEC Championships | College Station, Texas
Friday, Nov. 13, NCAA South Central Regional | College Station, Texas
Saturday, Nov. 21, NCAA Championships | Louisville, Ky.
For more information on Arkansas track and field including in-meet updates, follow @RazorbackTF on Twitter.