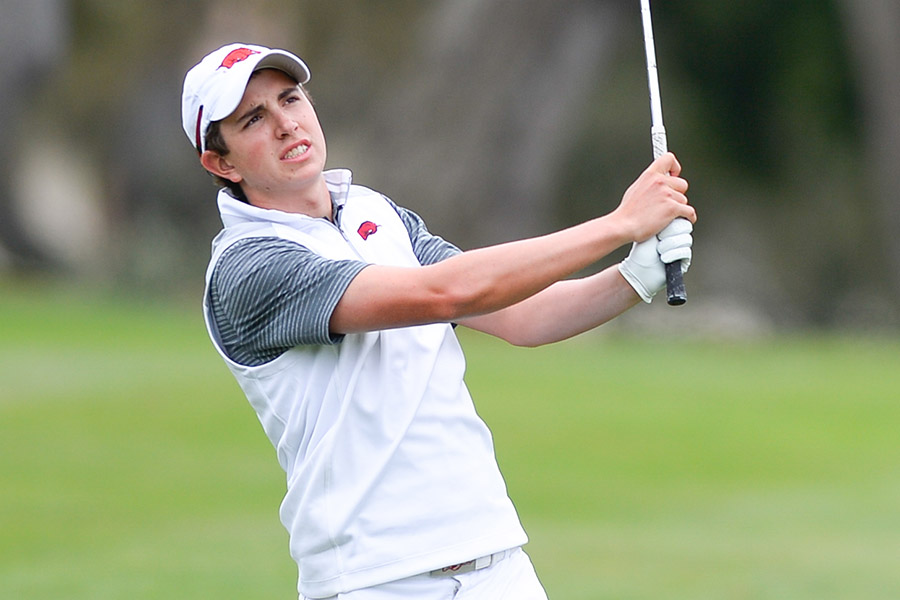 Echavarria Takes First Round Lead
GRANSONVILLE, Md. – Taking on a rain-soaked Prospect Bay Country Club and temperatures in the low 30s, the Arkansas men's golf team finished the first round of the Whiting-Turner Towson Invitational in sole possession of second place amongst the 23-team field.
Junior Nicolas Echavarria was one of just two players in the field of 120 to overcome the conditions to shoot even-par 71 on the day. Echavarria will enter Sunday's final round tied with Long Island's Stewart Gray for the lead. Birdies in four of his first 11 holes helped Echavarria finish as Arkansas' low-man and with a tournament-best one-under score on the par 4s.
Led by Echavarria, Arkansas shot a team score of 302 and sits just two strokes back of first round leader William & Mary. The Razorbacks are 10 shots clear of third place Towson while the trio of teams will take the course for the final round on Sunday start at 8:28 a.m. CT.
Redshirt junior Kolton Crawford turned in a 75 to finish the day in a tie for eighth place while redshirt sophomore Zach Coats and freshman Alvaro Ortiz each carded 78s. Coats played his final seven holes at three-under and finished the day as the tournament leader in birdies (5) and par 5 scoring (-3). Junior Taylor Moore's terrific run of 15 consecutive rounds at 72 or lower fell victim to the harsh conditions as he shot 79. Playing as an individual, freshman Emil Soegaard turned in a 76 to sit in a tie for 14th place.
Live scoring Whiting-Turner Towson Invitational final round can be found at www.BirdieFire.com.
@RazorbackMGolf Lineup
T1. Nicolas Echavarria – 71 (E)
T8. Kolton Crawford – 75
T20. Zach Coats – 78
T20. Alvaro Ortiz – 78
T26. Taylor Moore – 79
T14. Emil Soegaard – 76 – Individual
Whiting-Turner Towson Invitational Standings 
1. William & Mary – 300
2. Arkansas – 302
3. Towson – 312
4. Colgate – 313
5. Hofstra – 314
6. Robert Morris – 316
7. Seton Hall – 318
8. Long Island – 321
9. Navy – 322
10. Penn – 323
11. Saint Peter's – 324
12. Fairfield – 325
T13. St. Bonaventure – 326
T13. Rutgers – 326
15. Siena – 332
16. UMass-Lowell – 333
T17. IUP – 334
T17. Towson B Team – 334
T19. Washington & Lee – 335
T19. Sacred Heart – 335
T19. Fairleigh Dickinson – 335
22. IUPUI – 340
23. Maryland Eastern-Shore – 358