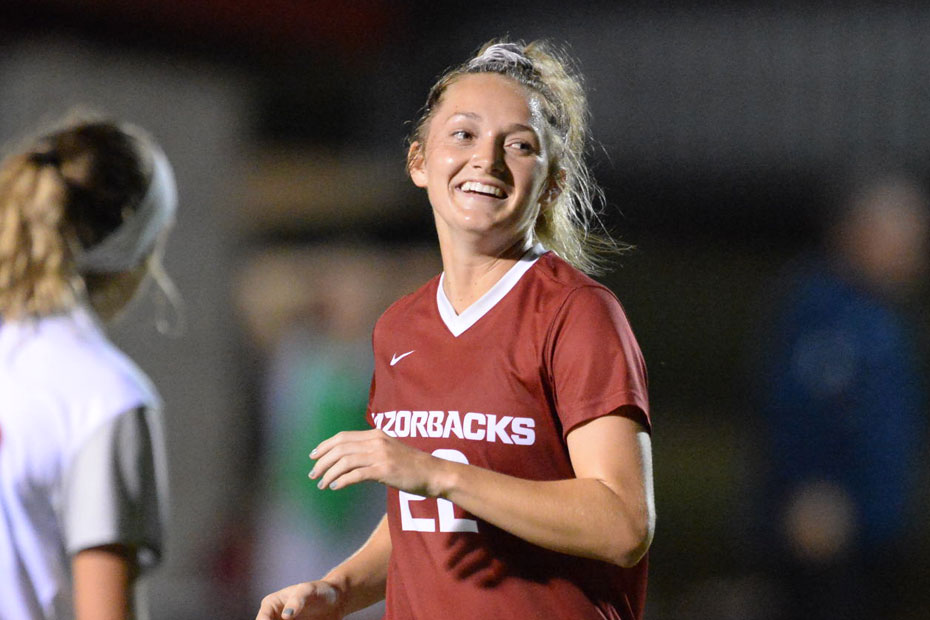 Goins Becomes Third Razorback To Win SEC Weekly Award
BIRMINGHAM, Ala. — Razorback Soccer sophomore forward Parker Goins was named the SEC Offensive Player of the Week Monday afternoon by the league office for her performances in Arkansas' weekend wins over Florida Atlantic and UConn.
This is the third time in four weeks a Razorback player has earned a weekly award from the SEC and second straight following up junior Kayla McKeon earning the offensive player of the week award last week. Senior Carly Hoke earned the SEC Defensive Player of the Week award in week one after a win over Duquesne and a draw with No. 10 West Virginia.
"Our attack is certainly starting to come into its own," Arkansas head coach Colby Hale said. "We are creating chances and scoring goals from the run of play and Parker is certainly a big part of that. I am happy for her and the team."
Goins was a major part in Arkansas extending its winning streak to three games last week, scoring a goal in both matches against FAU and UConn, her first goals of the 2018 season.
Against the Owls, Goins tallied her first game winner of the year on a one timer in the 75th minute, just 17 minutes after providing the assist in the game-tying goal in the 3-1 victory. On Sunday, she scored the insurance goal from a penalty kick in the 86th minute, becoming one of five Razorbacks with two or more goals on the year.
Friday's performance against FAU marked the first time in Goins' career that she was able to tally a goal and an assist in the same game and only her second-career game with three or more points.
Goins has tallied at least one point in five-straight matches dating back to Aug. 24 against Omaha and has earned a point off an assist in four of those five matches. The five-match streak with at least one point is tied for the second-longest active streak in the SEC, joining Auburn's Bri Folds (5 games) and Texas A&M's Ally Watt (7 games) as the only players with five or more.
Goins is tied for fourth in the SEC with four assists this year and leads the team in points (8) and assists (4).
Up Next
Arkansas opens the 2018 conference season next week as it travels to Athens, Georgia to take on the Georgia Bulldogs on Thursday at 6 p.m. It will then return home for its final non-conference match when it takes on Providence at 6 p.m. on Sunday.
Tickets are available via the Razorback Ticket Office starting at $5 with kids 17 or younger getting in free. Fans can also still buy season tickets for $25 and will receive a free 2018 Razorback Soccer scarf with their purchase.
For more information on Razorback Soccer, follow @RazorbackSoccer on Twitter.