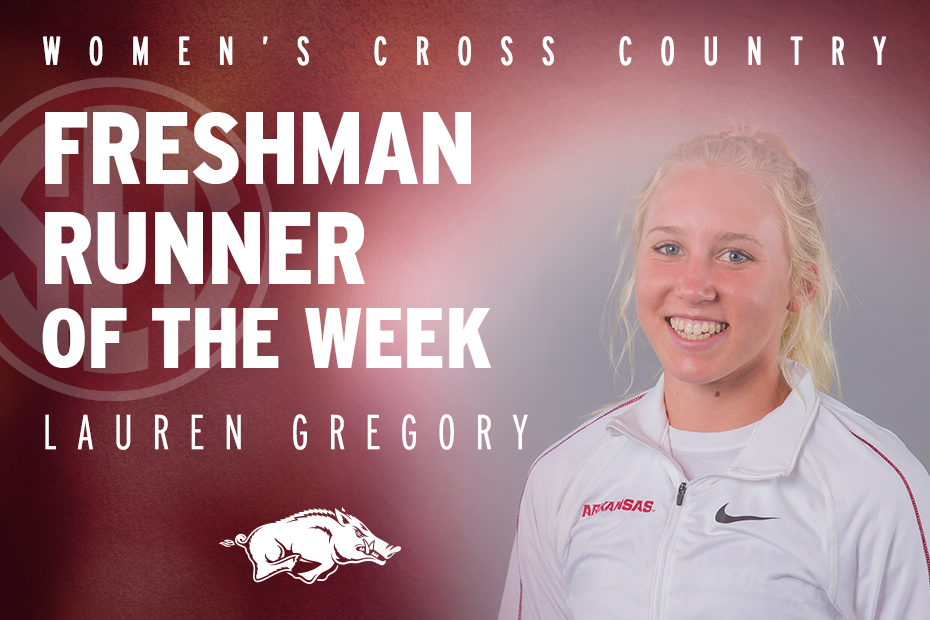 Gregory Repeats as SEC's Top Freshman
BIRMINGHAM, Ala. – For the second time this season, Lauren Gregory has been named Southeastern Conference Freshman Runner of the Week following her top-25 finish at the Joe Piane Invitational last Friday.
Gregory led Arkansas as the fastest Razorback at the event, and one of 29 runners to go sub-17:00.00. Gregory's performance lifted Arkansas to a fourth place finish ahead of No. 12 Notre Dame, No. 26 Utah, No. 27 Ohio State and SEC foe Alabama. Her 21st-place finish was good for fifth among freshmen in a field of 159 runners.
"Lauren Gregory is truly exceptional," head coach Lance Harter said. "It was our first high performance race and she did a great job. It was a very conservative racing strategy, and I look forward to unleashing her in the races to come."
She is one of four Razorback freshmen to win the award in back-to-back races, and the first to do so since Andrina Schlaepfer in 2012.
Gregory won the award following her debut at the Riverside Invitational (Sept. 16), where she finished as the first overall freshman in the event with a time of 20:17.20 in her first ever 6K
Joe Piane Invitational Team Results (Top Five)
1. No. 1 Colorado – 47 (3-7-9-10-18)
2. No. 3 New Mexico – 51 (1-2-6-8-34)
3. No. 7 North Carolina State – 118 (13-16-19-23-47)
4. No. 9 Arkansas – 171 (21-26-32-36-56)
5. No. 27 Utah – 190 (4-29-30-58-69)
Arkansas Results (Overall)
21. Lauren Gregory – 16:49.80
26. Nikki Hiltz – 16:55.10
32. Carina Viljoen – 17:02.90
36. Devin Clark – 17:09.10
57. Therese Haiss – 17:27.60
The Razorbacks will take a two week break from action, and return Saturday, Oct. 14 for the Pre-Nationals in Louisville, Kentucky.
2017 Cross Country Schedule
Fri, Sept. 1 – Cowboy Duals (Stillwater, Okla.) 2nd of 4
Sat, Sept. 16 – Riverside Invitational (Riverside, Calif.) 1st of 29
Sat, Sept. 16 – Southern Stampede (Joplin, Mo.) 5th of 32
Fri, Sept. 29 – Joe Piane/Notre Dame Invitational (South Bend, Ind.) 4th of 20
Sat, Sept. 30 – Chile Pepper Festival (Agri Park) 1st of 45
Sat, Oct. 14 – Pre-Nationals (Louisville, Ky.)
Fri, Oct. 27 – SEC Championship (Athens, Ga.)
Fri, Nov. 10 – NCAA South Central Regional (College Station, Texas)
Sat, Nov. 18 – NCAA Championship (Louisville, Ky.)
For more information on Arkansas track and field including in-meet updates, follow @RazorbackTF on Twitter.