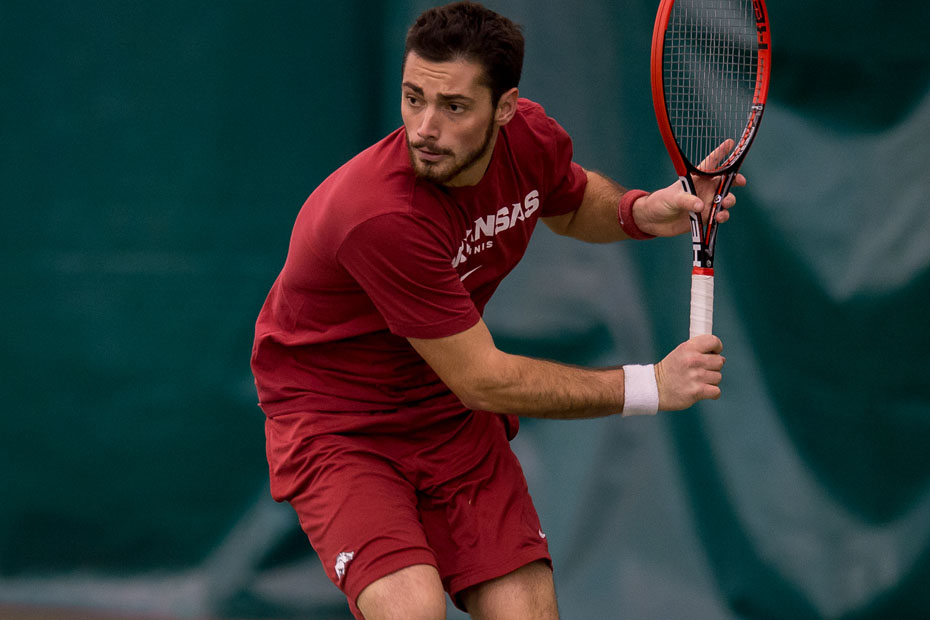 Micolani Named To All-SEC Second Team
FAYETTEVILLE, Ark. – University of Arkansas men's tennis junior Giammarco Micolani was named to the 2015 All-SEC Second Team, conference officials announced on Thursday.
"It's a big honor to be All-SEC and to do it in your first semester, as Gimy has done, says a lot about him," head coach Andy Jackson said. "We know he is already preparing to achieve much more next season."
A junior transfer, Micolani (9-14, 2-7 SEC) played his first match as a Razorback in January 2015. Since that point, Micolani has consistently competed in the challenging No. 1 singles position. The Lecce, Italy native has been in the ITA singles rankings since March 24 when he came in at No. 81, with his highest ranking, No. 79, coming on April 14. Micolani claimed these spots after beating two ranked opponents this spring: No. 98 Jacob Sude (now No. 39) of Oklahoma State, 6-4, 6-7 (4), 10-8, on Feb. 8 and former SEC Player of the Year, No. 23 Nik Scholtz (now No. 17, Ole Miss), 6-2, 2-6, 6-3, on March 12.
Micolani paired with senior Jovan Parlic in doubles. Playing in the No. 2 and 3 positions, the duo held a 7-11 overall record and was 2-8 in SEC play.
For more information on Arkansas men's tennis, follow @RazorbackMTEN on Twitter.
2015 SEC Men's Tennis Awards:
Player of the Year: Gonzales Austin, Vanderbilt
Freshman of the Year: Wayne Montgomery, Georgia
Scholar-Athlete of the Year: Kyle Koch, South Carolina
Coach of the Year: Steve Denton, Texas A&M
All-SEC First Team
Lukas Ollert, Auburn
Diego Hidalgo, Florida
Ben Wagland, Georgia
Austin Smith, Georgia
Nathan Pasha, Georgia
Wayne Montgomery, Georgia
Jordan Daigle, LSU
Stefan Lindmark, Ole Miss
Nik Scholtz, Ole Miss
Florian Lakat, Mississippi State
Mikelis Libietis, Tennessee
Jeremy Efferding, Texas A&M
Gonzales Austin, Vanderbilt
All-SEC Second Team
Giammarco Micolani, Arkansas
Elliott Orkin, Florida
Beck Pennington, Kentucky
Chris Simpson, LSU
Gustav Hansson, Ole Miss
Rishab Agarwal, Mississippi State
Mate Cutura, Mississippi State
Juan Cruz Estevarena, Mississippi State
Kyle Koch, South Carolina
AJ Catanzariti, Texas A&M
Arthur Rinderknech, Texas A&M
Shane Vinsant, Texas A&M
Daniel Valent, Vanderbilt
All-Freshman
Korey Lovett, Alabama
Chase Perez-Blanco, Florida
Wayne Montgomery, Georgia
Gustav Hansson, Ole Miss
Juan Cruz Estevarena, Mississippi State
AJ Catanzariti, Texas A&M
Arthur Rinderknech, Texas A&M
Daniel Valent, Vanderbilt