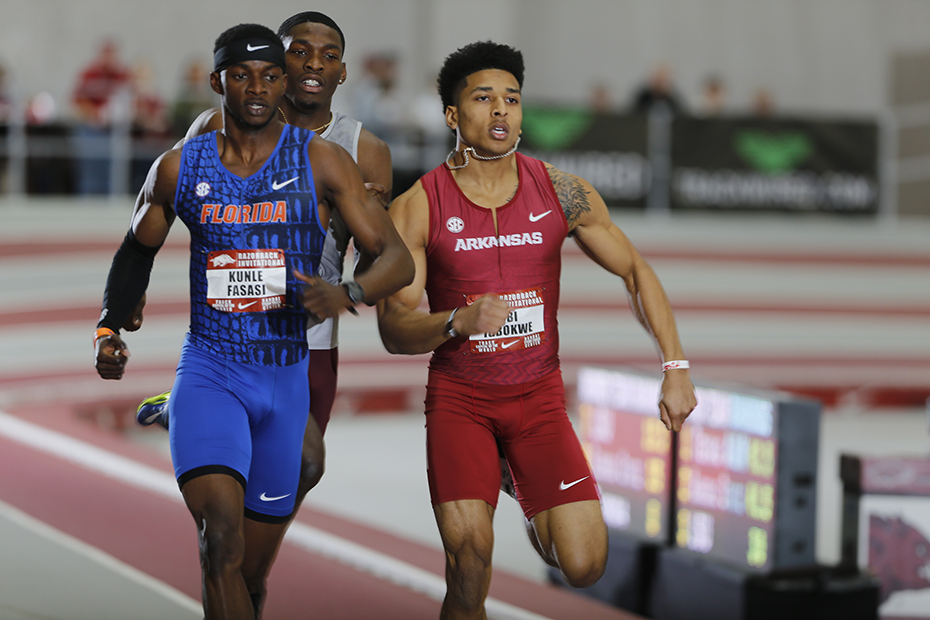 More Conference Accolades For Igbokwe
BIRMINGHAM — Fresh off taking over as the world leader in the 400-meter dash this past weekend at the Razorback Invitational, Arkansas junior Obi Igbokwe has been named the Southeastern Conference Runner of the Week, announced Tuesday afternoon by the league office.
It is Igbokwe's second honor of the season, having earned the recognition two weeks prior for his efforts in the 200-meter dash at the Arkansas Invitational.
Sprints Specialist
Matched up against two 2017 national indoor championships finalists in Florida's Kunle Fasasi and Texas A&M's Mylik Kerley, Igbokwe executed his race as instructed by Razorbacks assistant coach Doug Case, beating his competitors to the break. He maintained his speed through the third turn before changing his gears over the final 100 meters to distance himself from his league rivals and cross the finish line in first place. His 45.72-second performance tops the NCAA and world leader boards and ties him with former Arkansas quarter-miler great Marqueze Washington at No. 2 in program history.
Through three weeks of competition Igbokwe sits at No. 1 in the 400 and No. 5 in the 200 among NCAA sprinters. Following a break competition this weekend Igbokwe and his teammates will resume competition Feb. 9-10 as Arkansas hosts the Tyson Invitational.
Season tickets for all eight home meets are available online by contacting the Razorback Athletics Ticket Center at 800-982-HOGS, or visiting in person. The Ticket Center is located just east of Baum Stadium at 1295 S. Razorback Road in Fayetteville. An official Track Capital of the World T-shirt is included with each season ticket purchase.
For the latest information on Arkansas men's and women's track and field, follow @RazorbackTF on Twitter.