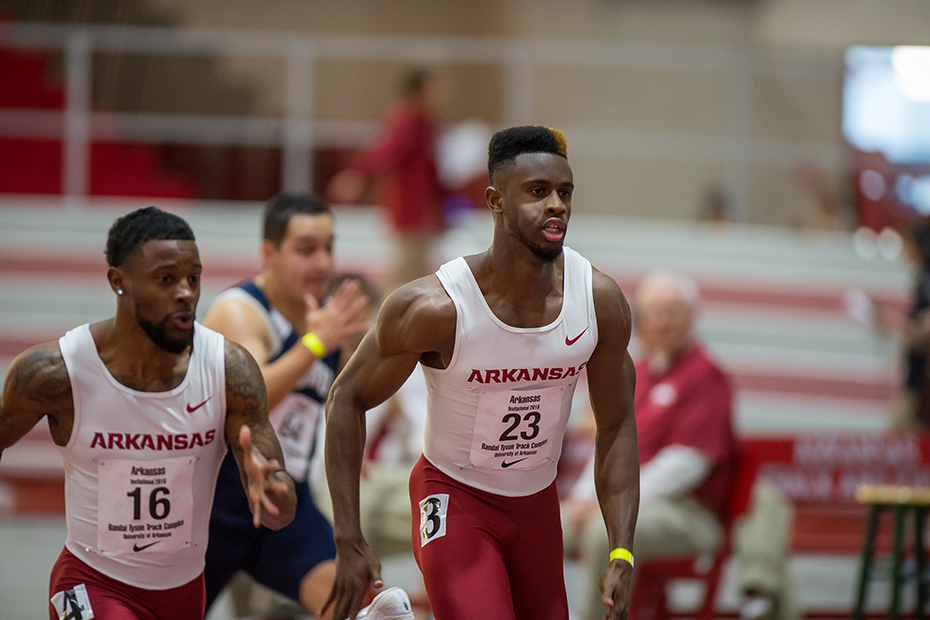 No. 11 Arkansas Ready for Razorback Invitational
FAYETTEVILLE, Ark. – The No. 11 Arkansas men's track and field team return to action this weekend at the Randal Tyson Track Center for the Razorback Invitational. The two-day competition will be held on Jan. 29-30 and will feature talent from 12 of the best track and field teams from across the country.
USTFCCCA WEEK ONE RANKINGS
Seven out of the 12 teams competing at the Razorback Invitational are nationally ranked including: No. 1 Florida, No. 3 Texas A&M, No. 5 Oregon, No. 6 LSU, No. 7 Georgia, No. 11 Arkansas and No. 16 Oklahoma State.
ALL EYES ON…
Senior Jarrion Lawson is one of two former national champions (Edward Cheserek, Oregon) who will be competing this weekend at the Tyson Center. The 2014 NCAA indoor long jump champion is set to open his season in the event on Friday at 7 p.m. Tied for eighth in the NCAA 60-meter dash this season, Lawson will look to improve his speed on the track in the semifinal round of the competition on Saturday at 1:30 p.m.
Arkansas jumps will be on full display as returning All-Americans Ken LeGassey (high jump) and Clive Pullen (triple jump) will look to post breakout performances in preparation for the upcoming championship season.
2015 NJCAA indoor and outdoor long jump champion Andreas Trajkovski will also be put to the test in his Division I debut.
USATF and PanAm 800-meter junior champion Carlton Orange will compete in his first 800-meter collegiate race on Saturday at 3:40 p.m. As a freshman, Orange holds an impressive personal best in the event of 1:47.64 which he ran in the final section of the 2015 USATF Junior Championships to win the gold.
The invitational sections of the mile and 3,000-meter run will showcase Arkansas distance with Austen Dalquist, Alex George and Andrew Ronoh.
Dalquist earned All-America honors as a member of the distance medley relay team at the 2015 NCAA Indoor Championships.
Electing to redshirt during the 2015 outdoor season, George had a successful summer campaign racing to victory in the 5k at the 2015 European Junior Championships.
The competition will be the first for Ronoh as a Razorback. A transfer from Iowa Central CC, Ronoh won the NJCAA 10K title during his first season with the Tritons.
Arkansas sprints will be headlined by 2015 SEC Outdoor Freshman Co-Runner of the Year Kenzo Cotton. The Nebraska native will take on the 60 and 200-meter dashes with NCAA 4×100-meter relay champion teammate Marqueze Washington.
Prime time action on Friday, Jan. 29 begins at 6 p.m. Tickets are just $5 for adults and youth 17 and under get in free. Visit arkansasrazorbacks.com or call 800-982-HOGS and get your tickets today.
Schedule of Events
FRIDAY, JAN. 29
MULTI EVENTS
11:00 a.m. PENTATHLON (W)
11:15 a.m. HEPTATHLON (M)
RUNNING EVENTS
6:00 p.m. 5,000M RUN (W)
6:20 p.m. 5,000M RUN (M)
6:40 p.m. 200M DASH (W)
7:10 p.m. 200M DASH (M)
7:40 p.m. DMR (W)
8:00 p.m. DMR (M)
FIELD EVENTS
3:00 p.m. POLE VAULT (W)
4:00 p.m. WT. THROW (W)
6:30 p.m. POLE VAULT (M)
6:30 p.m. WT. THROW (M)
6:30 p.m. LONG JUMP (W)
6:30 p.m. LONG JUMP (M)
7:30 p.m. HIGH JUMP (W)
7:30 p.m. HIGH JUMP (M)
SATURDAY, JAN. 30
MULTI EVENTS
11:00 a.m. HEPTATHLON (M)
RUNNING EVENTS
11:15 a.m. 3,000M (W)
11:30 a.m. 3,000M (M)
11:45 a.m. 400M (W)
12:00 p.m. 400M (M)
12:32 p.m. 400M INVITATIONAL (W)
12:37 p.m. 400M INVITATIONAL (M)
1:05 p.m. 60M HH SEMIFINAL (W)
1:10 p.m. 60M HH SEMIFINAL (M)
1:15 p.m. 60M SEMIFINAL (W)
1:30 p.m. 60M SEMIFINAL (M)
1:45 p.m. 800M (W)
2:00 p.m. 800M (M)
2:15 p.m. MILE RUN (W)
2:30 p.m. MILE RUN (M)
2:45 p.m. 60M HH FINAL (W)
2:50 p.m. 60M HH FINAL (M)
2:55 p.m. 60M FINAL (W)
3:00 p.m. 60M FINAL (M)
3:05 p.m. 3,000M INVITATIONAL (W)
3:25 p.m. 3,000M INVITATIONAL (M)
3:40 p.m. 1,000M HEP
3:45 p.m. 800M INVITATIONAL (W)
3:50 p.m. 800M INVITATIONAL (M)
3:55 p.m. MILE INVITATIONAL (W)
4:02 p.m. MILE INVITATIONAL (M)
4:10 p.m. 4X400M RELAY (W)
4:20 p.m. 4X400M RELAY (M)
FIELD EVENTS
12:00 p.m. SHOT PUT (W)
2:00 p.m. SHOT PUT (M)
2:00 p.m. TRIPLE JUMP (W)
2:00 p.m. TRIPLE JUMP (M)