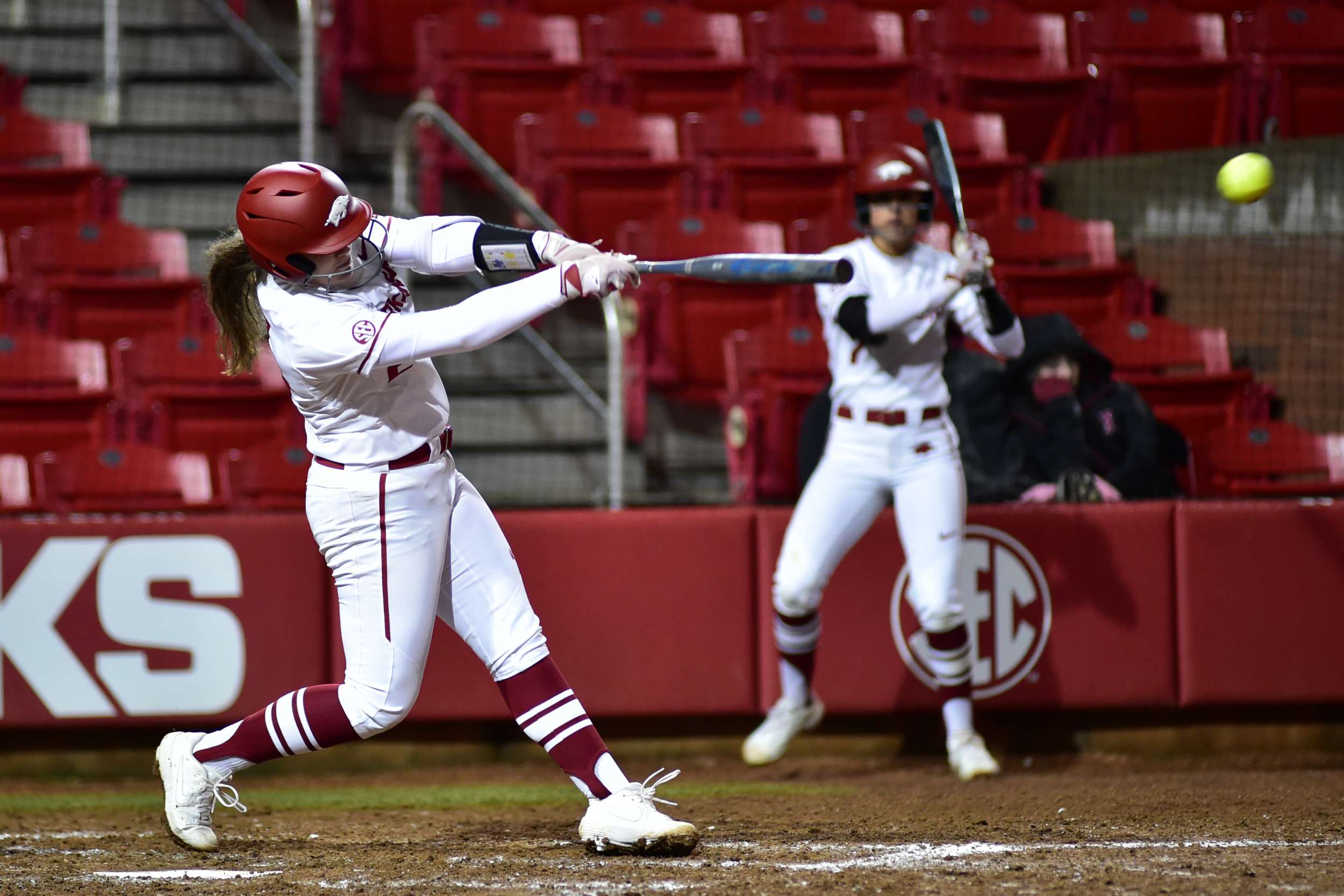 Razorbacks Kick off SEC Play at Ole Miss
FAYETTEVILLE – With two road tournaments and two home tournaments under its belt, the Arkansas softball team is readying for SEC play this weekend, headed to Oxford, Miss., home of the Ole Miss Rebels. The Razorbacks will face Ole Miss starting Saturday at 4:00 pm (CT).
Arkansas (18-3) and Ole Miss (14-6) have faced off a total of 72 times since Arkansas's inaugural season in 1997. After sweeping the series in Fayetteville last year, the Razorbacks hold a slim lead at 34-28, though Ole Miss claims a 16-15 record when the conference rivals face off in Oxford.
The Hogs have not claimed a conference series in Oxford since 2002, when Arkansas claimed two of the three games, including a 1-0 win in game one and a dominant 5-2 victory in game three.
Looking at the Rebel lineup, the Razorbacks can expect to see lots of speed, which is nothing new for the Ole Miss squad. The Rebels have stolen successfully on 56-of-70 attempts to lead the SEC, ranking seventh in the nation in steals per game at 2.80.
After batting .647 over five games and helping the Rebels to an undefeated week, senior Kylan Becker was named the Week 4 SEC Player of the Week. The Miami native knocked in seven runs and scored seven more with a double, a triple and a home run. The outfielder got the week started against Central Arkansas, going 4-for-5 with four runs scored and driven in.
For the Ole Miss pitching staff, one that ranks 23rd in the nation and seventh in the SEC with a 1.74 team ERA, junior Molly Jacobsen leads the way at 1.05. Jacobsen's earned run average is good for the 31st best in Division I, coming in at No. 5 in the SEC.
The Razorbacks' trip to Oxford is only the second true road test of the season, after opening the season in Lake Charles and defeating McNeese 6-0 on its home turf.
Circle is Always Haff Full
Haff was an all-star on the mound for the Hogs this weekend, walking only one in over 22 innings of work. Her success in the circle has earned her SEC Pitcher of the Week (March 4). Haff recorded 34 strikeouts in five appearances for a cumulative .62 ERA. She gave up no free bases on balls in four of five games, bringing her season total to nine appearances (seven starts) without a walk. She allowed only eight hits and pitched a complete, one-hitter against Omaha on Saturday (March 2). She tallied her first save of the season against Nevada.
In the Polls
The Razorbacks dropped but remain in the top 15 after finishing with a 10-2 record at the Razorback Invitational and Wooo Pig Classic. Arkansas stayed at #14 in both the USA Today/NFCA Polls and the ESPN.com/USA Softball poll in Week 3, coming in at #18 in the Softball America poll.
Hogs Going Yard
Eight of Arkansas's starting nine batters have gone long this season: McEwen, Gibson, Warrick, Green, Hicks, Bugarin, Duncan and Diaz. Over the first two weeks of 2019, the Razorbacks hit seven homeruns, over the last two weeks – they have hit 13.
Keep up with the Hogs
Saturday's game is slated for a 4:00 pm first pitch and will be available on SEC+, while Sunday and Monday's games are schedule for 5:00 pm and 6:00 pm start times and will be available for fans on the SEC Network. Live stats will also be available with links to each contest available on the schedule page at ArkansasRazorbacks.com.
For all Razorback softball news and information, go to ArkansasRazorbacks.com and follow the Hogs on Twitter at @RazorbackSB, on Facebook at Razorback Softball and on Instagram at @Razorback_SB. Fans can also follow head coach Courtney Deifel on twitter at @CoachDeifel.