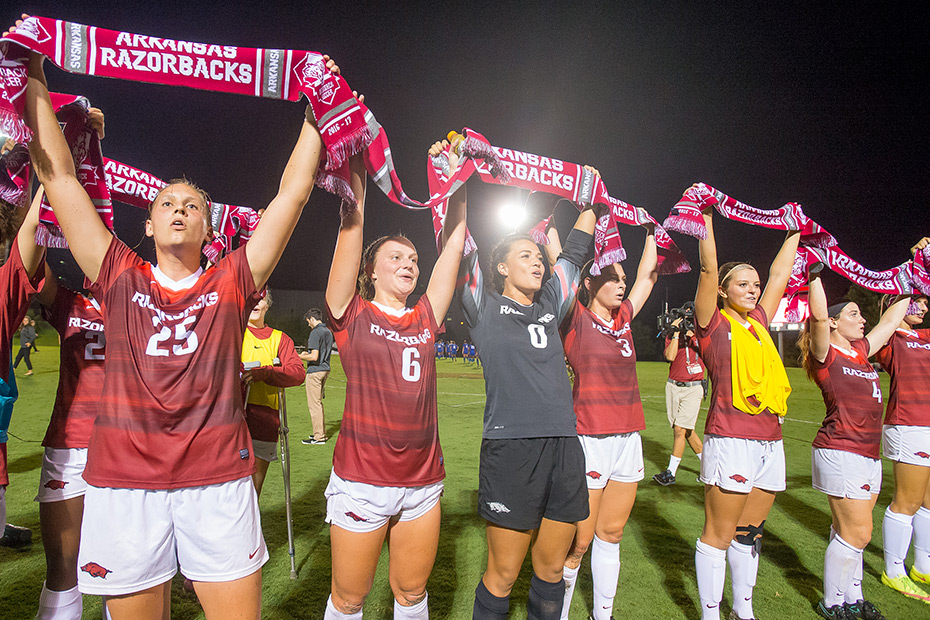 Razorbacks Remain Perfect
FAYETTEVILLE, Ark. – No. 17 Arkansas capped its three-game homestand with a 7-1 win over Northern Iowa at Razorback Field on Thursday night.
The win lifted Arkansas to a perfect 5-0-0 start for the second time in program history under head coach Colby Hale's tenure.
"We talk about playing to a standard and today we did that," Hale said. "We got quality performances from quite a few players. It's good to create chances and score goals. We are building confidence. We will enjoy this tonight and prepare for a good George Washington team tomorrow."
Arkansas put on an offensive display with five Razorbacks recording their first goals of the year. Sophomore midfielder Reece Christopherson put Arkansas on the board 12 minutes into the match and the Razorbacks never looked back, scoring an additional three times in the first half and another trio in the second half.
The last time a Razorback soccer team scored seven goals was eight years ago in 2008 when Arkansas defeated Nicholls State 7-0 at the Razorback Invitational. The overall record for most goals in program history is 11, recorded in a 2004 win over Southern.
Freshman midfielder Kayla McKeon notched her first multiple goal game by putting two scores into the back of the net late into the 12th and 21st minutes of play, respectively. McKeon is now tied for the team lead in goals (4) and second in points (8), shots (11) and shots on goal (5).
Freshman forward Victoria Cannata, sophomore defender Ellie Breden, senior midfielder Rachel Riggs and junior midfielder Katie Kienstra each contributed one goal apiece to the Razorbacks' seven-goal effort.
Freshman midfielder Reid Sibley chipped in two assists and freshman midfielder Stefani Doyle and seniors Erika Miller and Claire Kelley each tallied one assist. Senior goalkeeper Cameron Carter also improved to 5-0-0 on the year and has a goals against average of 1.08.
Arkansas held a 27-4 advantage in shots and a 9-0 edge in corner kicks.
The Razorbacks will travel this weekend for an upcoming match against the George Washington Colonials in Washington DC on Sunday at 11:30 a.m. CST. The game will be broadcast on Cox Sports TV.
For more information about Razorback Soccer, please follow @RazorbackSoccer on Twitter, Instagram and Facebook.