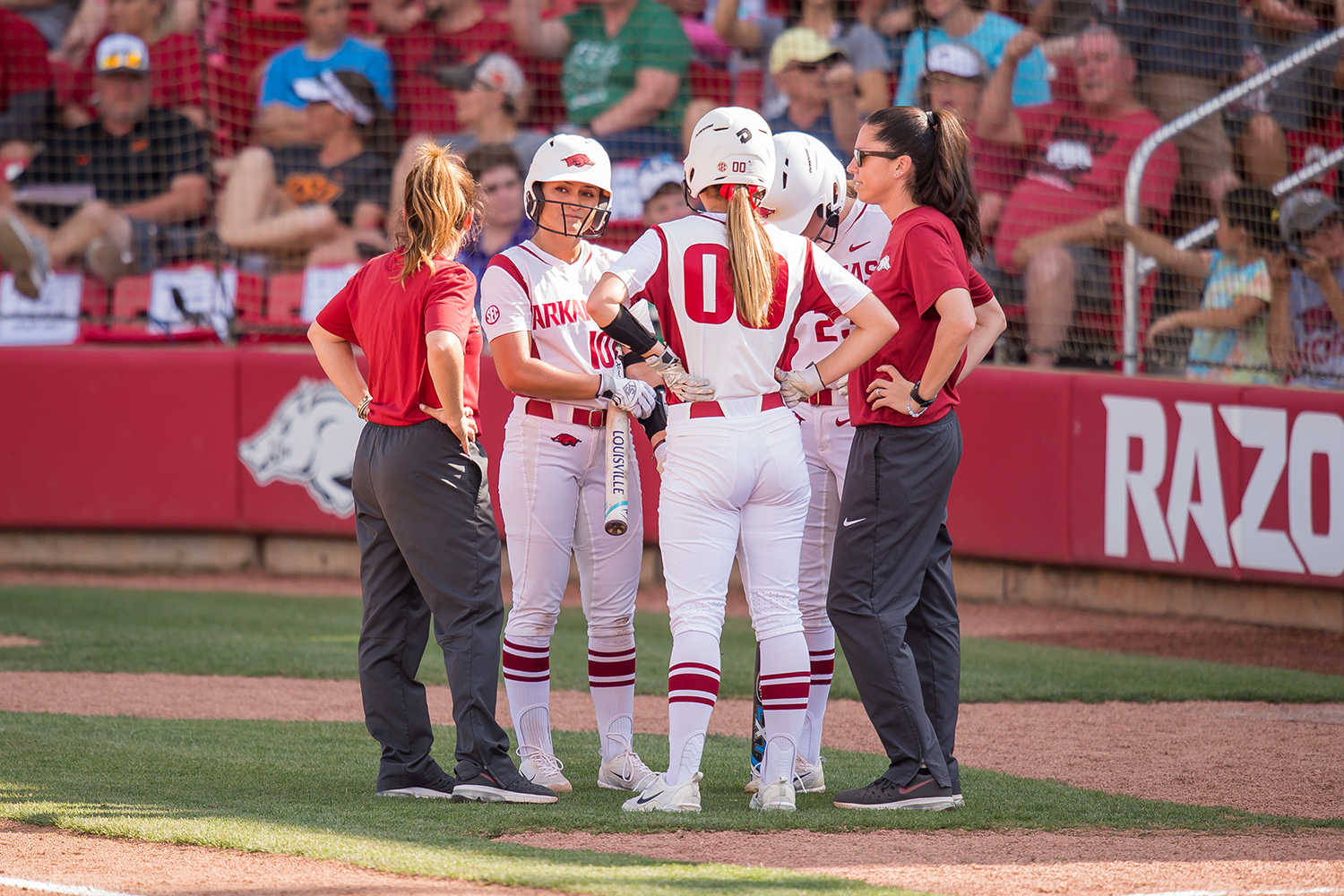 Razorbacks Set for Season Opener at Cowgirl Classic
FAYETTEVILLE – The 12th-ranked University of Arkansas Softball team begins its 23rd season this weekend with a road trip to the Cowgirl Classic, hosted by McNeese in Lake Charles, La. The three-day tournament begins Friday (Feb. 8) and continues through Sunday. All four of the Razorbacks' opponents- Campbell, McNeese, Samford and Lipscomb- were all picked to finish fourth or better in their respective leagues' preseason polls.
Razorbacks Earn Highest Preseason Predicted Finish In Team History
Three of Arkansas' opponents finished their 2018 campaign .500 or better, with Samford being the lone exception. All teams advanced beyond the first round of their conference tournaments, with McNeese claiming its third-straight Southland Conference tournament title and earning an invite to the Aggie Regional in College Station. Arkansas' 42-17 record in 2018 is the best of those participating in the Cowgirl Classic.
2019 Cowgirl Classic (all times central)
Joe Miller Field | Lake Charles, La.
Feb. 8 vs Campbell – 3 p.m.
Feb. 8 at McNeese – 8 p.m.
Feb. 9 vs Samford – 12:30 p.m.
Feb. 9 vs Lipscomb – 3 p.m.
Feb. 10 vs Campbell – 9 a.m.
The Michael Jordan of Season Openers
Friday marks the beginning of the 23rd season of Razorback softball. Overall, the program is 10-12 in season opening games. Arkansas has never hosted a season-opener, and has only played two in the Pelican State, going 1-1 in those games. Since her arrival in Fayetteville, Deifel is 2-1 in season openers, dropping the 2016 season-opener to Texas (4-1).
New to the Scene
Both Campbell and Lipscomb are new to the Arkansas record book, as the teams have never faced either before this weekend.
Unfamiliar Ground
Touchdown on Thursday will mark just the second time in head coach Deifel's Arkansas career that the Razorbacks have been in Louisiana. Arkansas dropped its 2018 series to LSU in Baton Rouge.
Scouting the Competition | Day 1
Campbell | 2018 Record (29-27, 12-9 Big South)
Campbell was picked to finish fourth in the Big South Conference Preseason Poll behind predicted favorite Longwood, new conference member USC Upstate and Radford.
Campbell enters the season under first year head coach Sharonda McDonald. McDonald, a 10- year coaching veteran, comes to Campbell after serving this past season as assistant coach at Ohio State. Prior to her time with the Buckeyes, she was an assistant at Florida, LSU and Texas Tech.
Campbell returns 10 players from a season ago and adds 11 newcomers including three transfers.
McNeese | 2018 Record (41-21, 18-9 Southland)
McNeese, the reigning Southland Conference Tournament champs, were picked to finish second in their conference.
The Cowgirls return 15 letterwinners including four starters and its entire pitching staff from a team that posted a 41-21 record and advanced to the NCAA Tournament for the sixth time in program history.
Senior Justyce McClain and juniors Alexandria Saldivar and Alexsandra Flores are the top Cowgirls returning and who were also named to the SLC Preseason team. Joining the three players will be several other players who have seen substantial playing time the past few years. The Cowgirls return their entire pitching staff which includes Flores who led McNeese with 19 victories and a 3.02 ERA. Joining her in the circle will be sophomores Amber Coons, Caroline Settle, and Ashley Koncir. Freshman Saleen Flores will be making her pitching debut this weekend along with seven other rookies.
For more information about Arkansas Softball, follow @RazorbackSB on Facebook, Instagram and Twitter.