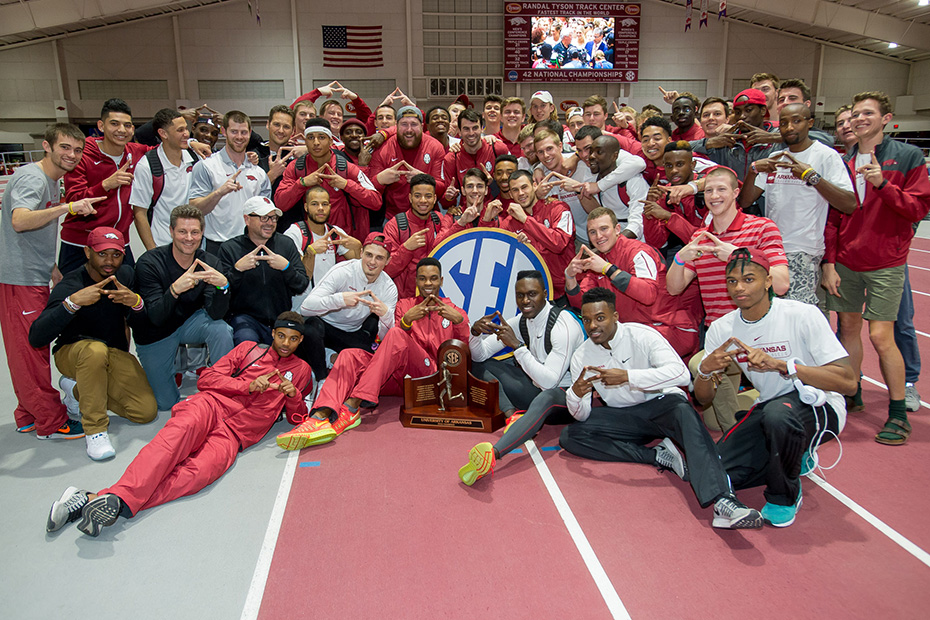 Razorbacks Win 100th Conference Title
SEC Indoor Championship Results
FAYETTEVILLE, Ark. – The No. 1 Arkansas Razorbacks secured their 21st Southeastern Conference title and 100th conference title in the program's storied history. Scoring points in all 11 events that they competed in, the Razorbacks collected 67 points in the final day of competition leading to a total of 109 for the 2016 SEC Indoor Track and Field Championship.
Kenzo Cotton and Jarrion Lawson combined to receive 11 points in the 60 meter dash. Sophomore, Cotton stayed consistent running a 6.63 earning third place. Lawson followed Cotton finishing fourth and collecting five points. The Bowerman Watch List nominee raced down the track to finish with a time of 6.68.
Cotton returned to the track for the 200 and hung tough with a talented field picking up a fourth place finish. The product from La Vista, Neb. collected five more points for the Razorbacks crossing the line in the second heat with a new personal best time of 20.66 putting him fourth on Arkansas's all-time indoor top times list.
Marqueze Washington raced a competitive field to win his heat and finish fourth overall in the 400-meter dash. Washington received five points with a time of 46.17. Obi Igbokwe also took part in the finals section of the 400 crossing the line in 46.48. Competing in his first SEC Championship meet the freshman Igbokwe helped add to the Razorbacks point total.
Arkansas's three 800 meter finalists Carlton Orange, Andrew Pisechko and Ryan Thomas scored, bringing in nine points for the team. Memphis, Tenn. native Orange led the crew finishing fourth with a time of 1:49.10. Former NCAA Elite 89 award winner Pisechko came in sixth while Thomas came in eighth with times of 1:49.66 and 1:53.28 respectively.
Distance runners Gabe Gonzalez and Cameron Griffith put forth solid efforts and earned Arkansas more points in their respective events. Out of Sydney, Australia Griffith was the lone freshman competing in the mile but showed veteran poise on the big stage setting a personal record of 4:03.80. Racing in the 5K, Gonzalez battled a tough Ole Miss contingent and finished fifth overall.
Razorback hurdler Davon Anderson raced to a sixth place finish in his first SEC Championship. The sophomore transfer continues to show consistency as he posted a time of 7.87.
Clive Pullen sealed the gold-medal jump trifecta with a first place finish in the triple jump. Pullen picked up 10 points with a personal best jump of 16.55m/54-3.75. The Razorbacks sweep of the jumps yielded an astounding 42 of the teams 109 points.
Heptathletes Brad Culp and Derek Jacobus got in on the point production as well with fourth and seventh place finishes respectively. Both Culp and Jacobus earned personal records and moved up the Razorbacks' all-time indoor top times list. Culp propelled himself in day two of events to a point total of 5651 after impressive showings in the pole vault and 60 meter hurdles. The new PR total for Culp moved him up to third on the indoor top times list. Jacobus, the sophomore transfer also moved up to sixth on the list with as he collected 5336 points through the seven events.
Arkansas's relay teams capped off the night the same way the day started, producing the Razorbacks points. The Distance Medley Relay team and 4×400 relay team combined to secure nine points. The distance medley relay team came in fourth place with a time of 9:41.38 and the 4×400 meter relay team finished fifth with a 3:09.46.
Arkansas Coach Chris Bucknam Sounds Off on Winning SECs
"It means everything to us. This is a meet we circle every year. We got the Cross Country Championship in the fall, we got the second-leg of the Triple Crown tonight and we are looking forward to going outdoors to Birmingham and Tuscaloosa and getting that one, too."
On Winning 100 Conference Championships
"It's pretty awesome. It's in our DNA to win these championships. We have built a great legacy with all of our alums, these banners on the ceiling — a number of conference championships that they have won in the past. We take pride, we embrace it and we try to live to that standard and these guys did that today. We lived to that standard of what Arkansas Track and Field is all about."
2016 SEC Indoor Championship Results
Randal Tyson Track Center
Fayetteville, Ark.
60 Meters Finals
Kenzo Cotton (3) – 6.63
Jarrion Lawson (4) – 6.68
200 Meters Finals
Kenzo Cotton (4) – 20.66
400 Meters Finals
Marqueze Washington (4) – 46.17
Obi Igbokwe (7) – 46.48
800 Meters Finals
Carlton Orange (4) – 1:49.10
Andrew Pisechko (6) – 1:49.66
Ryan Thomas (8) – 1:53.28
Mile Finals
Cameron Griffith (7) – 4:03.80
3,000 Meters
Gabe Gonzalez (6) – 8:17.09
Jack Bruce (14) – 8:26.33
Andrew Ronoh (4) – 8:14.72
5,000 Meters
Gabe Gonzalez (5) – 14:04.22
Andrew Ronoh (9) – 14:15.38
4×400 Meter Relay
Arkansas (5) – 3:09.46
Distance Medley Relay
Arkansas (4) – 9:41.38
60 Meter Hurdle Finals
Davon Anderson (6) – 7.87
High Jump
Ken LeGassey (1) – 2.19m/7-2.25
Long Jump
Jarrion Lawson (1) – 8.11m/26-7.25
Andreas Trajkovski (2) – 7.87m/25-10
Kurt Jenner (5) – 7.54m/24-9
Rubin Owens (10) – 7.22m/23-8.25
Triple Jump
Clive Pullen (1) – 16.55m/54-3.75
Rubin Owens (13) – 15.17m/49-9.25
Shot Put
Devin Randall (7) – 17.39m/57-0.75
Heptathlon
Brad Culp (4) 5651 – 60m: 6.99, LJ: 6.90m/22-7.75, SP: 13.64m/44-9, HJ: 1.90m/6-2.75, 60H: 8.29, PV: 5.00m/16-4.75, 1000m: 2:52.95
Derek Jacobus (7) 5336 – 60m: 7.11, LJ: 6.95m/22-9.75, SP: 12.72m/41-8.75, HJ: 1.90m/6-2.75, 60H: 8.89, PV: 4.30m/14-1.25, 1000m: 2:41.71
POINTS BREAKDOWN
60 Meters – 11
200 Meters – 5
400 Meters – 7
800 Meters – 9
Mile – 2
3000 Meters – 8
5000 Meters – 4
60 Meter Hurdles – 3
4×400 Meter Relay – 4
Distance Medley Relay – 5
High Jump – 10
Long Jump – 22
Triple Jump – 10
Shot Put – 2
Heptathlon – 7
MEN'S TEAM TOTALS
1. Arkansas (109)
2. Texas A&M (85.83)
3. Mississippi (80.50)
4. Florida (64.33)
5. Georgia (52)
6. Alabama (49)
6. LSU (49)
8. Tennessee (47)
9. South Carolina (35.33)
10. Missouri (33)
11. Kentucky (32)
12. Auburn (24)
For more information on Arkansas track and field including in-meet updates, follow @RazorbackTF on Twitter