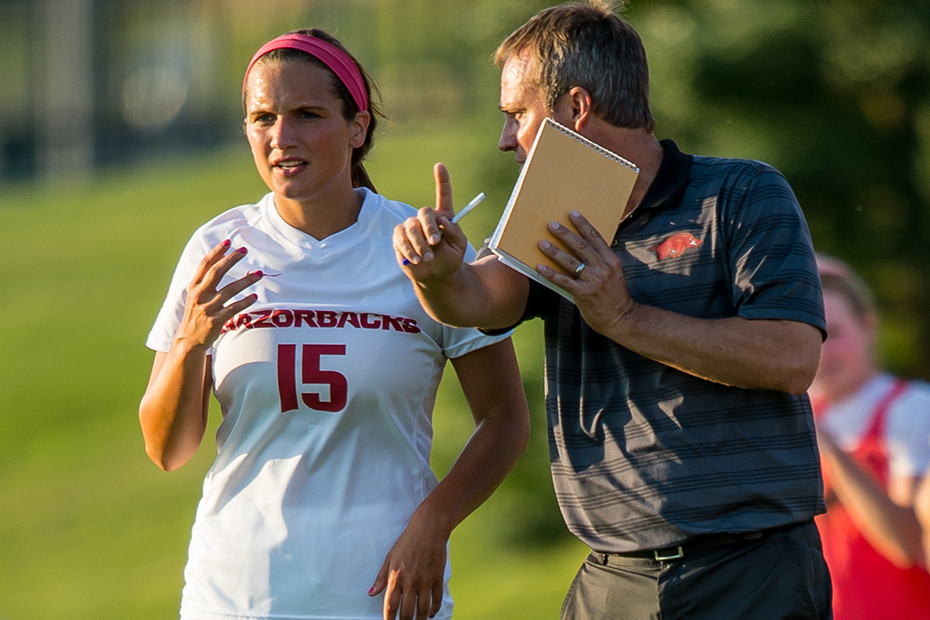 @RazorbackSoccer Announces Summer Camp Dates
FAYETTEVILLE, Ark. – Following back-to-back NCAA appearances (2014 2nd Round, 2013 Sweet Sixteen), head coach Colby Hale has announced the dates for the 2015 Razorback Summer Soccer Camps.
The camps are open to any and all entrants on a first‐come, first‐serve basis to any individual who satisfies the age and grade level requirements set forth in the registration materials.
The Razorbacks finished the 2014 season with a 9-7-6 mark, giving the program its first back-to-back winning season since the 2008, 2009 seasons. Head Coach Colby Hale and his Arkansas squad were also the No. 9 seed in the conference tournament and earned the program's second consecutive bid to the NCAA Tournament (second in school history). After picking up a 3-2 overtime victory at Oklahoma in the opening round of the NCAA Tournament, the Razorbacks fell at No. 3 Stanford, 1-0, in the Round of 32 to end the season.
Below are details regarding dates and prices for the camps. For more information visit www.ArkansasSoccerCamps.com or contact Mario Rincon at (479) 575-4808 or by email, mfrincon@uark.edu.
For more information on Arkansas soccer, follow @RazorbackSoccer on Twitter.
Colby Hale's Razorback Half Day Camp
Dates: June 15-19
Time: 9:00AM – 12:00PM
Gender: Open to all Boys and Girls, Ages 4 – 14
Location: University of Arkansas, Razorback Soccer Field
Cost: Registration: $145
Colby Hale's Razorback Full Day Camp
Dates: July 6-10
Time: 9:00AM – 4:00PM
Gender: Open to all Boys and Girls, Ages 4 – 14
Location: University of Arkansas, Razorback Soccer Field
Cost:  Registration: $220
Colby Hale's Razorback Elite Residential Camp
Dates: July 25-28
Gender: Open to Girls, Ages 10 – 18
Location: University of Arkansas, Razorback Soccer Field
Cost: $460 Overnight or $395 Commuter