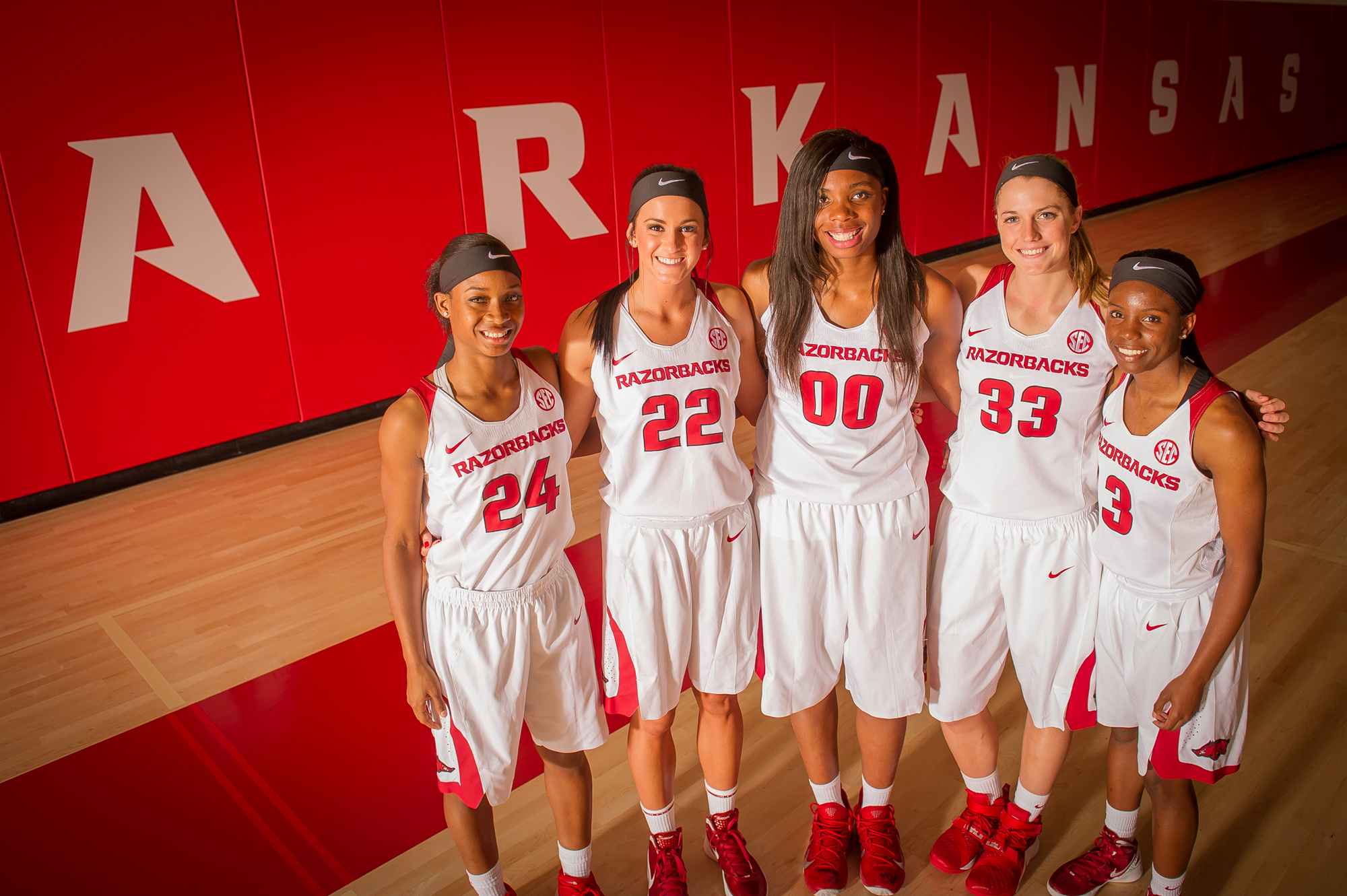 Tough Schedule Continues For W. Basketball
FAYETTEVILLE, Ark. – The University of Arkansas women's basketball team returns to the court continuing Southeastern Conference action hosting No. 13/10 Texas A&M in Bud Walton Arena Thursday at 7 p.m.
THE GAME
Arkansas hosts No. 13/10 Texas A&M
When: Thursday, Jan. 7 at 7 p.m.
Where: Fayetteville, Arkansas | Bud Walton Arena
TV: ESPN Whip Around Coverage | http://es.pn/1RRKH9c
Tickets: http://bit.ly/BeArkansasTix
Promos: #BeArkansas game with the first 200 fans receiving a free t-shirt
Arkansas had a tough start to the SEC schedule traveling to No. 2/2 South Carolina Sunday and opened the year with a loss. The schedule continues to challenge the Razorbacks as they are the only team in the nation to face such a tough stretch to open league play.
Arkansas opens SEC play facing five consecutive opponents who started confer¬ence play ranked in the AP Top-25 (Dec. 28 poll). The Razorbacks are the only team in the SEC to open with five teams who were ranked as of Dec. 28, and they face six ranked teams in the month of January. Arkansas also faced two other league teams who are getting votes in the poll. Several other SEC teams play at least five ranked teams in January but Arkansas is the only one to start that way.
In addition to being the only team in the SEC to start with that schedule, Arkansas is the only team in the power five conferences to begin with such a tough league start. Several members of the ACC have three or four ranked conference opponents on their January schedules but none start like the Razorbacks. No one in the Big 12 faces more than two ranked conference opponents in January. No one in the Big Ten has more than three. The Pac-12 has several teams who face five ranked con¬ference opponents in the month of January but, again, no one who starts with five consecutive ranked conference teams.
This week, the Razorbacks take on a Texas A&M team ranked 13th in the Associated Press poll and No. 10 in the Coaches Poll. The Aggies enter the game with an 11-3 record and a 1-0 start to SEC play with a win over Georgia to open the season. Courtney Walker leads the team with 16.9 points per game and has 5.2 rebounds per game. Teammate Courtney Williams adds 14.3 ppg and 4.4 rpg to a very solid starting lineup for head coach Gary Blair.
For Arkansas look to senior Melissa Wolff, junior Jessica Jackson and sophomore Devin Cosper to shoulder a lot of the scoring and rebounding responsibilities for the Razorbacks. Wolff is coming off a 20-point, 20-rebound performance helping Arkansas win its final non-conference game of the year and she and Jackson lead Arkansas in scoring against the second-ranked Gamecocks Sunday.
Cosper has been starting and playing well, scoring in double figures in six of her last eight games.
STORYLINES
• Arkansas has been even with or out-rebounded 10 of 14 opponents this year
• Arkansas has held 11 of 14 opponents at or below their current scoring average
• Arkansas has won the turnover battle in nine games this year
• Arkansas is the fifth youngest team in terms of returning scholarship players under the current head coach
• Junior Jessica Jackson has scored in double figures in 11 of the 13 games she has played in this season
• Senior Melissa Wolff is the only player to have 20 rebounds in the SEC this sea¬son and, as a result, the only SEC player this season with 20 and 20
• Sophomore Devin Cosper has scored in double figures in six games this year including six of her last eight games
• Jessica Jackson ranks fifth in the SEC among active scoring leaders with 1,180 career points
• Jessica Jackson and Melissa Wolff rank tied for fourth and seventh, respectively, in the SEC among active blocks leaders
• Wolff and Jackson rank sixth and 11th, respectively, among career rebounding leaders in the SEC
• Arkansas opens the SEC season facing five ranked teams in the Associated Press Poll
UP NEXT
Jan. 7 #13/10 Texas A&M 7 p.m.
Jan. 10 at Mississippi State 2 p.m.
Jan. 14 Tennessee 8 p.m.
Jan. 17 Missouri (We Back Pat) 2 p.m.
Jan. 21 at LSU 7 p.m.
Jan. 24 at Auburn 3 p.m.
Jan. 28 Florida 7 p.m.
Jan. 31 Mississippi State 2 p.m.
For more information on Arkansas women's basketball, follow @RazorbackWBB on Twitter.