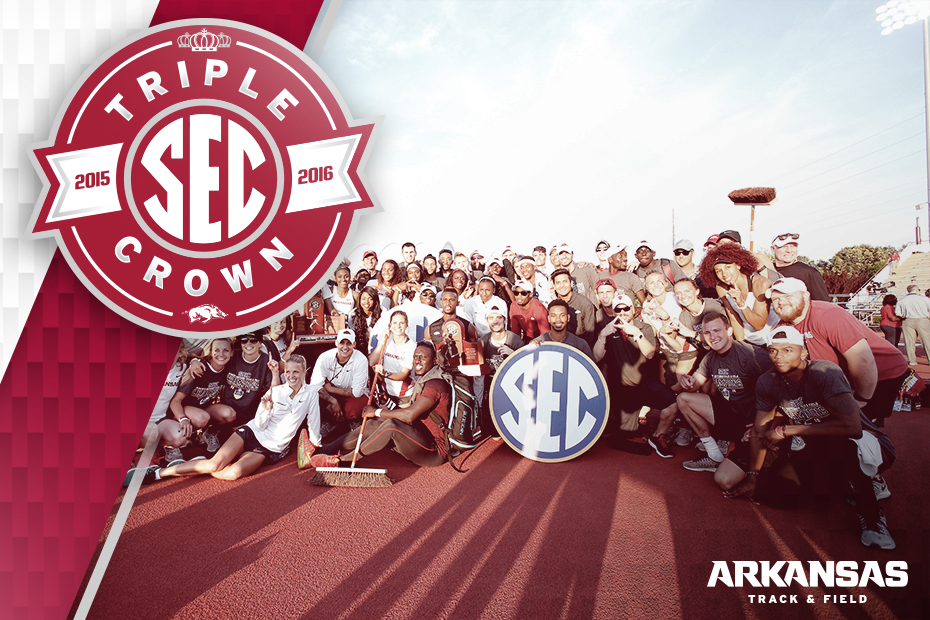 Triple Crown Tradition
TUSCALOOSA, Ala. — The Arkansas men's and women's track and field teams made Southeastern Conference (SEC) history on Saturday afternoon in Tuscaloosa. With SEC Cross Country and Indoor Track and Field titles already in hand this year, both programs finished off the Triple Crown with a sweep of the 2016 SEC Outdoor Track and Field Championships.
It marks the second time and the first since 1999-2000 that Arkansas has swept the men's and women's SEC Triple Crown. The two programs' SEC dominance is even more evident by being the only school to ever sweep a men's or women's SEC Triple Crown.
The Razorback men entered the final day of competition in second place with 45 points, just one point behind Georgia. Head men's track and field coach Chris Bucknam was able to rally his team, guiding the program to its 19th SEC outdoor title and a staggering 15th SEC Triple Crown with a final score of 121, good for a 20-point cushion over second place.
Following a unified effort from both track and field event performers on day two of the conference championship, the Arkansas women's track and field team opened up the last day of competition as the team to beat with a 44-point lead.
Ranked No. 2 in the nation entering the championships, Arkansas head coach Lance Harter's program continued its dominance on the final day to defend its SEC Outdoor title from a year ago while collecting its seventh straight SEC Championship crown (Cross Country, Outdoor and Indoor) dating back to 2014. The Razorbacks finished with a team score of 126.75 with Texas A&M taking second with 82.
Double SEC Triple Crown Years
1999 – 2000

Men's Conference Totals: XC (27), Indoor (168), Outdoor (171) | Women's Conference Totals: XC (43), Indoor (140), Outdoor (147.75)

2015 – 2016

Men's Conference Totals: XC (25), Indoor (109), Outdoor (121) | Women's Conference Totals: XC (38), Indoor (110), Outdoor (126.75)
The 2016 SEC Championship will air Sunday, May 15 via tape delay from 2-4 p.m on ESPN2.
For more information on Arkansas track and field including in-meet updates, follow @RazorbackTF on Twitter.