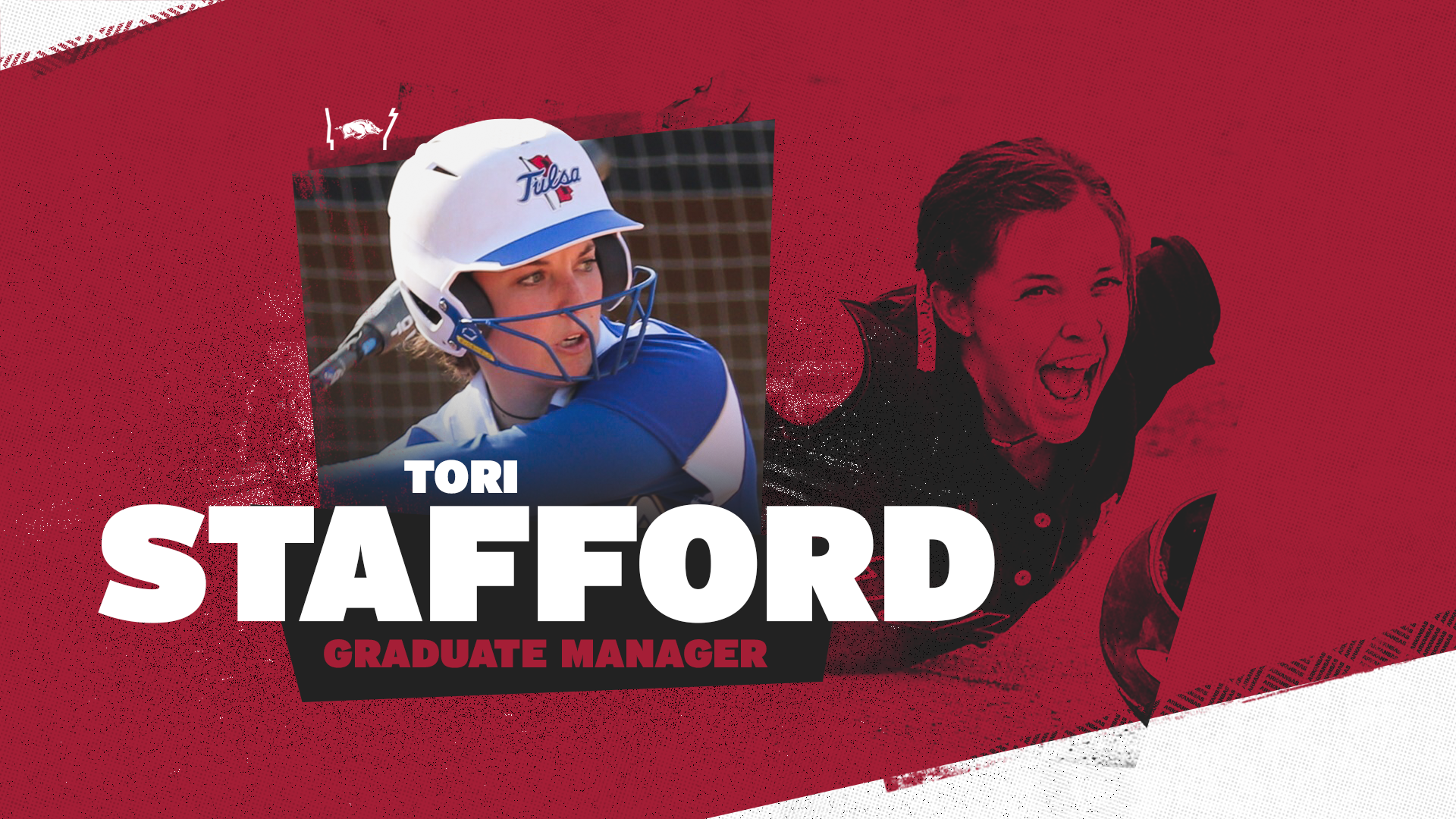 Deifel Announces Addition of Tori Stafford to Softball Staff
FAYETTEVILLE, Ark. – University of Arkansas softball head coach Courtney Deifel has announced the addition of former Tulsa standout and Van Buren, Ark. native Tori Stafford to the staff as a graduate manager. A starter in all four seasons of her playing career for the Golden Hurricane from 2016 through 2019, Stafford was a key contributor winning three American Athletic Conference Tournament Championships and appearing in three NCAA Tournaments.
"We are thrilled to welcome Tori back home to Arkansas and for her to join our staff as a graduate manager," said head coach Courtney Deifel. "The tenacity, leadership and competitiveness she displayed as a player align perfectly with our Razorback softball core values. We are excited to have someone with the work ethic and passion for the sport that Tori exudes and cannot wait for her to get started."
Appearing in 222 career games and making 191 starts primarily at first base, Stafford finished her career sixth in Tulsa program history recording 1,064 putouts and seventh registering a .988 fielding percentage. Offensively, she hit .249 over her career and reached base at a .325 clip while scoring 73 runs and driving in 81.
She posted the best offensive numbers of her career as a sophomore in 2017 when Tulsa won its first AAC Regular Season title, ranking third on the team with a .367 batting average against AAC competition, and slashing .329/.400/.456 overall. After the Golden Hurricane claimed their second consecutive AAC Tournament Championship and Stafford earned AAC All-Tournament Team honors, Tulsa reached the championship round of the NCAA Norman Regional before falling twice to eventual national champion, Oklahoma.
Last year Stafford served as a graduate manager for her alma mater and the year prior was a strength and conditioning intern for GTS Performance and Fitness in Wisconsin. She has experience coaching travel ball in Oklahoma and has volunteered at the Women's College World Series assisting the NCAA director of championships.
Stafford finished her prep career as Van Buren High School's career leader in hits, home runs and RBI and was selected to the Arkansas Class 7A All-State Team in 2015.
Visit ArkansasRazorbacks.com for the latest information on all things Arkansas Softball. You can also find the Hogs on social media by liking us on Facebook (Arkansas Razorback Softball) and following us on Twitter (@RazorbackSB) and Instagram (@Razorback_SB).