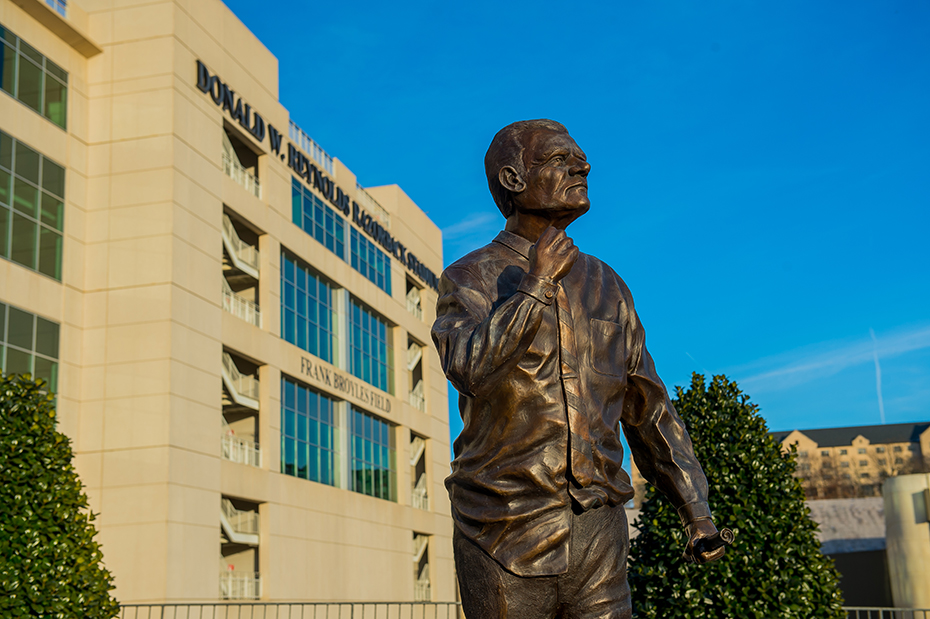 Grant pays Tribute to Coach Broyles
FAYETTEVILLE, Ark. – The lobby of the Fred W. Smith Football Center will now bear the name of the late University of Arkansas men's athletics director and football coach Frank Broyles thanks to a grant made by the Donald W. Reynolds Foundation.
The $500,000 grant was made in honor of the life and legacy of Coach Broyles who passed away on August 14, 2017. A Frank Broyles bust will be added to the newly named Frank Broyles Lobby inside the Fred W. Smith Football Center, adjacent to a bust celebrating the building's namesake.
Mr. Smith had an extensive career in newspaper publishing and media before being named Chairman of the Donald W. Reynolds Foundation in Las Vegas. In August 2013, the 80,000 square foot Fred W. Smith Football Center opened providing a spectacular new home for Razorback Football.
"It is only fitting that these two extraordinary men will soon be recognized side-by-side in the Frank Broyles Lobby of the beautiful Fred W. Smith Football Center," Vice Chancellor and Director of Athletics Jeff Long said. "The longtime friendship and collaboration of these two legends helped transform the Razorback program and enhance the lives of thousands of Razorback student-athletes, coaches, staff members and fans. We are grateful for this meaningful grant and for all the generous support the Donald W. Reynolds Foundation has provided our program and the University of Arkansas."
Frank Broyles served the University of Arkansas for more than five decades as a coach and athletics administrator. In 19 seasons (1958-76) as head football coach, Broyles amassed a record of 144-58-5, seven Southwest Conference titles and 10 bowl bids. In 1964, Broyles led the Razorbacks to an undefeated season and a national championship.
During his 34 ½ years as Athletic Director (1973-2007), Broyles transformed the Razorbacks into one of the most successful programs in the nation earning 43 national titles, 57 SWC titles, 48 SEC titles and 22 bowl game appearances. His vision and leadership was the driving force behind the University of Arkansas moving to the Southeastern Conference (SEC) in 1990.
Broyles worked tirelessly to build and renovate athletic venues including working alongside his close friend and philanthropist Fred W. Smith to renovate and expand Donald W. Reynolds Razorback Stadium and to construct the Mary B. and Fred W. Smith Razorback Golf Center.
The Donald W. Reynolds Foundation is a national philanthropic organization founded in 1954 by the late media entrepreneur for whom it is named. Headquartered in Las Vegas, Nevada, it has been a long-time supporter of the University of Arkansas and Razorbacks Athletics, providing over $32 million in funding.