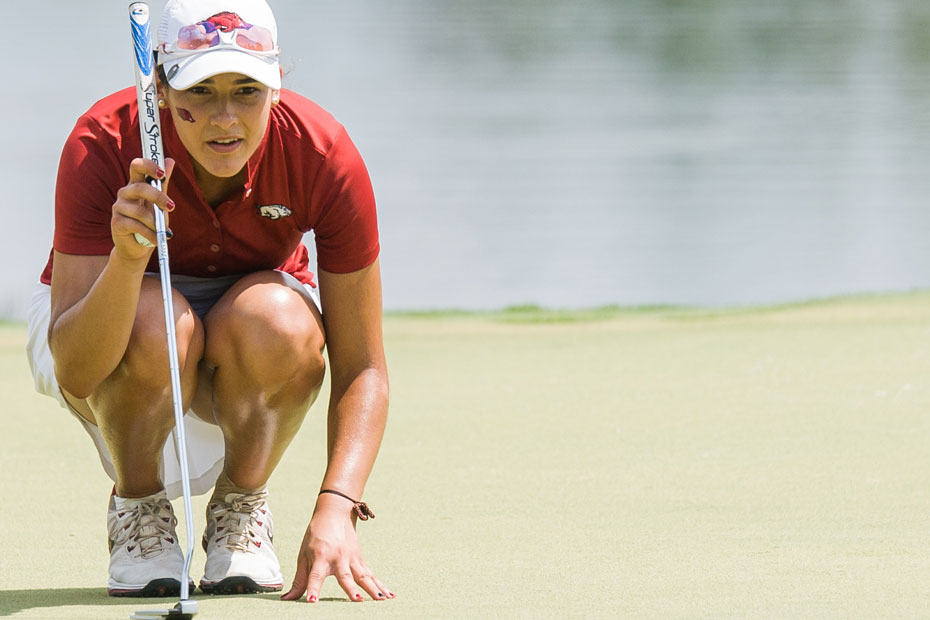 Plasencia T1; No. 3 W. Golf Second at the Alamo
SAN ANTONIO, Texas – University of Arkansas senior Regina Plasencia moved up the leaderboard into a tie for first place leading the No. 3 Razorbacks into second place after second-round action at the Alamo Invitational in San Antonio, Texas, Monday.
The Razorbacks, playing in their final event of the fall, posted a three-over 291 to pair with their first round 294 and are in the clubhouse with a 585, just six strokes behind day-two leader No. 16 Florida.
Plasencia shot 71-72=141 and moved into a tie for first Monday. The Guadalajara, Mexico, native was even through her first nine holes before going birdie-birdie on the 11th and 12th holes. She gave a stroke back on No. 13 but rallied with a birdie on the 17th hole to finish strong.
Sophomore Alana Uriell also moved up the leaderboard in the second round. The Carlsbad, California, native is tied for 25th shooting 73-76=149. Junior Summar Roachell is tied for 31st with 72-78=150 along with junior Samantha Marks who shot 78-72=150. Freshman Cara Gorlei rounds out the Razorback scoring. Gorlei is tied for 62nd with 83-73=156.
Sixteenth-ranked Florida continues to lead the field shooting 579, followed by No. 3 Arkansas with 585. Number 53 TCU is third with 588 and No. 29 Texas Tech with 591 and No. 88 Wisconsin with 593 round out the top five.
The rest of the field includes Texas State with 594, No. 69 Mississippi State with 595, No. 67 Baylor with 597, No. 89 UTSA with 598, No. 44 SMU and No. 59 Oklahoma tied for 10th with 599, No. 36 Houston with 602, No. 11 Texas A&M with 607, No. xx Tulane with 609 and No. 63 LSU in 15th with 613.
Play continues with the final round Tuesday.
For more information on Arkansas women's golf, follow @RazorbackWGolf on Twitter.