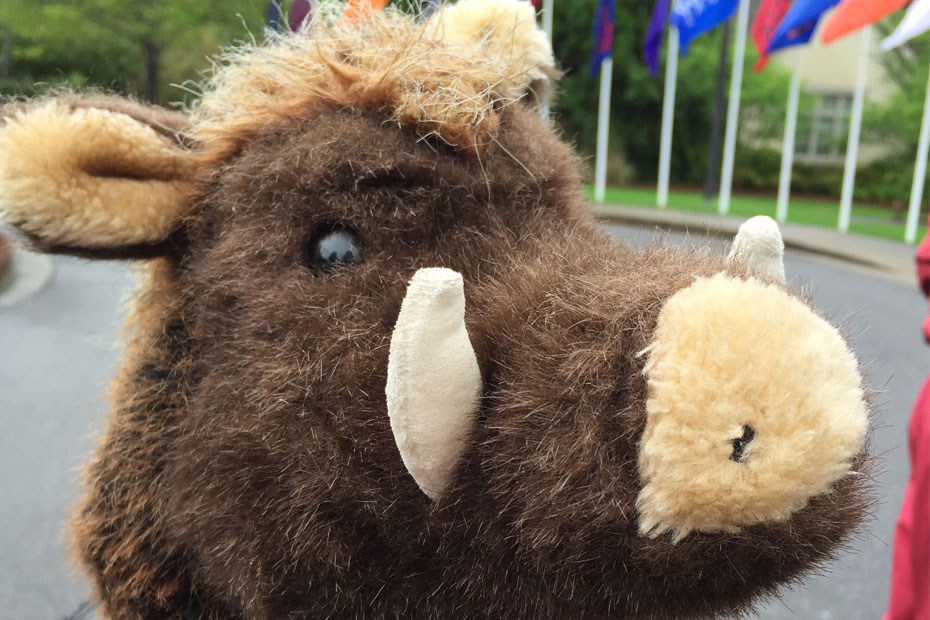 The ANNIKA And W. Golf
Jump to schedule (Adobe Acrobat PDF)
FAYETTEVILLE, Ark. – University of Arkansas head women's golf coach Shauna Estes-Taylor has put together another strong schedule for 2015-16 highlighted by an invitation to the ANNIKA Intercollegiate presented by 3M.
Coming off the program's ninth place finish at the NCAA Championship in 2014-15, the Razorbacks are one of 12 teams invited to the ANNIKA, created by one of the world's best players, Annika Sorenstam, Sept. 27-29.  The 54-hole stroke play event takes place at Reunion Resort in Orlando, Fla., on the Watson Course.  In addition to the tournament, players and coaches are treated to a gala reception that Sorenstam hosts.
The season opens with a trip to the Powerade Cougar Classic in Charleston, S.C.  The Razorbacks dominated the field winning by seven strokes last season as Arkansas posted an 18-under 846.  Regina Plasencia and Summar Roachell were both inside the top-10 finishing tied for fifth and tied for ninth, respectively.
Arkansas takes part in the ANNIKA Sept. 27-29, followed by a couple of familiar events in the Ruth's Chris Tar Heel Invitational Oct. 9-11, and the Alamo Invitational Oct. 25-27, to close the fall.
The Razorbacks played to a fifth place showing at last year's Ruth's Chris Tar Heel Invitational paced by a tie for ninth from sophomore transfer Samantha Marks who carded and even par 207 for the event.  Arkansas finished the fall strong with a runner-up performance at the Alamo Invitational with All-American Gabriela Lopez, Plasencia and Marks all posting top-10 finishes.
This year's spring schedule opens with three historically strong fields at the Lady Puerto Rico, the Darius Rucker Intercollegiate and the Liz Murphey Collegiate Classic.  Estes-Taylor sprinkles in the LSU Tiger Golf Classic for the solid field and the chance the Razorbacks could be sent back to Baton Rouge for an NCAA Regional later in the year.
The Razorbacks return to Puerto Rico as the defending champions after shooting 876 with Lopez, freshman Jordy LaBabera and sophomore Summar Roachell all recording top-10 finishes.  Arkansas was ninth at the Darius and third at the Liz last season with Plasencia picking up her first individual win in Athens.
The postseason begins at the SEC Championship April 15-17, in Birmingham, Ala., followed by the NCAA Regionals and NCAA Championship.  The expanded regional sites include Stanford, Calif.; Bryan, Texas; Baton Rouge, La.; and Tuscaloosa, Ala.  The University of Oregon hosts the NCAA Championship at Eugene Country Club.
For more information on Arkansas women's golf, follow @RazorbackWGolf on Twitter.
ABOUT @RAZORBACKWGOLF
Arkansas returns all traveling players from last year's team
The Razorbacks finished ninth at the NCAA Championship
Gabriela Lopez tied for second at the NCAA Championship
Lopez was a first-team All-SEC and All-America selection
Six of the seven regular season events on this year's schedule, were also a part of last year's schedule
LSU is the only "new" event and Arkansas has played in the Tigers' tournament on 10 previous occasions, most recently in 2014
Arkansas has won at LSU three times (2010, 2013, 2014)
Arkansas won the Powerade Cougar Classic and the Lady Puerto Rico Classic last season
Arkansas has had six top five finishes in six appearances at the Lady Puerto Rico
This is Arkansas' first appearance at the ANNIKA but the program's fourth appearance at what is considered an NCAA Championship preview (2006, 2008, 2013)
Arkansas has competed at three of the four possible NCAA Regional sites – they have never played at Shoal Creek in Tuscaloosa, Ala.
Regina Plasencia won her first collegiate event at the Liz Murphey Intercollegiate last year