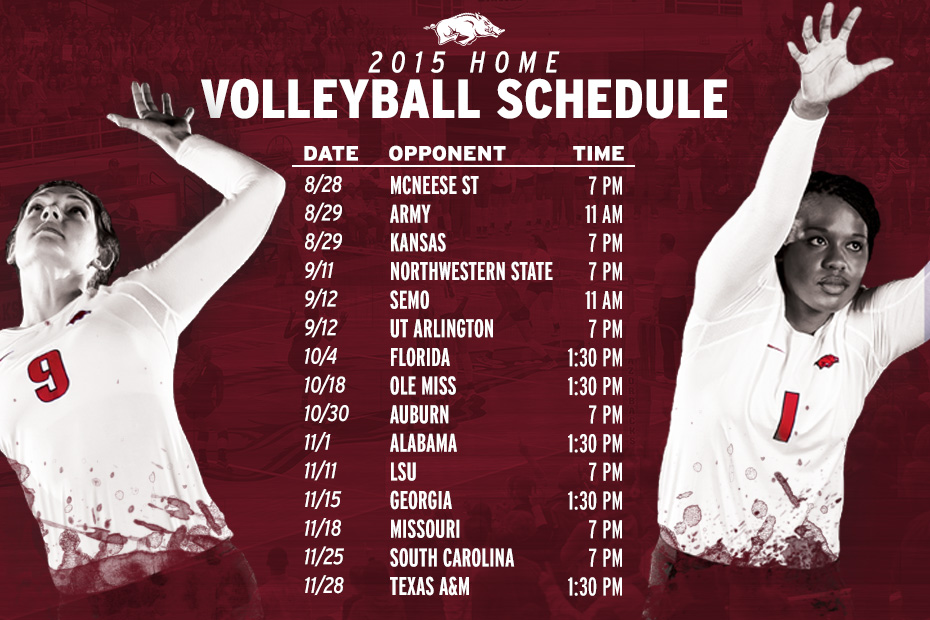 13 Matches Against NCAA Tournament Teams Highlight 2015 Schedule
2015 @RazorbackVB Schedule (.pdf) | Season Tickets
FAYETTEVILLE, Ark. – In continued preparation for the upcoming season, head coach Robert Pulliza has announced the 2015 schedule for the University of Arkansas volleyball team. Arkansas' schedule features nine top-50 RPI opponents and 13 matches against teams that advanced to last year's NCAA Tournament. The Razorbacks begin their season Aug. 28-29 with the Arkansas Invitational at Barnhill Arena.
Season tickets are now on sale through the Razorback Ticket Center. With pricing options beginning at $40, each purchase includes a free team knit hat. For more information and details about purchasing season tickets, call 800-982-HOGS (4647) or 479-575-5151, email raztk@uark.edu or visit the Razorback Ticket Center on Razorback Road. Click HERE to purchase tickets online.
2015 Schedule #RazorFacts
• 31 matches (15 home, 11 road, five neutral)
• Season & home opener: Aug. 28 vs. McNeese State, 7 p.m.
• SEC opener: Sept. 23 at LSU, 7 p.m.
• SEC home opener: Oct. 4 vs. Florida, 1:30 p.m.
• 13 matches vs. 2014 NCAA Tournament teams, including six at Barnhill Arena
• Five of final six matches of the regular season to be played at Barnhill Arena
• Two first-time opponents: Northern Kentucky and SIUE
Arkansas' non-conference schedule includes four tournaments, two of which will be hosted on the Razorbacks' home court at Barnhill Arena. Arkansas is also set for non-conference tournaments hosted by SIU-Edwardsville and Creighton. During their non-conference slate, the Razorbacks will play five teams that advanced to last year's NCAA Tournament with matches against Kansas (Aug. 29), Northwestern State (Sept. 11), Creighton and Kansas State (Sept. 18) and Wisconsin (Sept. 19). Continuing into the start of its SEC schedule, the Creighton Classic begins a stretch of seven-consecutive matches against NCAA Tournament teams.
The Razorbacks begin their conference schedule with road matches at LSU and Texas A&M before hosting Florida on Oct. 4 in their SEC home opener. In addition to its matchup with the Gators, Arkansas' home schedule during conference play also features Ole Miss (Oct. 18), Auburn (Oct. 30), Alabama (Nov. 1), LSU (Nov. 11), Georgia (Nov. 15), Missouri (Nov. 18), South Carolina (Nov. 25) and Texas A&M (Nov. 28) in the regular-season finale.
The postseason begins Dec. 3-5 at selected campus host sites with the first and second rounds of the 2015 NCAA Division I Women's Volleyball Championship. The regional round of the national tournament takes place Dec. 11-12 at the four pre-determined sites in Austin, Texas; Des Moines, Iowa; Lexington, Ky.; and San Diego, Calif. The national semifinal (Dec. 17) and final (Dec. 19) will be contested at the CenturyLink Center in Omaha, Neb.
For more information about Arkansas volleyball, follow @RazorbackVB on Facebook, Instagram, Snapchat and Twitter.