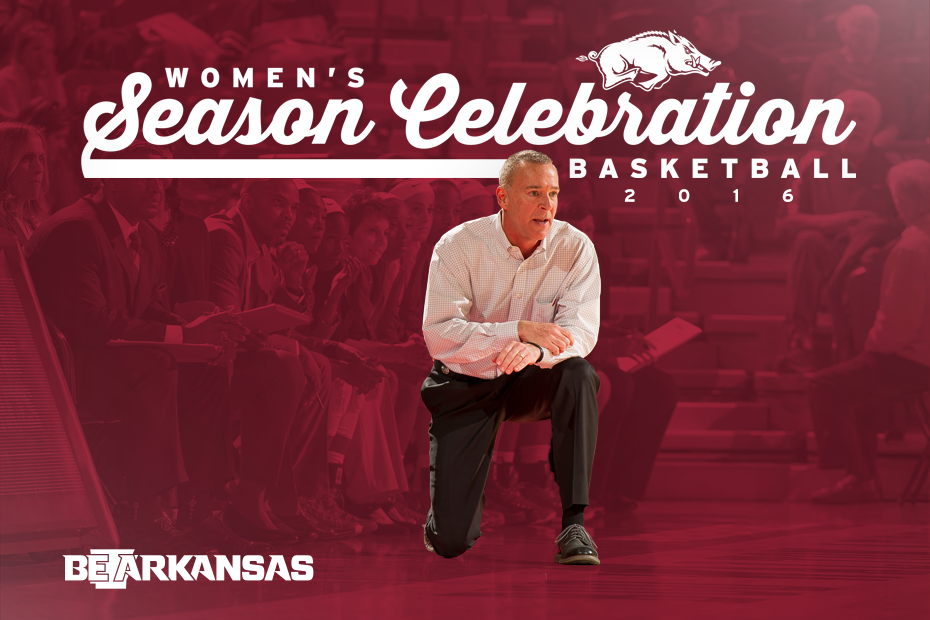 2016 Women's Basketball Season Celebration
FAYETTEVILLE, Ark. – The University of Arkansas women's basketball team invites fans to the 2016 Women's Basketball Season Celebration.
Join head coach Jimmy Dykes and the Razorbacks Tuesday, April 12, at 7 p.m. at Mermaids and recap the senior Melissa Wolff's incredible career and the highlights of the 2015-16 season.
Tickets are just $20 and are available to the general public. Tickets are available online at ArkansasRazorbacks.com or by calling the Razorback Ticket Center at 1-800-982-HOGS.
The 2015-16 season had several highlights including three wins over nationally-ranked opponents, a tough schedule in both the conference and non-conference portions of the season, and individual milestones and honors.
Senior Melissa Wolff wrapped up her playing career and departs with her name sprinkled throughout the Razorback record books. Arkansas returns 11 of 12 team members as the coaches and players look ahead to next season.
What you need to know
What: 2016 Razorback Women's Basketball Season Celebration
Date: Tuesday, April 12, 2016 | 7 p.m.
Where: Mermaid's Restaurant | 2217 N. College Avenue |Fayetteville, Arkansas
Tickets: $20 | Available at http://www.ArkansasRazorbacks.com
For more information: tbahn@uark.edu or call (479)575-8618