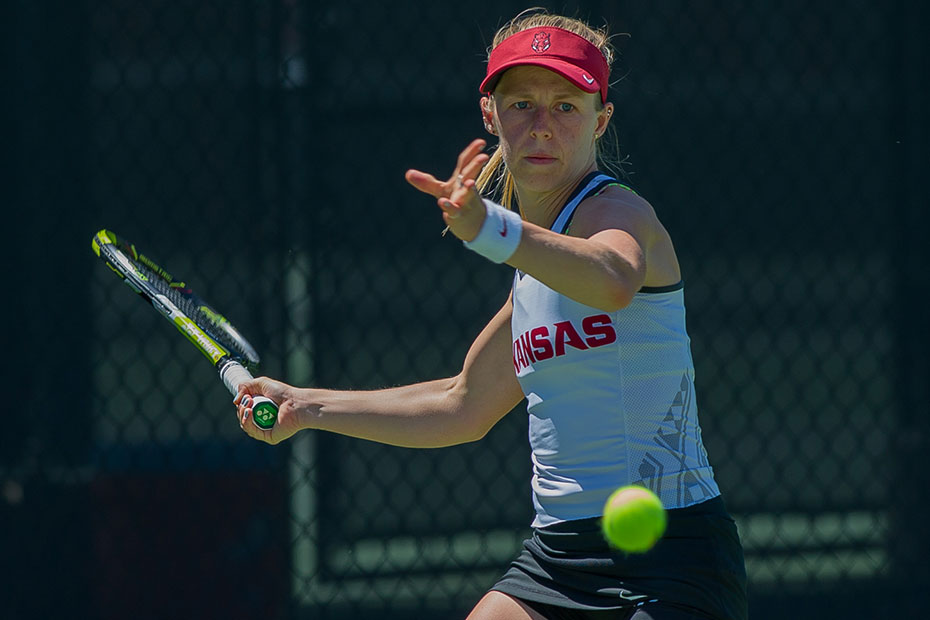 Arkansas Readies For SEC Tournament
Tournament Central | Bracket | Live Scoring
FAYETTEVILLE, Ark. – The No. 32 Arkansas women's tennis team will begin action at the Southeastern Conference Tournament on Thursday in Baton Rouge, Louisiana, meeting No. 21 Mississippi State in a second-round match.
Match time between the No. 10-seeded Razorbacks (16-12, 5-8) and No. 7-seeded Bulldogs (16-7, 7-6) is set for 10 a.m. CDT at the LSU Tennis Complex. Arkansas and Mississippi State last met Saturday in Fayetteville, where the Bulldogs won a 5-2 decision during the regular season finale for both teams. The two programs have never met in the conference tournament.
Need To Know
• Arkansas has defeated six teams in the current national rankings including No. 26 Wichita State, No. 12 Auburn and No. 18 Texas A&M.
• Arkansas is 9-5 in matches away from home this season.
• The Razorbacks hold a 14-11 advantage in the all-time series against the Bulldogs dating back to 1992.
Lysa Enters Top-25 Rankings
• For the second-straight week, senior Yuliya Lysa earned a career-best mark in the Oracle/ITA Division I Women's Collegiate Tennis singles rankings (No. 21).
• Lysa boasts a team-best nine dual-match singles victories in SEC play.
• Lysa has won eight of her last 10 matches.
• Lysa has defeated eight ranked opponents, including four in the top 25.
• The tandem of Lysa and junior Shannon Hudson jumped five spots to No. 42 in the doubles rankings.
Leading The Way
• Along with Lysa, the Razorbacks are paced in singles by sophomore Mia Jurasic and freshman Ana Oparenovic.
• Jurasic and Oparenovic have each tallied a team-best 14 dual-match singles wins.
• Jurasic has defeated seven of her last eight opponents, including each of her last four.
• The duo of Jurasic and Oparenovic also has tallied a team-best 14 dual-match doubles wins.

Araujo Honored
• For the second-straight year, senior Flavia Araujo has been named to the SEC Women's Tennis Community Service Team, it was announced Tuesday.
• Araujo also was one of three Razorback student-athletes awarded the University of Arkansas' 2nd Tier of Arkansas Alumni Senior Awards – Razorback Classics.
Quotables
"The SEC Championship this year is the strongest it has ever been," head coach Michael Hegarty said. "We are excited to get started with postseason play and aim to have our best performances here in April and May."
Live Coverage
Fans can follow all the action during the SEC Tournament with live scoring.
Up Next
The winner of Thursday's matchup will face off against No. 2-seeded Vanderbilt on Friday at 10 a.m., in a quarterfinal round match.