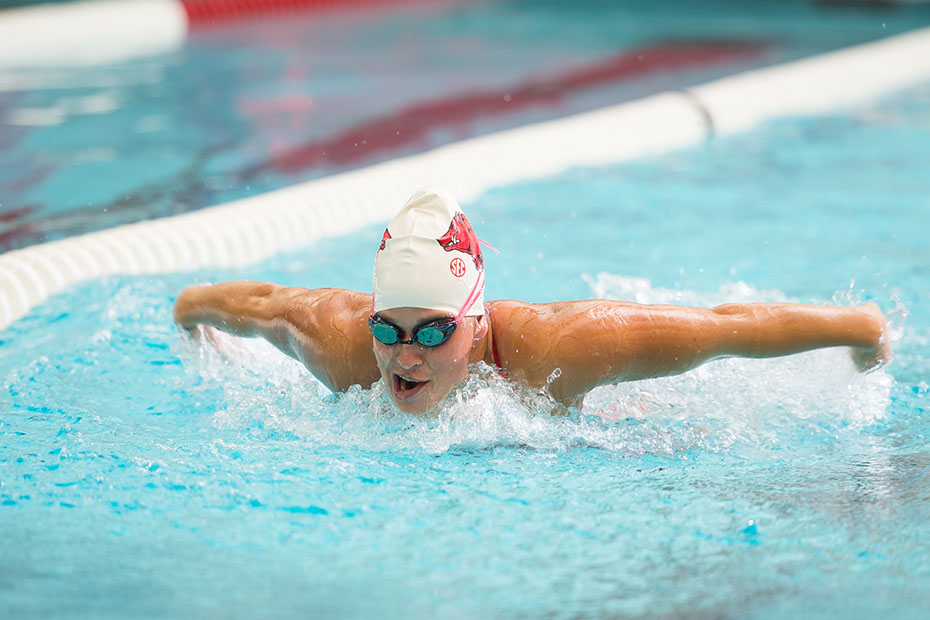 Arkansas Shatters Three Pool Records at Rice Invitational
HOUSTON, Tex.- The University of Arkansas swimming and diving team had a fantastic day in the Session 1 of the Rice Invite. The Razorbacks shattered three facility records, beating their own pool record from 2011 in the 800 freestyle relay.
Arkansas is competing in a two-day, three session swim meet against Rice University, University of Incarnate Word, and the University of Houston. With only five events under their belt and 13 more events to go, the Razorbacks are winning the meet with 330 points, 73 points behind them in the team total score is Rice University with 257 points.
The Razorbacks started the day out strong by taking first and second place in the 400 medley relay. Anna Mayfield, Madison Strathman, Natalie Burnett, and Maddie Monroe broke the facility record with a time of 3:45.02. Right behind them were teammates Madison Strathman, Sydney Angell, Olivia Weekley, and Nina Drolc with a time of 3:50.84.
"We came in with the goal and expectation that every stroke, every race, every dive, every team member's efforts counts and makes a difference. Not ever letting up. They swam strong and helped set the standard from the first swims" Head coach Sean Schimmel said after the first race of the afternoon.
Mayfield bounced back after the 400 medley relay and went right into the 500 freestyle. She came out strong and broke another Rice University pool record with a time of 4:51.36. Teammate Aiden Lister took second in the event and was also under the previous record with a time of 4:51.48. Annah Carney came in seventh (5:02.24) and Rachel Stoehr finished eighth (5:02.96).
In the third event of the evening, Chloe Hannam raced hard and finished first in the 200 individual medley with a time of 2:04.47. Teammates  Chelsea Tatlow (fourth), Jessie Garrison (sixth), Strathman (seventh), Angell (eighth) and Madison Umberger (ninth).
When asked how the ladies were adjusting to swimming in an outdoor pool, coach Schimmel replied, "As swimmers and divers we practice being ready for any situation and excelling despite the odds. It is always an adjustment to swim outside, but our team handled it well and we're excited for the rest of the competition."
Drolc (23.76) and Burnett (23.80) took first and second in the 50 freestyle, while Caitlin Tootill (24.13) took fifth and teammate Monroe (24.15) placed sixth.
The last event of the evening was an exciting one for the swimming and diving team. Mayfield, Monroe, Hannam, and Lister shattered the pool record with a time of 7:26.61 in the 800 freestyle relay. The most exciting part is that Arkansas was the previous record holder for the event and it was broken in 2011. Tatlow, Carney, Drolc, and Stoehr finished strong and placed third in the 800 freestyle relay with a time of 7:39.29.
"It is always good to go to a pool and perform better than ever before in regards to that facility." Schimmel said.
Due to bad weather in the forecast, the meet times have changed for Saturday, Oct. 24th. The second session will begin at 9:00 a.m. and the third session will follow at noon.
Diving
Friday afternoon, the University of Arkansas diving exhibition event took place at the University of Houston. Four Razorback divers had a great afternoon and came out with a personal record. Nicole Gillis took first place with a score of 221(PR) while senior Hannah Bortnick took second with a score of 213(PR). Freshman Molly Harvie dove in her first college tower meet and placed fourth in the competition with a personal record. Senior Shelby Bartlett placed fifth in the competition and Marissa Green placed sixth in her first college meet and came out with a personal record.
"All the ladies dove well this afternoon. Diving coach Jeff DiNicola said. "Especially those who competed in their first college meet."
The exhibition event does not count for the score of the total meet, but competition will continue Saturday, Oct. 24. The three-meter competition starts at 9 a.m. at the University of Houston and the one-meter competition will follow.
Rice Invitational Swim Schedule:
Session I – Friday (Oct. 23), 4 pm start
400 medley relay
500 free
200 IM
50 free
800 free relay
Session II – Saturday (Oct. 24) 9:00 am start
200 medley relay
400 IM
100 butterfly
200 free
100 breaststroke
100 backstroke
200 free relay
1650 free
Session III – Noon start
200 backstroke
100 free
200 breaststroke
200 butterfly
400 free relay
For more information on Arkansas swimming and diving, follow @RazorbackSD on Twitter.