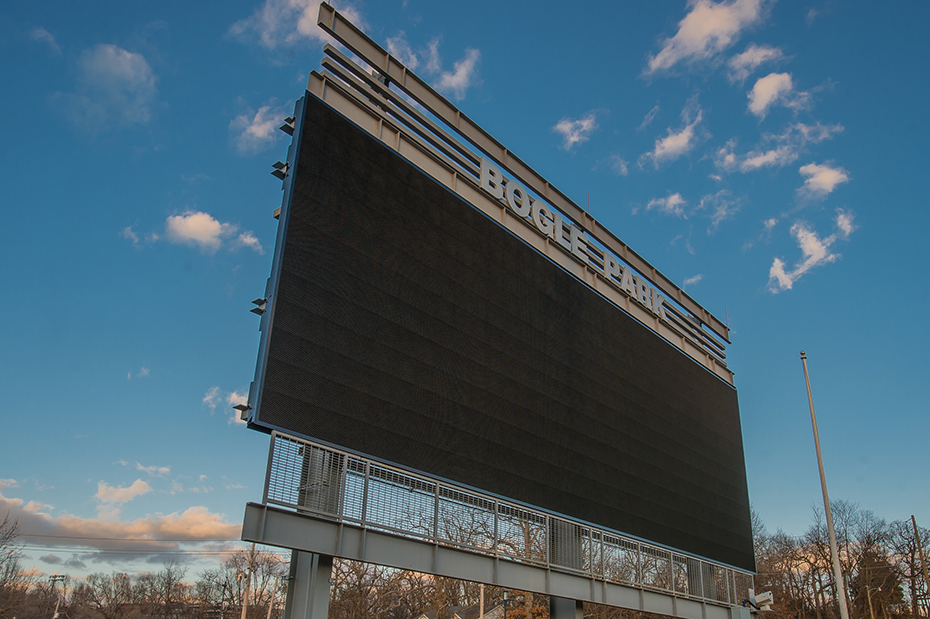 Bogle Park: Making the Best Even Better
FAYETTEVILLE, Ark. – One of the best college softball facilities in the country just got better with the installation of a new video display at Bogle Park, home of the Razorback softball team. With the latest upgrade, the Razorbacks' home park owns the fourth-largest video display in college softball.
"My first thought was 'this is going to make for such an awesome in-game experience,' which is the trend in softball especially in the SEC," head coach Courtney Deifel said of seeing the enhanced display for the first time. "It shows that Arkansas is committed to staying ahead of the curve when it comes to softball and facilities. I'm excited to see what we can do in-game for the overall experience because that's what our fans are looking for when they come to a game. It's all about the experience they have when they come to Bogle Park."
Situated in right center field, the video display at Bogle Park features a 13HD pixel layout and measures approximately 14.5 feet high by 43 feet wide. The new board at Bogle Park incorporates the same features and content capabilities as the displays fans have enjoyed this season at Bud Walton Arena during men's and women's basketball games.
The University of Arkansas and Daktronics partnered to bring a total of 11 new video displays to four different venues on campus. The venue upgrades also included new video displays at Baum Stadium for baseball and the Randal Tyson Track Center which will host the 2016 SEC Indoor Championships.
After two weekends on the road to open the season, Arkansas plays its first home games Feb. 27-28 when its hosts the Razorback Invitational at Bogle Park. Along with their non-conference home slate which features two tournaments and midweek dates against Missouri State, Oklahoma, Oklahoma State and Tulsa, the Razorbacks' home schedule features SEC series against Auburn, LSU, Kentucky and South Carolina.
Season tickets are now on sale for $45 through the Razorback Ticket Center. For more information about purchasing season tickets, call 800-982-HOGS (4647) or 479-575-5151, email raztk@uark.edu or visit the Razorback Ticket Center located next to Baum Stadium. For more information about Arkansas softball, follow @RazorbackSB on Twitter.