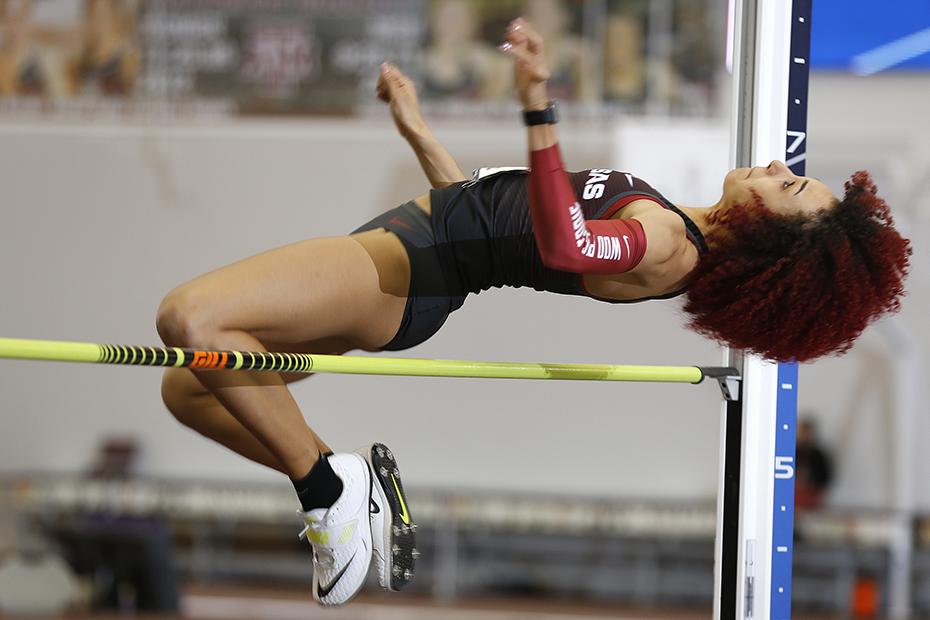 Brooks Golden Again
Meet Schedule | Day One Results | Live Results | Sat. ESPN3 (4 p.m. CT)
COLLEGE STATION, Texas — The No. 2 Arkansas women's track and field team wasted no time making its presence felt Friday evening in College Station as redshirt senior Taliyah Brooks opened up the 2018 NCAA Indoor Championships for the Hogs, capturing the pentathlon national title with a season best performance.
"We are right on schedule if not ahead," head coach Lance Harter said. "I'm super pleased obviously for Taliyah Brooks to finally get to be at the top of the podium. She was in the shadows of a great athlete and NCAA record-holder but now she got the opportunity to be on top."
Golden Again
"Two-times a bridesmaid, now a bride," the announcer said as Brooks crossed the finish line, completing the final pentathlon event of the day, the 800-meter run. The Wichita Falls, Texas native had finished second at the SEC and NCAA Indoor Championships two-consecutive years prior but 2018 proved to be her year for gold. The moment was a historic one for the program as Brooks became the first Razorback combined events performer to ever finish first at a national championships. Her season best gold-meriting performance (4,572 points) earned 10 points towards Arkansas' team total. Brooks finishes her collegiate indoor stead as the fourth-highest career scorer at the NCAA championships in pentathlon.
"I've been working real hard for this," Brooks said. "Coaches, medical staff, everyone has put in so much effort to get me to where I am, I'm so happy I could win for them, more than for myself. Stuff like this just doesn't happen for people in Wichita Falls. To be able to represent them and win for them makes me happy."
Program Record for Payton
Her twitter handle once was pay_multis but she now goes by pay_hurdles — a fitting name for the new Arkansas program record-holder in the 60-meter hurdles, Payton Chadwick. Transitioning into open event competition for the Hogs this season proved to be a successful endeavor for the Springdale, Arkansas native who qualified for the NCAA meet in three different specialties. She opened her national campaign clocking a program record of 7.93 in her signature short hurdles before hustling to the center of the oval for the long jump. She is the only hurdler in Arkansas history to record a sub-8 second performance in the event.
NCAA Finalists
Janeek Brown – 60-meter hurdles (8.11) Had the third-fastest non-autoqualifying time of the day.
Payton Chadwick – 60-meter hurdles (7.93) Fastest time of the day; program record performance.
Nikki Hiltz – Mile (4:40.56) Finished among the top-four runners in heat two for auto-qualification.
"Our hurdlers had a fantastic day today," Harter said. "Huge PR for Payton; Janeek Brown she just continues to be a great competitor. Freshman aren't supposed to be NCAA finalists, so she raised the standards for us. Nikki Hiltz also took care of business casually in the mile and now it's just a matter of our three pole vaulters taking care of business as they always do."
Saturday Scoring Opportunities
Arkansas' pole vault crew headlined by two-time NCAA champion Lexi Jacobus will lead the scoring charge on the final day of competition at the Gilliam Indoor Track Stadium. Jacobus is one of only two vaulters this year with a 15-foot clearance this season and will look to return to the top of the podium for the third time in her career. Away from the field events, Harter will rely on upperclassmen heavy hitters Payton Chadwick (60-meter hurdles) and Nikki Hiltz (mile) to carry the Arkansas banner on the track. Along with Chadwick, the Razorbacks will have the opportunity to score more points in the hurdles from freshman Janeek Brown. The two-day event will be live streamed on ESPN3 with Saturday's stream beginning at 4 p.m.
NCAA Indoor Championships
Gilliam Indoor Track Stadium
March 9, 2018
Team Scores
1. Georgia – 33
2. Florida – 13
3. New Mexico – 12
T4. North Carolina – 10
T4. Arizona State – 10
T4. Missouri – 10
T4. Arkansas – 10
60 Meters Semifinal
8. Jada Baylark – 7.28
200 Meters Semifinal
13. Payton Chadwick – 23.25
400 Meters Semifinal
15. Morgan Burks-Magee – 53.45
Mile Semifinal
10. Nikki Hiltz – 4:40.66
60 Meter Hurdles
1. Payton Chadwick – 7.93
7. Janeek Brown – 8.11
Long Jump
9. Payton Chadwick -6.14m/20-1 3/4
14. Taliyah Brooks – 5.95m/19-6 1/4
Pentathlon
1. Taliyah Brooks – 4,572 pts.
(1) 60-Meter Hurdles – 8.05, 1118 pts.
(2) High Jump – 1.84m/6-0 1/2, 1029 pts.
(9) Shot Put – 12.16m/39-10 3/4, 672 pts.
(1) Long Jump – 6.36m/20-7, 934 pts.
(14) 800 Meters – 2:22.44, 791 pts.
For more information on Arkansas track and field including in-meet updates, follow @RazorbackTF on Twitter.