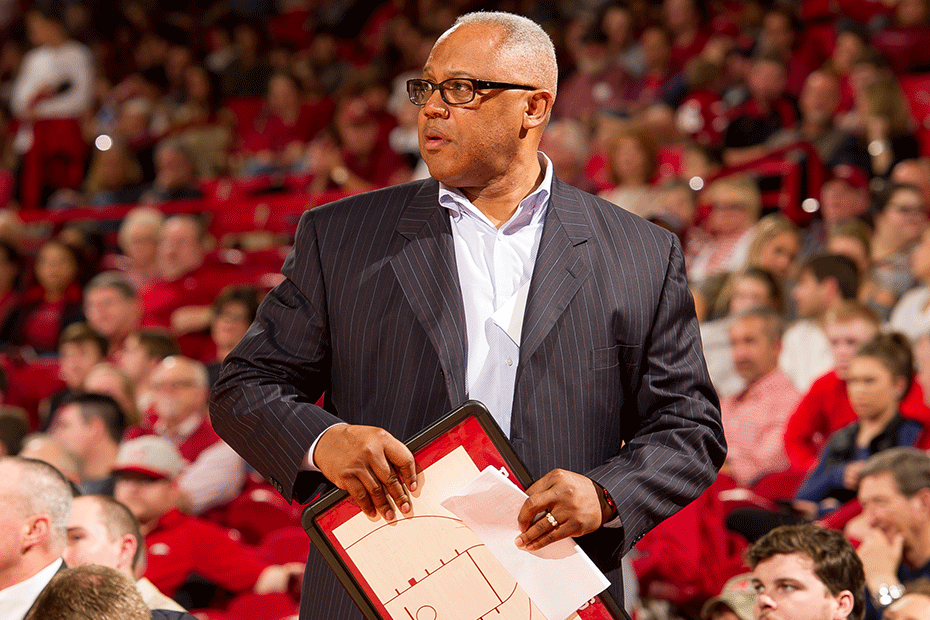 Coach Watkins Joins Mike'd Up on Monday
FAYETTEVILLE, Ark. – Associate Head Coach Melvin Watkins will join Mike Anderson on Mike'd Up, the weekly radio show dedicated to Arkansas basketball at Sassy's Red House in Fayetteville on Monday at 7 p.m.
The one-hour program gives fans an opportunity to interact with Razorback coaches and players, while also getting a chance to learn more about the personalities they witness on the court. Hosted by the voice of the Razorbacks, Chuck Barrett, the program features interviews with Coach Anderson and Arkansas student-athletes, coaches and staff members. Fans in attendance will also have an opportunity to ask the head Razorback their own questions. Fans can also send in questions to Coach Anderson on the day of each show via Twitter to @RazorbackMBB and by using the hashtag #MikedUp.
A 38-year coaching veteran, Watkins is in his fifth year as associate head coach with the Razorbacks after serving as a long-time assistant, associate head and head coach at Charlotte, Texas A&M and Missouri. He joined forces with Anderson at Missouri and made three NCAA Tournament appearances, including a trip to the Elite Eight in 2009, before the duo came to Arkansas. His son, Manuale, is a junior for the Razorbacks, averaging 6.1 points per game and ranking second on the team with 42 assists.
Arkansas returns home Thursday, Jan. 21 to host No. 14 Kentucky. The WHITE OUT game tips off at 6 p.m. in Bud Walton Arena and will be televised on ESPN. Fewer than 1,000 tickets remain and they can be purchased by clicking here.
Mike'd Up can be heard across the Razorback Sports Network from IMG College across the state. All six remaining shows are held on Mondays at 7 p.m.
Remaining 2015-16 Mike'd Up Schedule (All Shows At 7 p.m.)
Monday, Jan. 18
Monday, Jan. 25
Monday, Feb. 1
Monday, Feb. 15
Monday, Feb. 22
Monday, Feb. 29
For more information on Arkansas men's basketball, follow @RazorbackMBB on Twitter.