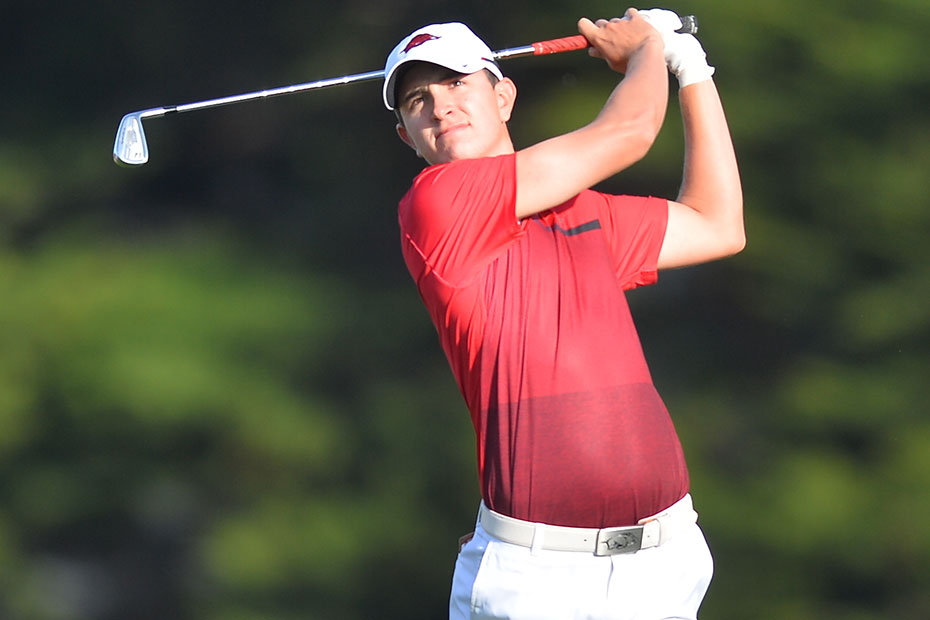 Echavarria Takes Lead Into The Weekend
La ROMANA, Dominican Republic – For the second straight day a Razorback sits atop the leaderboard at the Latin America Amateur Championship (LAAC), as Arkansas men's golf senior Nicolas Echavarria's seven-under 65 gave him a three-shot lead heading into the weekend at Casa de Campo.
Echavarria will take the course at 10:05 a.m. for Saturday's third round which will be shown live on ESPN2 beginning at 11 a.m. The winner will earn a spot in this year's Masters Tournament along with an exemption into The Amateur Championship and the U.S. Amateur Championships.
After a first round even-par 72 put him a tie for 13th place, Echavarria began his day on the back nine by going five-under over his first six holes, highlighted by a birdie-eagle-birdie stretch on holes 13-15. Even more impressive, Echavarria's round – which was one off the course record – featured a double-bogey on the 17th hole but it was erased by four birdies over his final six holes of the day. Through two rounds, Echavarria has carded an eagle or birdie on half of the course's holes.
Sophomore Alvaro Ortiz entered the day tied for the first round lead at four-under 68, but slipped into a tie for 27th place after a 79, made the cut into the weekend. Recent Arkansas signee Luiz Garza also made the cut, but shot a 79 in the second round after a two-under 70 on Thursday.
Invitations for the championship are sent to the leading players from the 29 IOC-recognized countries and territories from the region that are current members of the International Golf Federation.  Each country is automatically provided with two positions, which are to be filled by their best-ranked players from the World Amateur Golf Ranking (WAGR). The remainder of the field is filled by taking the next best-ranked players from WAGR.
Razorbacks At LAAC
1. Nicolas Echavarria – 72-65/137 (-7)
T27. Alvaro Ortiz – 68-79/147
Future Razorbacks At LAAC
T44. Luis Garza – 70-79/149