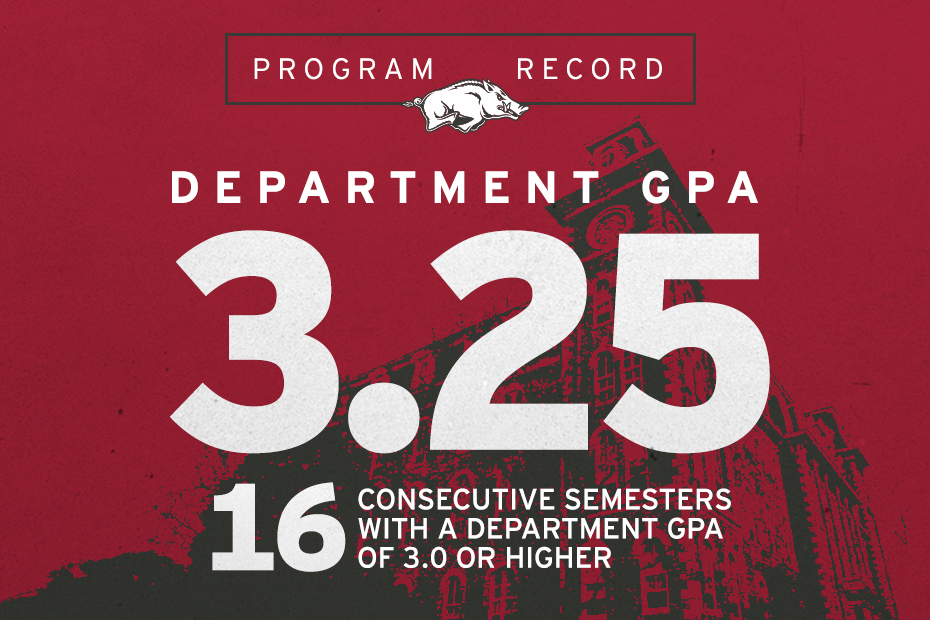 Fall Semester Ends With Academic Records
FAYETTEVILLE, Ark. – For the 16th consecutive semester, Arkansas student athletes achieved a department GPA over 3.0 in the fall, doing so in emphatic fashion by equaling the highest cumulative GPA in athletics history at 3.25. It marks the second straight term that the end of semester cumulative GPA stands at a record 3.25.
A total of 306 Razorbacks – 67 percent – earned a spot on the honor roll after earning a spring GPA of 3.0 or better, a mark that has improved by 21 from the 2016 fall semester. For the second straight semester, a record number of student-athletes earned a perfect 4.0 term GPA, as 72 Razorbacks accomplished the feat, which equals the record set last spring.
The record-breaking 3.25 cumulative GPA for the second straight semester was also made possible thanks to 115 student-athletes achieving their highest term GPA in the fall and 17 of 19 programs earning a cumulative GPA of 3.0 or higher.
2017 Fall Student-Athlete Academic Achievements
Cumulative GPA 3.25 (Program Record)
16th consecutive semester with department GPA at 3.0 or above
17 of 19 teams above a 3.00 term GPA
17 of 19 teams above a 3.00 cumulative GPA
72 student-athletes earned a 4.00 for the term
306 student-athletes (67%) earned department honor roll (at or above a 3.00)

Razorback Honor Roll (3.00 – 3.49) – 121
Athletic Director's List (3.50 – 3.99) – 113
Academic Champion (4.00) – 72

115 student-athletes achieved their highest term GPA based off two full academic semesters.
36 Graduates
Fall 2018 highest women's sport term GPA – Women's Golf – 3.76
Fall 2018 highest men's spot term GPA – Men's Tennis – 3.60
Fall 2018 highest women's sport cumulative GPA – Swimming & Diving – 3.54
Fall 2018 highest men's sport cumulative GPA – Men's Tennis – 3.56
Freshmen Term/Cumulative GPA – based on 120 students

Term GPA: 3.16
Cumulative GPA: 3.22