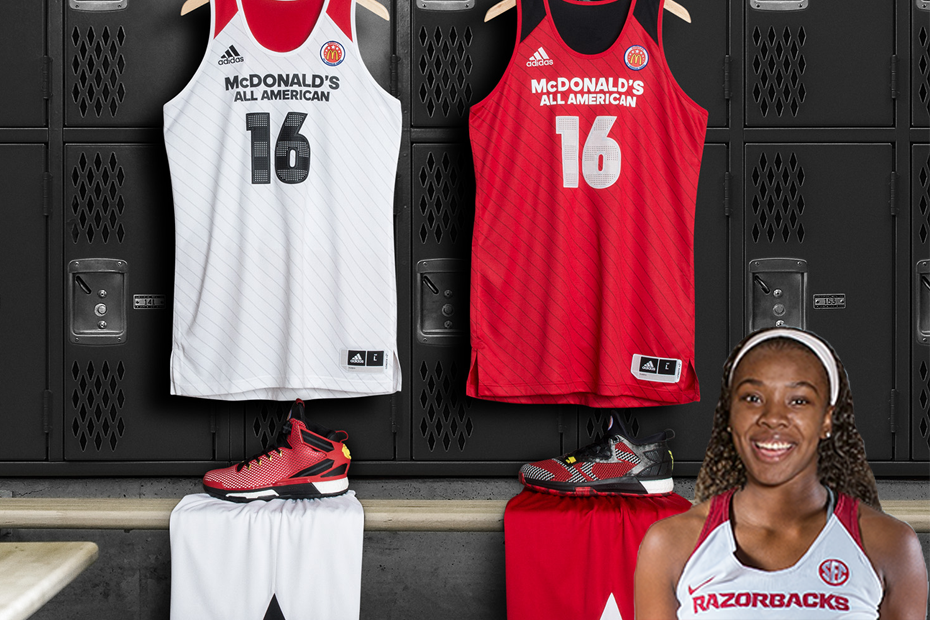 Future Razorback in McDonald's AA Game
FAYETTEVILLE, Ark. – Future University of Arkansas women's basketball player Aaliyah Wilson takes part in the McDonald's All-American Game in Chicago, Illinois, Wednesday.
This is the 15th season for the McDonald's All-American Girls team which will be televised on ESPN2 beginning at 5:30 p.m. CT, from the United Center in Chicago.
Wilson is believed to be just the second McDonald's All-American to sign with the Razorbacks out of high school. The first was Ruby Vaden from Osceola, Arkansas, in 2002. Lauren Ervin was also a McDonald's All-American and transferred to Arkansas.
Wilson was The Oklahoman's Super 5 Player of the Year last season. She averaged 19.2 points and 9.1 rebounds as the Roughers made the Class 6A title game. She signed her National Letter of Intent in November with Arkansas, choosing the SEC school from a list of 25 Division I scholarship offers. Wilson is ranked No. 30 nationally and No. 5 at guard, according to ESPN's 2016 Hoopgurlz rankings.
THE 2016 GAMES
This year marks the 39th Anniversary of the McDonald's All AmericanBoys Game and the 15th Anniversary of the Girls Game. The 2016 McDonald's All American Games will be held Wednesday, March 30, 2016 at the United Center in Chicago, Ill. The Boys Game will tip-off at 8:00 p.m. CT. The Girls Game begins at 5:30 p.m. CT.
SELECTING THE TEAMS
The McDonald's All American Games are the only democratically selected prep all-star event in the country. The nation's top high school basketball coaches and media comprise the selection committee responsible for selecting the boys and girls rosters from a pool of more than 700 nominated high school seniors.
PLAYING FOR A CAUSE
Net proceeds from the McDonald's All American Games benefit Ronald McDonald House Charities® (RMHC®). The Games have raised more than $11 million for RMHC since 1978.