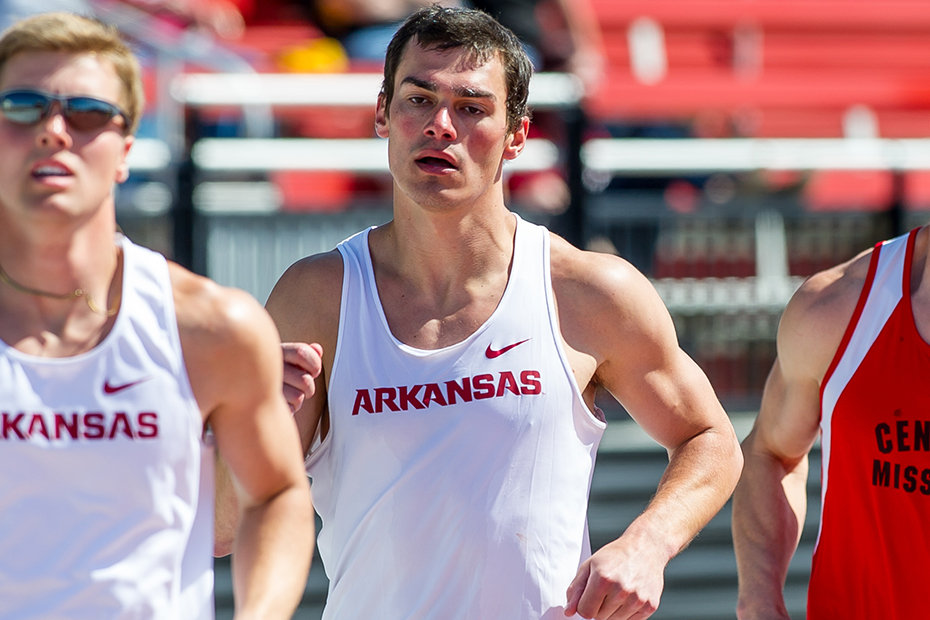 High Jump Highlights Day One Of Decathlon
Decathlon Day One | Meet Schedule
FAYETTEVILLE, Ark. — The No. 7 Arkansas men's track and field team opened up competition at the John McDonnell Invitational in Fayetteville Wednesday afternoon with the decathlon.
Senior, Lane Austell was the only Razorback to fully complete five events of the first day finishing fourth in the day one standings with 3,660 points. Austell began his day as the second best performer in the 100-meter dash crossing the finish line in 11.25 seconds — .03 seconds from his personal best. He went on to collect 732 points in the long jump off a season's best mark of 6.65/21-10.
The highlight of the day came in high jump as Austell improved by 2 1/2 inches posting a new lifetime best in the event of 1.91/6-3 1/4 to add 723 more points to his total.
He closed the day 41 points ahead of his day one total from the Arkansas Invitational following completion of the 400 in 50.71.
Decathlon Day One (Arkansas Spring Invitational)
Lane Austell – 3,619 – 100m: 11.22, LJ: 6.63m/21-9, SP: 12.27m/40-3 1/4, HJ: 6-0 3/4, 400m: 50.61
Decathlon Day One (John McDonnell Invitational)
Lane Austell – 3,660 – 100m: 11.25, LJ: 6.65m/21-10, SP: 12.17m/39-11 1/4, HJ: 6-3 1/4, 400m: 50.71
Austell will return to action in the decathlon tomorrow with the 110 hurdles at 3:30 p.m. CDT.
Live results for the meet will be available at flashresults.com.
Tickets are just $5 for adults and youth 17 and under get in free. Visit arkansasrazorbacks.com or call 800-982-HOGS and get your tickets today.
For more information on Arkansas track and field including in-meet updates, follow @RazorbackTF on Twitter.