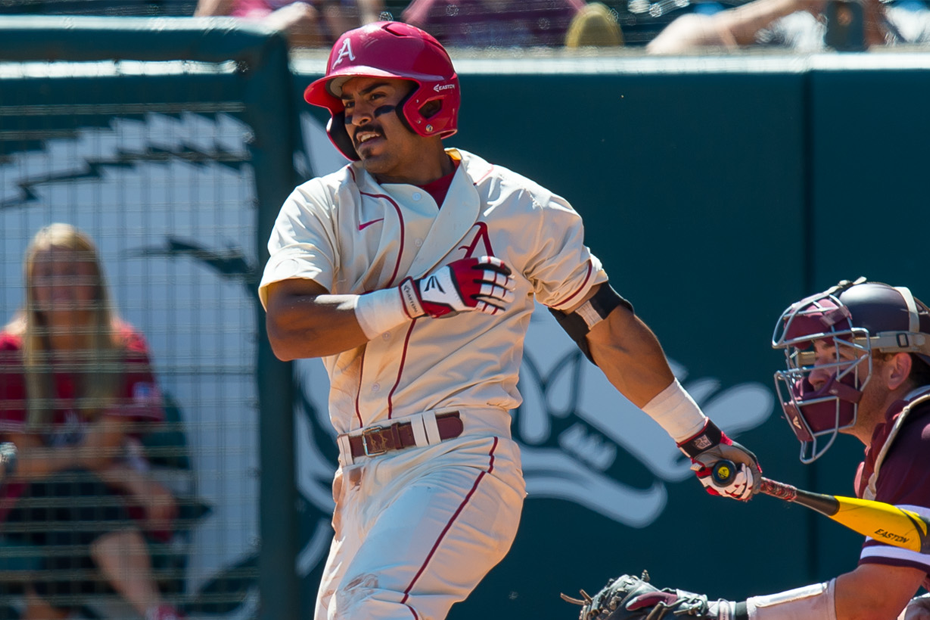 Hogs Can't Get Bats Going In Series Finale With Texas A&M
Box Score (PDF) | Photo Gallery
FAYETTEVILLE, Ark. – Sophomore Keaton McKinney threw three good innings to start Sunday's game with No. 2 Texas A&M (35-9, 14-7), but after getting the first out in the fourth inning, a throwing error by Michael Bernal led to four unearned runs by the Aggies. It was a deficit that Arkansas (26-18, 7-14) couldn't bounce back from as Texas A&M took the game and the series with a 6-2 victory at Baum Stadium.
Carson Shaddy and Bernal were the only Razorback hitters that were able to get ahead of Texas A&M's starting pitcher Kyle Simonds as the two combined for 5 hits. Shaddy went 3 for 4 with 2 RBIs. Bernal totaled his second 2-hit game of the series, going 2 for 4 with a run score. In three of his last four games, Bernal has had at least 2 hits with 4 runs scored.
McKinney (1-3) had to take the loss Sunday after going 5 2/3 innings, allowing 6 hits and 5 runs with 5 strikeouts. Only 1 run of the five given up by McKinney went down as an earned run as the error by Bernal proved to be a crucial play in the game.
Simonds (7-1) took the win for the Aggies as he threw a complete 9 innings, scattering 8 hits, while striking out five and giving up 2 earned runs.
KEY MOMENTS
Bernal hit his first triple of the season in the second inning, which led to Arkansas' only run of the game. He was later brought home on an RBI single from Shaddy, allowing Arkansas to take the early lead for the first time in the series with the Aggies.
In the 9th inning, Shaddy hit his second home run of the weekend, breaking a 6-straight scoreless inning streak by Simonds. Shaddy now has 7 home runs on the year, one off the team lead
RAZORBACK QUOTABLES
"I thought McKinney was a lot better today, especially the first three innings. The fourth inning he should've had two outs and no one on, but once he got into the jam, it seemed like he lost it a little bit. I thought Campbell threw the ball well. He threw a lot of strikes and enticed a lot of contact. His fastballs have a little downhill action on them. They hit some ground balls. It was good to see him do a good job against a good hitting team." Dave Van Horn on Keaton McKinney's outing today
"The first game we came out with a win, second game just barely slipped away. We definitely played really good. Like I said before the series started, they're a good team, and so are we. I think we have a lot of doubters so it's good to go out there and play hard and together against a good team." Carson Shaddy on outcome of the weekend overall
UP NEXT
The Razorbacks hit the road for one of its last non-conference games on Tuesday when they travel to Springfield, Missouri, to face Missouri State in a rematch of last year's NCAA Super Regional. First pitch is slated for 6:35 p.m. CDT and will be televised on CST.
For more information on Razorback Baseball, follow @RazorbackBSB on  .