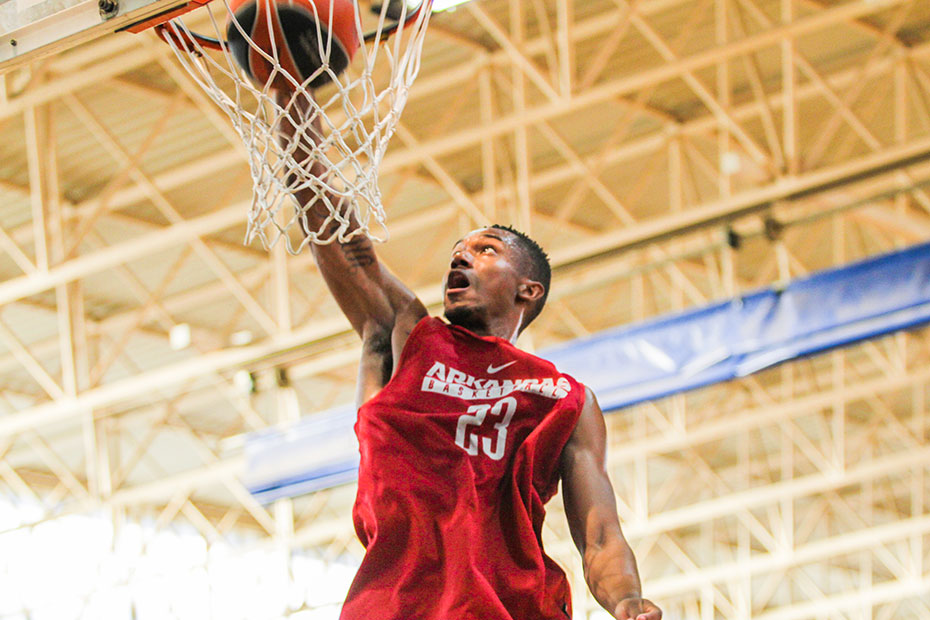 Hogs Cruise To Victory In Spain Finale
Box Score (PDF) | Adrio Bailey #SCTop10 Dunk
BARCELONA, Spain – The Arkansas men's basketball program exploded offensively Sunday evening in Barcelona and dominated the European Academy 124-55 to cap its 10-day journey in Spain with three consecutive victories.
Seven players finished in double figures, led by 23 points from freshman CJ Jones and 19 from senior Dusty Hannahs. All 13 Razorbacks on the roster recorded a field goal and Arkansas combined to win its final three games by 105 points.
"I learned a lot about our guys this trip," head coach Mike Anderson said. "Having the chance to practice for 10 days and then come over here and compete will hopefully prove to be invaluable for this team. I thought we grew from this experience and you can't put a price on that."
Here are three takeaways from Sunday's domination.
1. High Flying Hogs
One thing is for sure, this team will be a blast to watch this season. With nine dunks in Sunday's game, Arkansas continues to showcase its athleticism and talent. The Razorbacks forced 34 turnovers, created 38 fast break points and the #Fastest40 has officially gotten faster. While the starting five has set the pace the last three games, the reserves were responsible for 55-percent of the scoring during the trip, including 75 points during Sunday's shootout.
2. The New #SplashZone Brothers
The tandem last season of Anthlon Bell and Hannahs was one of the deadliest one-two punches in the country from long range, but Hannahs might already have a new sidekick with Jones' emergence. The duo combined to make 8-of-12 treys in the game and sank 17 of the team's 24 three-pointers during the last four contests. Jones shot 50-percent from the #SplashZone during the trip and Hannahs found his stroke in the finale and went 5-of-7 from deep.
3. #Airdrio Bailey lives off the ground
He's a human highlight reel. Adrio Bailey slammed home four more dunks Sunday and had the best game of the trip, going 7-of-8 from the field for 15 points. He also skied for eight boards and swatted four shots. His rim-shaking dunks are just three months from debuting in Bud Walton Arena.
The Razorbacks will spend Monday in Barcelona, before returning to Fayetteville on Tuesday, Aug. 16.
For more information on Arkansas men's basketball, follow @RazorbackMBB on Twitter.