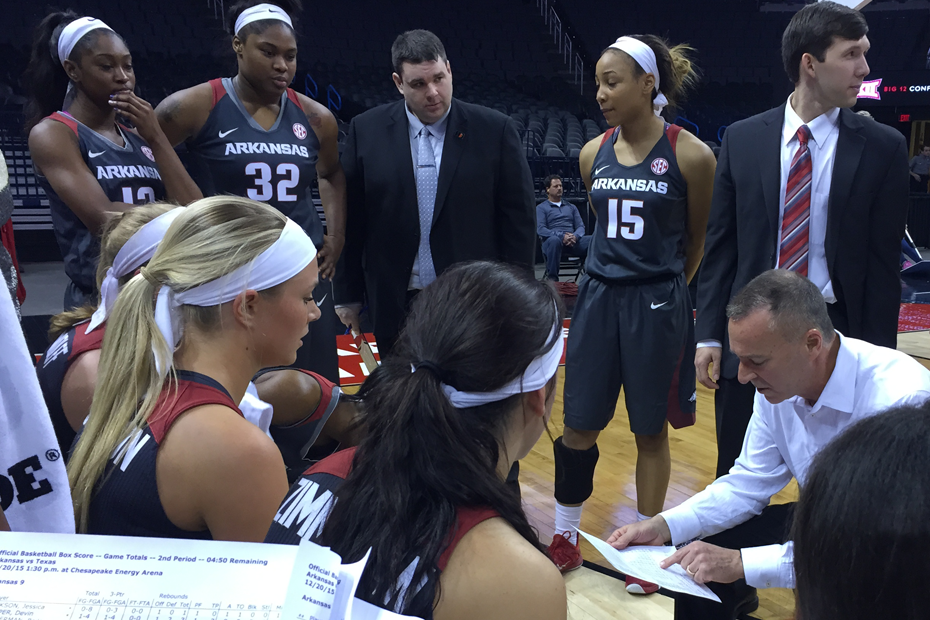 Razorbacks Rally, Fall Short at No. 5 Texas
OKLAHOMA CITY, Okla. – University of Arkansas junior Jessica Jackson dropped 22 points and sophomore Devin Cosper added 13 fueling a furious comeback for the Razorback women's basketball team against No. 5 Texas in game one of the Big 12/SEC Challenge in Chesapeake Energy Arena in Oklahoma City, Okla., Sunday. Arkansas fell 61-50 moving to 3-8 on the year while Texas improved to 10-0.
Jackson and Cosper were scoreless in the first period as the Longhorns lived up to their ranking with a 20-3 lead after the first 10 minutes of play. An eight-plus minute scoring drought in the first half allowed Texas to open an early lead.Texas used a 17-0 run and held Arkansas to 0-for-13 from the floor in the first period. The Razorbacks suffered through eight turnovers and six Texas blocks trailing 20-3 after the first 10 minutes.
The Razorbacks did hold a 15-12 rebounding edge over the Longhorns in the first period.
Arkansas built off that success in the second holding Texas without a basket for the first six minutes of the frame. The Razorbacks held the fifth-ranked team in the nation to just five second period points, outscoring Texas 16-5 in the stanza to trail 25-19 at the half.
Arkansas switched to a zone defense and forced nine second period turnovers by the Longhorns. At the break, rebounds were even at 26-all. Cosper had 11 points at the break hitting three three-pointers in the first 20 minutes of play.
The Razorbacks continued to battle and force Longhorn turnovers and fouls finding themselves in the bonus at the 6:38 mark of the three frame. Keiryn Swenson hit a long three closing the gap to four 35-31 but the Longhorns scored and were fouled on an inbounds play again extending the lead.
Jackson would trail the play on the next possession and drain a three as Arkansas was back within three but back-to-back turnovers and scores by Texas allowed the Longhorns to take a 43-36 lead into the final period.
Arkansas kept nipping at the heels of Texas but could never grab the lead against the taller and more-seasoned Longhorns eventually falling the contest.
The Razorbacks held Texas 25 points below its scoring average and Texas had been out-scoring teams by 22.8 points per game, but managed an 11 point win over Arkansas after the Razorbacks were forced to foul late and send them to the free throw line.
NOTES
• Arkansas starters: Jessica Jackson, Bailey Zimmerman, Jordan Danberry, Melissa Wolff and Alecia Cooley
• Arkansas' three first-period points was a season low
• Arkansas held No. 5 Texas to five second-period points, the lowest by an opponent this year
• Arkansas has been even with or out-rebounded eight of 11 opponents this year
• Arkansas has held nine of 11 opponents at or below their current scoring average including Texas
• Arkansas has won the turnover battle in seven games (17-21) this year including against Texas
• Arkansas has had at least two three-pointers in every game this year
• Arkansas hit 10-for-13 from the free throw line
PLAYER NOTES
• Junior Jessica Jackson has scored in double figures in nine of the 10 games she has played in this season
• Junior Jessica Jackson has scored 20+ points in five of nine games this year and 16 career games
• Junior Jessica Jackson went 5-for-5 from the free throw line
• Sophomore Devin Cosper has scored in double figures in four games including four of her last five games this year
• Sophomore Devin Cosper hit three three-pointers, a career-best at Arkansas
• Freshman Keiryn Swenson tied her career-best with six rebounds
SERIES HISTORY
Arkansas is just 3-22 all-time against Texas. The most recent game was a 67-50 loss in 2003 in the NCAA Tournament in Cincinnati, Ohio. Arkansas last win over the Longhorns came in 1991 when the No. 11 Razorbacks defeated No. 15 Texas, 73-68, in Austin, Texas.
UP NEXT
Dec. 28 Mississippi Valley State SECN+ 7 p.m.
Dec. 30 New Orleans SECN+ 7 p.m.
Jan. 3 at South Carolina* ESPNU 2 p.m.
Jan. 7 Texas A&M* ESPN/SECN+ 7 p.m.
Jan. 10 at Mississippi State* SECN+ 2 p.m.
Jan. 14 Tennessee* SECN 8 p.m.
For more information on Arkansas women's basketball, follow @RazorbackWBB on Twitter.