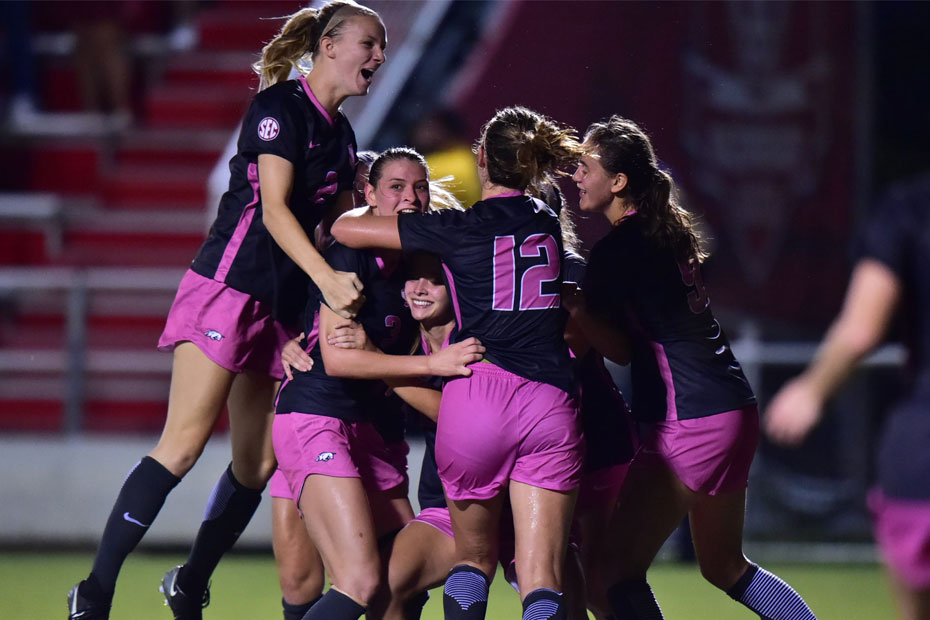 Kentucky Up Next For Razorback Soccer
FAYETTEVILLE, Ark. – The Arkansas soccer team is back home this week for a single match when they host the Kentucky Wildcats on Thursday at Razorback Field. Arkansas is looking to stay unbeaten at home with a 7-0-1 record coming in and first kick is slated for 6:30 p.m. The game will be broadcast online on SEC Network+. 
Match 15 Info
Opponent: Kentucky Wildcats
Date: Thursday, Oct. 11th
First Kick: 6:30 p.m.
Live Stats: http://bit.ly/2pKmSa0
TV: SECN+
Arkansas (9-3-2, 4-2-0 SEC) suffered a small setback last week at Ole Miss, falling to the Rebels, 3-1, in Oxford as the Razorback offense only managed nine shots, three on target, its second-lowest in a match this year. Even with the loss, the Razorbacks are still near the tops of the league table, sitting in a tie for fourth place (12) with Tennessee.
With only four matches remaining and two coming at home, every point matters down the stretch. Arkansas has made good on earning its points at home as it has defeated the likes of then-No. 2 Texas A&M, Missouri and LSU. Overall, the Razorbacks are 7-0-1 at home and are averaging 2.25 goals per game inside the friendly confines.
Junior Tori Cannata has been Arkansas' top scoring threat as of late and five of her season's six goals have come at Razorback Field. Last week, the Florida native locked up her second brace of the year when she scored both of Arkansas' goals in a 2-1 overtime victory over Florida. It was her second four-point match of the year and put her in the top four of the SEC in points (13).
Joining Cannata at the top of the team leaderboards is junior Kayla McKeon and sophomore Taylor Malham. Combined, the duo has 25 points, including eight goals and nine assists. Malham has led the team all year in assists (7) and she's tallied at least one point in five of her last six matches. As for McKeon, she scored her sixth goal of the year last week at Ole Miss and she has five points in her last four matches.
Quick Kicks
>> The Razorback soccer team heads into the final stretch of the regular season as it will face Kentucky on Thursday at Razorback Field. Arkansas is unbeaten in five of their last six matches going back to Sept. 16 vs. Providence.
>> Arkansas is 5-2-0 against Kentucky under head coach Colby Hale with four wins coming in the last seven meetings. Overall, Kentucky still owns the all-time series 13-8-2 and has won four times at Razorback Field.
>> Arkansas is still unbeaten at home this year at 7-0-1, including a win over No. 2 Texas A&M. In its eight home games, the Razorbacks are averaging two goals a game and have four one-goal victories.
>> The Razorbacks still lead the league in corner kicks (108) and have the third-most in SEC play (37). Six of their 25 goals this year have come directly off corner kicks.
>> Last week, junior Tori Cannata turned in her second multi-goal performance of the season when she scored both goals in a 2-1 overtime victory over LSU on Thursday. Cannata is tied for the team lead with six goals on the year.
>> In conference play, Cannata is averaging a .727 shot on goal percentage and has two braces in her last five matches.
>> All four of Arkansas' conference victories have been by one goal this year. Overall, the Razorbacks are 5-1-0 in one-goal matches this season and two of those game-winning goals have come off the foot of Kayla McKeon.
>> McKeon has totaled a team-leading three game-winning goals this season, matching her total from her freshman season and giving her seven for her career, ranking her eighth all time in Razorback history.
>> With her assist in the 1-0 victory over Missouri, sophomore Taylor Malham leads the team with seven assists this year, which is also good for second in the SEC.
>> Malham is one of three Razorbacks to have 10 or more points this year. Junior Kayla McKeon leads the team with 14 points with six goals and two assists. Tori Cannata has 13 points with six goals and one assists after her two-goal outing against LSU last week.
For more information on Razorback Soccer, follow @RazorbackSoccer on Twitter.