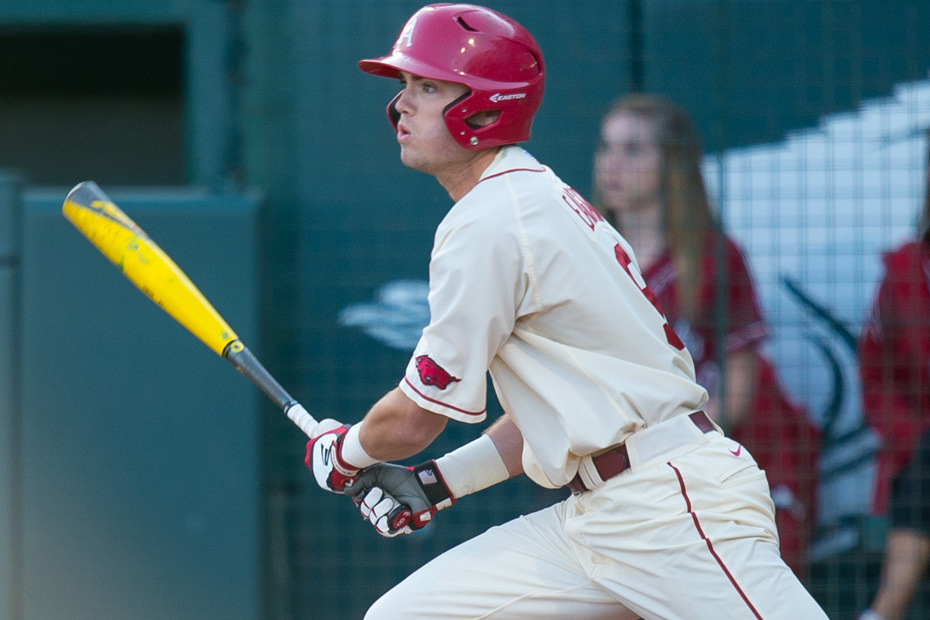 Long Ball Leads Alabama Over Arkansas
FAYETTEVILLE, Ark. – A four-run first inning for Alabama put the Arkansas baseball team in a hole it couldn't climb out of Saturday night as it dropped a 10-4 decision at Baum Stadium.
The Crimson Tide (29-21, 14-12) hit three more home runs in Saturday's game after a three home run night in game one of the series. Arkansas (26-24, 7-19) managed four runs on 12 hits, outhitting Alabama. The 12 hits marked the sixth time in the last 10 games that Arkansas has notched 10 hits or more.
Junior Clark Eagan was responsible for all four of the Razorbacks runs, going 2-for-5 with a run scored and four RBI. His home run in the bottom of the ninth was his sixth of the year and second of the series.
Cullen Gassaway and Tucker Pennell both added three hits to lead the Razorbacks. Gassaway's three hits equaled a career-high and marked his third three-hit game of the year. Pennell has hit well over his last four starts, going 8-for-13 (.615), including the four-hit game last week against LSU. Tonight's three-hit game was his second of the season.
Alabama starting pitcher Jake Walters (5-3) earned the victory for the Crimson Tide, going seven innings and scattering eight hits while allowing just two runs with nine strikeouts. Sophomore Keaton McKinney was charged with the loss to drop his record to 1-5 on the year. Alabama scored six runs off the sophomore, tying his career-high, while also walking five.
RAZORBACK QUOTABLES
"Tonight was kind of the same things have been going on, we just get behind. It was a really tough start for (Keaton) McKinney. The offense kept battling. You have to give (Jake) Walters credit. He worked out of a couple of jams. That one in the third inning, we had a chance, it was the at-bat of the game. We're down 4-1 with the bases loaded and one out. That's the at-bat where you either have to take a walk, get a hit, drive in a run somehow and cut that lead in half." – Dave Van Horn
UP NEXT
The final game of the series between the Razorbacks and the Crimson Tide will be played Sunday at Baum Stadium. First pitch is slated for 1 p.m. and will be broadcast on SEC Network+.
For more information on Razorback Baseball, follow @RazorbackBSB on Twitter.